8 business apps every IT leader needs on their smartphone
These are indispensable pieces of business software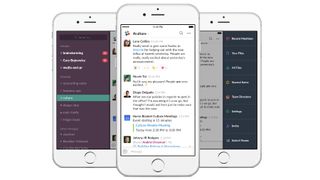 (Image credit: Future)
Introduction
Technical management is a different beast compared to business leadership. For technical folks, you have to know which tools are available in an organisation and have a way to manage the operation beyond the ledger and the employee org chart. In many ways, it's all about having the right tools to manage effectively rather than relying only on your personality and mentoring skills (although it's still important as ever to have people skills in any business).
To find out which mobile apps are the most critical in IT today – the ones that provide what technical managers need to get the job done in a complex IT environment – we asked several leaders to share what they keep on their home screen at all times.
Some of the apps are highly technical, a few are used in all areas of business, and some are completely indispensable. These apps are available on Android, iPhone and iPad as well.
1. Jenkins
This continuous integration platform has an associated app you can run on a smartphone. Theo Schlossnagle, founder of the analytics and monitoring software company Circonus, says his team uses the Jenkins app and it's like having a huge staff of testers because of how it tracks all engineering changes before they go into live production.
"Every change made by anyone in engineering is put through the ringer and all of the processes required are automated," he says.
2. Google Authenticator
IT execs are champions of good security. Because mobile devices are so easy to leave on a plane or at a coffee shop, there should be a way to protect IT systems from your phone.
Gene Richardson, the COO of Experts Exchange, an online community of IT professionals, told techradar pro that their team uses the Google Authenticator app (see here for Android, here for iOS) as the second factor in two-factor authentication because it generates new keys every 60 seconds. It's the basis of a good security infrastructure in many ways because of how it controls access to the other apps used in IT.
3. Trello
Task management is a critical part of IT leadership. Dimitris Athanasiadis, the General Manager at Megaventory, an online inventory management system, uses this app to keep track of projects and, in his words, make sure nothing is ever forgotten.
One of the key features is the ability of the Trello app to split discussions into boards for easier management. Task assignments help team members know who is doing what, and they can comment on other tasks. As part of the project cycle, employees can also attach files from services like Google Drive and Dropbox.
4. MobileDay
This handy app can read your Google Cal conference call data so that you can press one button to join. Bask Iyer, the CIO of VMware, told techradar pro he uses the MobileDay app for conference calls throughout the day as a way to avoid having to look up the information and type it in manually.
The app has its own conference bridge capabilities to create a call, but it also reads data from popular services like WebEx, GoToMeeting, Google+ Hangouts, and Lync. The app further unifies communication between call participants by sending notifications and reminders.
5. Slack
Easily one of the most mentioned apps for IT execs, Slack now has millions of users. As an email replacement, the app is intended to give employees a way to open up their communication in a forum where anyone on the team can participate and avoid threaded messages.
Schlossnagle uses it as the de facto comms tool. He observes: "Using Slack ties the engineering team together and binds them to the rest of the organisation. Slack's superb mobile experience makes it useful for road warriors and executives that find themselves away from the keyboard. All of the tools we use tie into slack to provide a cohesive real-time conversation about business."
6. Freshdesk
Customer support is vital in any company. Depending on your company size, you may not have a full staff working at a helpdesk. Freshdesk is one option because it essentially takes all of the disparate communication about tech support from emails and combines that information into one portal.
"Freshdesk is very helpful in that it includes a full-blown ticketing system complete with Knowledge Base so it's a full support suite for our subscribers. Localisation capability is a significant asset too, as well as integration of phone support," says Athanasiadis.
7. PagerDuty
Incident response requires that an 'agile organisation' actually becomes agile. The idea is to remove the lag between an IT services issue and the resolution – and PagerDuty is a powerful app because it fills this void. You can respond to incidents in IT with a quick swipe. You can also review incident history and see details.
"With PagerDuty, IT operations teams can minimise business-disrupting events," says Ryan van Biljon, the Director of Technical Services at Samanage, an IT service management company. "It allows us to centralise alerts from any monitoring stack or service, ensuring that we have visibility into our entire infrastructure. The smart scheduling tool allows us to send alerts to the right teams, and wake the right people."
8. Robin Rooms
It's not an IT leader's job to manage conference rooms, right? That's why Van Biljon from Samanage uses Robin Rooms, a way to book and monitor conference rooms. Teams can quickly find out if a room is big enough for the meeting, if it has the right amenities, and if it is available. Samanage mounted tablets next to each room so the team can book right at the door.
The alternative is to use a much more expensive conference room booking system that uses its own LCD touch panels, a proprietary app, and a backend that also adds extra complexity.
Are you a pro? Subscribe to our newsletter
Sign up to the TechRadar Pro newsletter to get all the top news, opinion, features and guidance your business needs to succeed!
Contributor
John Brandon has covered gadgets and cars for the past 12 years having published over 12,000 articles and tested nearly 8,000 products. He's nothing if not prolific. Before starting his writing career, he led an Information Design practice at a large consumer electronics retailer in the US. His hobbies include deep sea exploration, complaining about the weather, and engineering a vast multiverse conspiracy.