Usenet providers typically compete on a level playing field: you choose them based on retention, speed, unlimited data, SSL, optional VPNs, and of course the price. 
But setting up a Usenet account on your desktop with client software can be a pain; it's occasionally frustrating, too, if you mistype the server settings or password. 
Easynews does things a little different. Rather than force you to download and install (and perhaps even pay for) third party software, you have the option to search Usenet and download in your browser. This gives Easynews a competitive edge for anyone new to Usenet by overhauling and simplifying the experience, while simultaneously offering features most providers don't or can't bother with.
Easynews subscription options:
One of the oldest names in Usenet provision, Easynews was registered in 1996 and has amassed a huge user base. Three payment plans are provided, each with a free trial.
Easynews is unusual as a Usenet provider as access isn't limited to a desktop client. Instead, it provides a browser based interface. For portability, a mobile app is also available for Android devices.
Features
Arguably the most feature-packed Usenet provider around, Easynews offers the ability to search, view, and download files in your browser. That doesn't mean you don't have to use a newsreader client, however, as this is also supported, but less efficient in testing. All current browsers are supported.
The service claims to offer "Unlimited Speed" (see Performance, below), as well as "High-Quality Usenet Browsing offering a considerable retention archive. You also get the option to access Easynews on your phone using the service's approved mobile apps. Keep an eye on your provider's data caps before downloading, however.
If you run into a problem with Easynews, it offers a "dedicated 24/7 support team." 
Easynews also provides support for SABnzbd, the advanced binaries downloading tool. Detailed instructions for setting up Easynews access in the SABnzbd client can be found on the Easynews support pages.
Furthermore, Easynews offers a set of advanced tools, covering very specific searches to detailed preferences. These include setting a default file type for download, organizing indexes, setting a default retention (for faster searching), and even configuring a spam filter to deal with spammy newsgroup posts.
The interface is what really makes this service stand out. When you log into your account, you will see the default Article Search area. Enter a search query, then select the type of file you are looking for using some simple radio buttons. The default settings will show you 'All' results, but you can filter for options like video, image, audio, etc.
We found during our testing that Easynews provided impressive search results in terms of accuracy and speed. File previews accompanied each result, which was helpful for choosing among the search results.
There is a turbocharged 'Advanced Search', that includes the most complete search filter capabilities we have seen in any Usenet search interface. As with the basic search, just enter a keyword, then select what options you want to filter by. The list of options is impressive and lets you build a fully personalized search.
There are other helpful features engineered into the interface. A few of the main notables we found:
Download multiple files at the same time - You can select multiple files as you scan through your search results. when you're done, send everything to your Zip Manager for processing
Group Search - Search by group name, then filter and browse results. You can also add newsgroups to your 'Favorites' list
Zip Manager - View the list of files in a Zip queue, edit the name of your queue, send your queue for processing, clear your queue, etc. You can also enable hover-over thumbnails and hover-over article information
Favorites - Browse your favorite newsgroups and even opt to get a notification any time new articles become available in your favorite newsgroup
Saved Searches - From the Advanced Search area, you can save a query to your Saved Searches for future use. The Save Searches page will even show you the number of results available and the date the last search was run
Other Personal Preferences - Set your interface language preferences, theme, font size, etc.
Retention
Arguably the most important feature of a Usenet service is retention. This is the length of time the service provides Usenet binaries and text for. In the case of Easynews, this is 4430 days, which is over 12 years.
So, files uploaded to Usenet newsgroups in 2008 can be found via Easynews. While this isn't the entire Usenet - the service started in 1980, and older data can be found on archive services and Google Groups - it is a huge amount of uploaded content and discussions.
Easynews aims to deliver the best retention around and upgrade their server capacity to ensure content from 2008 remains available.
Security and privacy
The nature of Easynews means that security and privacy take on a new dimension. With other Usenet services, SSL is provided for encrypted connection, but only as an option. But with Easynews, every interaction with the website, the members' area, and the search and download tools, is encrypted.
As the service is available via your browser, this encryption is over HTTPS. This is the same method for accessing other sites securely, from online banking, to online shopping, and even TechRadar. 
No anonymous sign up is available with Easynews, however. Payment is limited to major credit cards and PayPal - there is no cryptocoin option.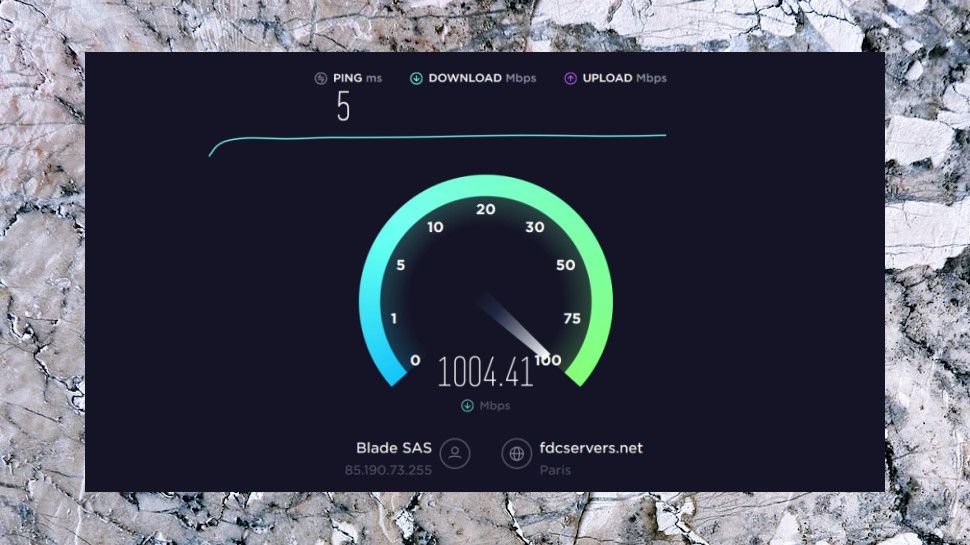 Performance
Boasting unlimited speed, 60 connections, and over a decade of Usenet to explore, you would expect the performance of Easynews to be as impressive as everything else.
We tested Easynews using a connection confirmed as 64.65Mbps (using Ookla's Speedtest) and browsed the website for a 1.2GB file hosted on Usenet. This downloaded at 7.1Mbps on average, peaking at 7.66Mbps. This is an incredibly fast result, one that wasn't limited to this download.
Testing a similar download using a 3rd party desktop client was less impressive, however. The takeaway is to simply avoid a separate client. As with any Usenet service, you'll need to input your username, password, server address and port number. The simplicity of accessing Usenet files in the Easynews browser should preclude ever needing to use a newsreader.  
Pricing
Given the level of retention on offer, Easynews is not the cheapest Usenet provider around. 
The Classic Plan is $9.98 (£7.75, €8.49) a month for 20GB/month, unlimited speed, rollover gigabytes, 4430 days retention, 1GB annual loyalty bonus, and 60 connections.
Meanwhile, you can also sign up for the $14.97 (£11.60, €12.75) Plus Plan, offering 40GB/month, unlimited speed, rollover gigabytes, 4430 days retention, 2GB loyalty, and 60 connections.
For power users, the $29.94 (£23.22, €25.48) Big Gig Plan gives you 150GB/month, unlimited speed, rollover gigabytes, 4430 days retention, 12GB loyalty, 60 connections, unlimited NNTP access, and a free subscription to Zero-Log VPN. The Big Gig Plan is currently $9.99 (£7.75, €8.49) for the first three months.
A 14-day trial is available with all packages, with a 50GB limit that once exceeded converts into an active account. 
Final verdict
The simplicity that Easynews delivers, while also providing veteran Usenet subscribers with a host of in-depth features, cannot be overlooked. With over 12 years of retention to all subscription types and impressive speed, the limits are unfortunately low, but the top-rated package offers great features. In terms of features, Easynews has the most granular level of Usenet settings around.
In some ways, comparing Easynews with other providers shows how hard it is to provide a service that feels more thorough than payment > server details > download. Easynews actually feels like you're paying for a service rather than a set of account details.
[80% Off] Easynews (Official Promotion)Get 3 FREE MONTHS of Unlimited Access with No Download or Speed Caps + Money-Back Guarantee