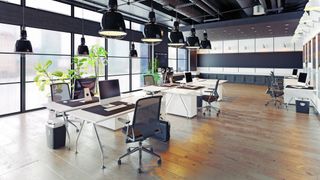 (Image credit: Shutterstock)
Many of us spend countless hours in front of a desk during our daily tasks and, even if you've got what you think is one of the best office chair out there, it's easy to sit incorrectly. While learning how to sit properly in an office chair might seem like a pointless and slightly obvious exercise, it's surprising how many of us still manage to get it wrong during the daily grind.
If you happen to be a worker that falls into this category then you may already be feeling the after effects of sitting incorrectly. Positioning yourself at a desk wrongly in an office chair can induce all sorts or problems over time. Issues can range from fairly mundane minor aches and pains through to more serious posture problems and other wellbeing issues.
Therefore, ensuring that you know hot to sit properly in an office chair is a necessity. We've assembled some quick tips that aim to get you siting comfortably and keep things that way, no matter how long you have to stay glued to your desk.
Step by step guide to sitting properly in an office chair
1. Improve your posture
Slouching in an office chair is one of the most common reasons for back issues and a general feeling of weariness. Therefore, it's vital that you aim to improve your posture while you spend the day at work. Take some time to adjust your chair so that it allows you to keep your feet flat on the floor. Ideally, you'll also want to have your knees in line with your hips.
While it is very easy to let your posture slip as the day wears on, be sure to remain in a sitting up straight position. Push your hips towards the rear of your chair in order to keep your spine upright. Most office chairs recline to some degree, but it's important not to let your back go too far backwards, with a 100 to 110-degree angle being a good position to go for if you want to keep your posture in a prime position.
2. Fine-tune your position
Next up, you'll want to check that you're in a good position to use your keyboard. Desk workers frequently get this wrong and end up paying the price by feeling uncomfortable at work all day. Ensure that your keyboard is easily accessible and that you're sitting in line with it, not side on or awkwardly where your body will start to suffer fatigue over time. This is especially so if you frequently get up and down from your desk, where bad habits can end up ruining your posture.
Similarly, make sure that you computer monitor or laptop is positioned at a correct height so that you're not sitting awkwardly. An ideal position is so that the viewing area is a few inches above eye level, rather than forcing you to crane your neck or look awkwardly downwards towards it. This may require a little tweaking to get right, but it is time well spent in the long run.
3. Back it up with the right chair
If you've got any doubts about just how good your office chair is at supporting you during your time spent sitting in it - get a new one. If you work for yourself or run your own business this is a very valid expenditure, while if you work for a company they should have health and safety measures in place that will ensure you get a replacement if it is needed. Getting yourself the best office chair can make all the difference and it will be money well spent.
Better still, if budgets allow for it, consider getting an office chair that not only offers all of the right back and lumbar support needed to stay productive, but also buy one with adjustable arm rests. This extends to adding on a foot rest too, which can frequently help improve your posture while you're sat at your desk working. Some office chairs are more supportive than others, so if you have any doubts about how good yours is, it may be well worth visiting an office chair outlet and trying a few so that you buy one tailored to your height and build.
4. Get organized
One of the other areas that can be easily improved when it comes to sitting properly in an office chair is the rest of your general work area. Desktops can often become cluttered and disorganised over time, which can result in you having to lean awkwardly over areas trying to reach things. Use some common sense and keep things you call upon regularly within arms length. It may seem obvious, but just having a stapler immediately at hand, instead of having to reach up or over for it will help over time.
The same goes for other peripherals, like a printer for example. If you work in an open office environment then this might not be possible, but if you operate a small business or work from home, try moving your printer next or near to you, so you can easily remove prints without stretching. It's obviously a good idea to get up and go to a printer, which helps stretch your legs, but one that's slightly out of reach isn't going to be good for anyone. The same goes if you have a phone in close proximity too.
5. Add it all together
Finally, spend a little time making sure that all of the previous steps are working together in order to produce a more harmonious sitting position. If anything feels like it's doing more harm than good, then take time out to address it. If you leave minor niggles to fester then they may come back to haunt you, offering up a bad back or neck as an unwelcome reward.

Most office seating positions can be improved while, with some careful thought and a little bit of time management, all workstations can function better than they do already. So, don't delay, do it today.
Are you a pro? Subscribe to our newsletter
Sign up to the TechRadar Pro newsletter to get all the top news, opinion, features and guidance your business needs to succeed!
Rob Clymo has been a tech journalist for more years than he can actually remember, having started out in the wacky world of print magazines before discovering the power of the internet. Since he's been all-digital he has run the Innovation channel during a few years at Microsoft as well as turning out regular news, reviews, features and other content for the likes of TechRadar, TechRadar Pro, Tom's Guide, Fit&Well, Gizmodo, Shortlist, Automotive Interiors World, Automotive Testing Technology International, Future of Transportation and Electric & Hybrid Vehicle Technology International. In the rare moments he's not working he's usually out and about on one of numerous e-bikes in his collection.