Looking for the latest news on Fortnite Skins? You're in the right place. Fortnite has entered Chapter 3 Season 3 and we've got the full details on which new Fortnite skins to expect. Alongside July's crew pack, there are plenty of new options in the latest Battle Pass for players to obtain.
This all follows on from a big mid-season refresh in June, officially called the Fortnite 21.10 update. Notably, this introduced a Naruto crossover, Darth Vader as an enemy NPC, and plenty more for regular players. Right now, it's believed this season will end on September 17, 2022, as that's when the Fornite Battle Pass expires. So, you've got time to claim the below rewards.
You'll find a bunch of new cosmetics to explore, so we've rounded up every Fortnite skin landing in the battle royale for July 2022. Not only have skins been confirmed by Epic Games, but there are leaks and rumors for upcoming collaborations, too. We'll tell you how to unlock them all, so you can look fashionable while racking up those eliminations.
The latest Fortnite Skins
Fortnite skins: July Crew Pack
Phaedra
Phaedra joins Fortnite Battle Royale as a part of the July 2022 Fortnite Crew Pack. Unlocked by being a part of the Fortnite Crew, she comes as part of the Gothic Nautilus Set. You can't grab this set individually from the Item Shop, unfortunately, as this is exclusive to Fortnite Crew subscribers. Being part of that costs $11.99 / £9.99 / AU$15.99, giving you 1000 V-Bucks upon signing up and every month after.
Other items in the July Crew pack include the Ceph back bling, Stygian Parasol pickaxe, Gothic Shadesoarer glider, and Inky Reflection loading screen. The Gothic Nautilus Set went live on June 30, 2022, and it'll remain available until July 31, 2022.
Fortnite skins: Chapter 3 Season 3 Battle Pass Skins
The Chapter 3 Season 3 Battle Pass is here and includes some pretty rad skins. This time around, we've got Darth Vader, Malik, Adira, Evie, Snap, and Sabina to add to your collection.
Keeping inline with the last two seasons, skins can be unlocked by claiming rewards on each page, once you've reached a set Battle Pass level. You can unlock the Battle pass by paying 950 V-Bucks and it's also included in the Fortnite Crew subscription, which costs $11.99 / £9.99 / AU$15.99 per month.
Here's a full breakdown of what to expect from these characters this season.
Darth Vader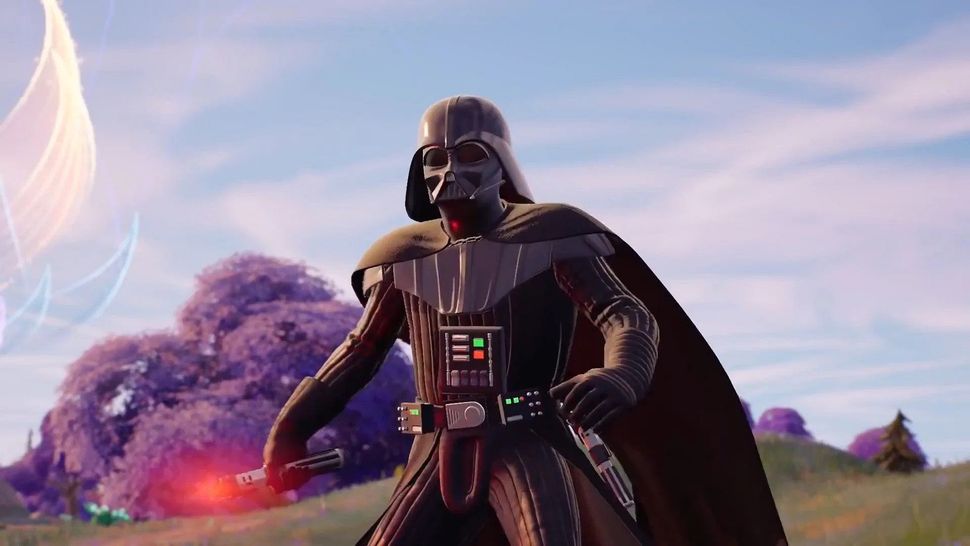 We shouldn't be too surprised that Darth Vader's an unlockable Fortnite skin in this Battle Pass, given his appearance as an NPC. Unlocked on page 10, you'll need to have claimed every single reward going beforehand, spending 9 battle stars. Alternatively, you can unlock this page after reaching level 90.
Adira
Adira comes with two variants in the Chapter 3 Season 3 Battle Pass. Her standard skin is unlocked by completing page 3 and spend 9 battle stars. Otherwise, if you're looking for the Infiltrator variant (pictured above), that costs 8 battle stars after completing page 4.
Malik
Having been spotted in the leaked survey Fortnite skins, Malik is now available as part of Chapter 3 Season 3. Available for 9 battle stars upon completing page 6, he comes with an additional Exalted variant. That one's earned by completing page 7 and spending 8 battle stars.
Sabina
Sabina is one of the later unlocks in the Chapter 3 Season 3 battle pass. You can unlock her standard skin by completing page 8, which costs 9 battle stars. However, there's also a Burning Ember skin (pictured above), obtained by completing page 9 for 8 battle stars.
Evie
Evie's easily the quickest skin to obtain. Unlike the rest, Evie is immediately unlocked once you've purchased this Chapter 3 Season 3's Battle Pass but uniquely, she has three variants to pick from. However, if you want the alternative Syndicate Couture and Neon Couture skins, those are earned with 8 battle stars on Page 2 and Page 9 respectively.
Snap
Snap is unlocked on page 1 of the Chapter 3 Season 3 Battle Pass rewards, costing 9 Battle Stars. If you take on the Snap quests, you'll unlock additional customization options too that cover their legs, head, arms, and torso. As such, you can give this one a more personalised look.
Stormfarer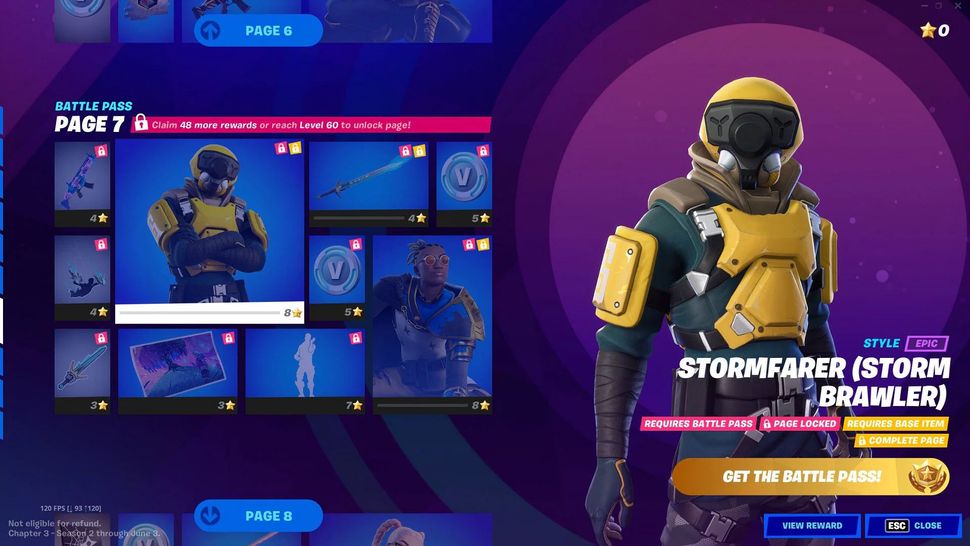 Like most of the original entries, Stormfarer comes in two additional variants. For the standard skin, you'll need to complete page 5 and pay 9 battle stars. Meanwhile, the Storm Brawler skin (pictured above) is located on page 7, costing 8 battle stars instead.
Indiana Jones
Indiana Jones is finally making his way into Fortnite this season as an Epic outfit. Forming part of the "Indiana Jones Set", he's not available just yet, though he'll release on July 7 alongside an upcoming set of "Indiana Jones Quests".
That'll grant cosmetic items from this set. Alongside the main Indiana Jones skin, this includes a few things. You've got the Expedition Bag back bling, Rogue Archaeology wrap, Raider's Relics harvesting tool, and the Indy's Dustoff emote. Once this event goes live, Indy's Fortnite skin will be available until the end of Chapter 3 Season 3.
Rumored Fortnite skins
Leaked survey skins
NEW SURVEY SKINS JUST DROPPED!! (images collected by @DrCacahuette) pic.twitter.com/x5zLqWdxJdMay 7, 2022
Back in May 2022, multiple Fortnite leakers on Twitter shared images from a recent Epic Games survey, showing off multiple new skin designs. In it, Epic detailed potential Fortnite skins and included images of ones we might eventually see added to the game.
You can see all of this in the @Hypex (opens in new tab) tweet above. Some of these have since been included in Season 3 Chapter 3, such as Malik, but we have no clue if the rest of these Fortnite skins will ever be added to the game. Still, given some have since arrived, be on the lookout in future seasons.