Marvel's Spider-Man 2 actor says Peter Parker could "look like a goblin" as long as his performance is better
"As soon as they said, 'Hey, we wanna make this change so that the facial animation is better,' I said, 'I'm all in!'"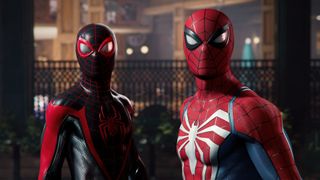 (Image credit: Insomniac Games / Sony)
Marvel's Spider-Man 2 actor and voice artist Yuri Lowenthal has suggested that it's time for fans unhappy with Peter Parker's controversial face switch to "get over it".
Lowenthal's comment comes in an interview with ComicBook in which he discussed how he felt when a subset of fans revolted over Insomniac's decision to update the facial features of Marvel's Spider-Man's unmasked hero, Peter Parker, when the fan-favorite game was remastered in 2020.
The change – made to ensure the facial animations better matched Lowenthal's performance – caused quite the kerfuffle, revealing to Lowenthal how "connected emotionally" people can be to their favorite games and characters.
"The performance was the same for me," Lowenthal said. "I got over it as soon as they said, 'Hey, we wanna make this change so that the facial animation is better.' I said, 'I'm all in!' I don't care if he looks like a goblin – if my performance is better, then I'm in."
After admitting that he was "kind of tired of talking about", Lowenthal acknowledged that "some people will never get over it", but added that there had been some good to have come out of the situation, too.
"The one positive thing I take away from this experience is that people connected emotionally so hard and so deeply in the first game that they're mad when they feel that person changes," Lowenthal concluded. "I can only be so mad about that because it worked, not the change thing, but you connected with the character, which is great. Now, get over it!"
Developer Insomniac Games recently announced that Marvel's Spider-Man 2 has gone gold, reaching a launch-ready state ahead of its release on October 20 PS5 release.
At Cat helpfully summarized for us at the time, for those not in the know, "going gold" is a game industry term, meaning that the game is "finished" as far as the development cycle is concerned. This doesn't mean that Insomniac might not tweak and polish the game in the meantime, but it does mean that, if the game were released tomorrow, it would be in a launch-friendly state.
One of this year's most anticipated upcoming games, Marvel's Spider-Man 2 is set to follow on from the original Marvel's Spider-Man and its sequel Marvel's Spider-Man: Miles Morales. Both offered thrilling, well-paced action-adventure romps full of the great set-piece battles and gripping interpersonal drama for which great Spider-Man stories are known.
Want something to play while you wait for Marvel's Spider-Man 2? Check out our lists of the best story games and the best single-player games.
Get daily insight, inspiration and deals in your inbox
Get the hottest deals available in your inbox plus news, reviews, opinion, analysis and more from the TechRadar team.