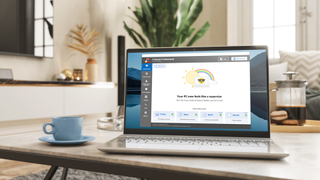 (Image credit: Gen Digital)
CCleaner is almost 20 years old, and you will likely have heard of it, even if you've never used it. It's been a geeky stalwart and is a mature, battle-worn tool that's now more useful than ever. Whether you used to use it, or you've not heard of it before, now is a great time to check out this does-it-all PC optimization tool – especially the Professional version – and not only because you can use it for a full year for just $1* with our special offer.
CCleaner is your one-stop-shop for all computer maintenance and privacy protection. If you've an old computer, its Performance Optimizer feature can quickly identify all manner of modern issues that are likely to be slowing it down. CCleaner goes about this in a clever way – it will identify apps and processes that are slowing your PC down, and sets them to sleep while not in use to free up resources, and the moment they are needed again CCleaner activates them. The end result is a PC that gets the most out of your hardware and OS, without taking anything away.
CCleaner can also ensure that a computer new or old can keep running with top performance, thanks to its smart monitoring discreetly keeping an eye on the bloated and redundant files left by poorly updated and uninstalled apps and registry settings.
CCleaner apps & features
The first point of contact for CCleaner is the one-click health check. This scans your computer and gives it an instant summary in layman's terms, which can be as simple as saying, "Your PC feels under the weather" while simultaneously offering a single-click fix to, "Make it better." If fully automated fixing makes you nervous, you can adjust every fix to a granular degree.
The check is separated into four main sections: Privacy, Space, Speed and Security. Privacy can remove Cookies, History and Temporary files across all of your browsers at once. This ensures that nobody can access your web browsing history. CCleaner can also delete any 'trackers' on your system. Trackers are used to monitor things like your surfing history, how long you spent on each site and even your shopping history! And for convenience, you can nominate your favourite sites that you trust and CCleaner will leave your history for those alone.
The Space feature will locate and remove 'Temporary Application' and 'Temporary System' files that have been orphaned and now clog-up your hard drive(s). The Security tab will tell you which apps and programs you have installed that need updating to make you less vulnerable to crashes and exploits in older software versions. The Speed tab will help you identify programs that are making your computer boot slowly.
Custom Clean is the granular version of Health Check and remains the core tool that CCleaner is renowned for. It analyses and cleans all of your Windows and Windows all of your applications to either a pre-set, or a highly configurable degree. You can also set these configurations to be your default, one-click, Health Check cleaner. The chances are you'll be surprised at which innocuous or trusted apps have been secretly stealing eating up your storage space.
Smooth running, and all the latest drivers
One of the most popular tools is Performance Optimiser which runs continuously in the background. This will help improve your PC's all-round performance, speed-up its start time, help boost the battery life of laptops and generally give you more control over your PC. It does this by identifying unnecessary background programs, putting them into sleep mode and then, automatically, restarting them only when required. If you think there's not much to worry about here, CCleaner will surely shock you with the number of redundant tasks running!
Another useful tool is the Driver Updater. This identifies every required driver on your system and then offers to update them, individually or all at once, with trusted genuine files. Should anything go wrong – CCleaner can safely roll-back any issues. If you're still nervous (CCleaner knows how pernickety drivers can be) the program prompts you to set a System Restore Point... just in case. If you've not gone through all of your computer's components in recent times, this alone will save you time – you needn't locate, download and click through all those installer packages, CCleaner does it all in one click!
Clean out the junk
Next up is the legendary Registry Cleaner. This automatically scans for all kinds of junk in the Windows Registry and safely removes it (while checking you've backed everything up first).
The Tools section provides access to the Uninstaller, which removes the parts of programs that Windows doesn't. While the Software Updater feature automatically identifies, locates and downloads trusted versions of all the latest updates to all your out-of-date programs. That alone can be a massive time-saver, and makes sure your system is fully up to date.
A Disk Analyser tool can provide insight regarding what type of files are taking up room on each of your disks. Meanwhile, a Duplicate File Finder can be a great help for both saving space and organising media libraries. System Restore points can also be managed and, if you're disposing of a hard disk, you can securely wipe a drive from here too.
Discover more about what CCleaner can do for you HERE.
Special offer for TechRadar readers – get a full year of CCleaner for just $1*
Whether you're focused on performance, privacy, reliability or storage, CCleaner can now fix a multitude of issues and monitor everything in the background to keep everything healthy as you go on. The best news is that TechRadar is currently running an exclusive promotion where you can get a years' access to all of the above features for just $1!* So, whether you want to give a quick fix to your old PC, speed up your daily workhorse or simply keep a new one from slowing down, check out this offer from CCleaner now!
*Terms & conditions at the link above. This offer expires on 23/09/24
Get daily insight, inspiration and deals in your inbox
Get the hottest deals available in your inbox plus news, reviews, opinion, analysis and more from the TechRadar team.