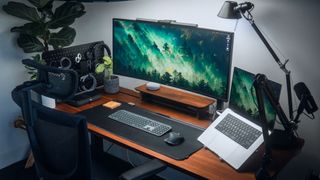 (Image credit: @nickkendall_ )
Whether you work in a home office or a traditional one, it's all too easy to arrive at the end of a day and realise that you've barely moved out of your seat. Standing desks have become a popular solution in recent years, but they've traditionally been either expensive or cumbersome to use. And standing desk converters – platforms you add to your existing desk that can be raised or lowered – can be helpful, but they're often awkward to activate and take up a lot of room on a regular desk. And they can cost as much as a good standing desk. Well, now there's a better way. NorthDay, makers of the popular ErgoTune mesh office chairs, recently unveiled the latest version of its flagship standing desk, the EverDesk Max… and it doesn't take long to realise that some serious thought has gone into creating it.
Uniquely customisable
First up there's the basic design. It's based upon two very solid and rigid legs, which banish any wobbles, and can be colour-matched to your office décor by coming in both white and black options. You can also choose the size of the desktop itself: 120 x 60cm, 140 x 60cm or 160 x 70cm as required and you can even choose its colour; white, a light raw ashen oak, or aged darkened walnut. It supports a whopping 120kg in weight, and you can even optionally put it on castors so it can be easily moved around!
The EverDesk Max arrives flat packed and has minimal components to bolt together. Great effort has been made not to overwhelm you in the way that some flatpack furniture is prone to – you just need to connect the legs to the desk's platform, add the top and the Health Coach Controller that you'll use to adjust the height of the fully-assembled desk. There's videos to show you how best to do it, too.
Once erected and plugged in, you've a desk that automatically rises and lowers with just a tap of a button. Movement is swift (it goes from sit to stand in just 3 seconds) and the motor only emits a non-distracting minor hum. There's collision detection too, so you can't accidentally crush anything (or anyone – the controller even locks to stop toddlers 'playing' with it.) The controller can also be set to different, customisable preset heights for rapid transition, and you can set a timer which reminds you to stand up to work periodically.
What you're left with is a solid, health-smart, great-looking desk... but that's not all.
More than just cable routing
EverDesk features a special groove on its back edge that, at first glance, may look like just a gap in the desk, but it's so much more. Called UniGroove, it's designed to let you both prop up mobile devices (and other small items) and facilitate cable management. Charging, network and signal cables can all be passed through it to reduce cable clutter, and the narrow cutouts prevent the cable connectors from falling through. Optional felt inserts can ensure that slimmer and smaller cables don't fall down to the floor. If you need more space for thicker cables, a bevelled cut-away at the rear enables you to easily fit thick connectors down the back of the desk, even when it's up against a wall.
However, the UniGroove really comes alive when you see the vast catalogue of optional accessories that are available with EverDesk.
A world of accessories
EverDesk can adapt to your specific requirements thanks to a plethora of optional extras. One of the most popular is the simple (white or black) Cable Tray, which screws-on (in pre-drilled holes) underneath the desk at the rear. This can be used to hold a power strip to power all of your desktop devices, whose cables can simply pass through the UniGroove.
Attaching to the Cable Tray is the reticulated Cable Spine. This takes your cable management to another level by combining and masking the cables with a single, clip-on connector that leads from the Cable Tray to your power source. It can be affixed permanently or magnetically.
Meanwhile, on top of the desk are the Modular Desk Shelves which can be matched to the desktop colour and hand-screwed into the UniGroove for stability. These are two-tiered and you can use them to stow away your mic if you live stream or tuck away little things like a USB hub, external hard drives and much more. You can even use them as a bookshelf. They're available in 36cm and 58cm widths.
If you need more storage, there's also the Switch UnderDesk Storage. This unit hangs off the table top and features two little drawers. They're both open on the top, so you can easily reach in for something, but they can also be pulled out easily. One even comes with a partition for storing small items, but you can even keep a set of over-ear headphones in the bigger drawer.
Connecting to the side or rear is the clamp-attached (black or white) Peg-Board Panel. This solid metal panel is full of holes to let you add your own pegged items, or a wide range of official accessories. The latter are sold as a separate collection which includes two shelves (one with an integrated glass vase!), four hooks, four knobs, a stationary holder and a small, magnetic photo frame. It's all perfect for keeping everything you need within reach (including stationary, notes, keys and tools) while avoiding clutter. You can also use it to personalise your desk without taking up space.
Of course, one of the best ways to eliminate desk clutter is to remove the stand that supports your monitor and, once again, the EverDesk Max has you covered. A Float Monitor Arm can be attached using either a clamp at the back of the desk, or a special attachment that works neatly with the UniGroove – perfect if your desk is customer, client or colleague-facing in the middle of a room. You can use multiple monitors and even choose an Arm with a convenient Laptop Stand at the end: you don't even need to set your laptop down upon the desk anymore!
As if that weren't enough, EverDesk offers a Hover Lightbar accessory which clips to the top of your monitor. This doesn't just provide glare-free illumination in low light – it can colour-cycle between various degrees of white, blue and red light to help prevent fatigue, and even help get your circadian rhythms back on track after a jet-lag ridden long trip. Using an old monitor that's too thick for the Hover Lightbar? No problem, it will clip onto the Peg-Board instead.
If you're worried about long-term durability or just whether the EverDesk is right for your needs, note that NorthDay provides both a 10-year warranty and a 21-day return guarantee!
Whether you're seeking a stylish motorised standing desk to improve your general health, or want an all-in-one desktop ecosystem that reduces clutter and improves productivity, check out the EverDesk and see what combination of its features and optional accessories will help improve your work-life.
To customise your own EverDesk Max to perfectly suit your individual needs, visit the NorthDay Australia site now.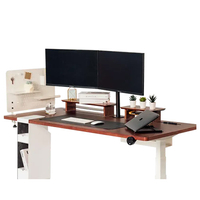 If you're keen to try the EverDesk for yourself, you can currently save big courtesy to NorthDay's Australian EOFY sale! Normally priced at AU$949, right now you'll pay just AU$749 for the base model – that's a AU$200 saving! Plus you'll get a free Cable Spine and Lightbar thrown in too! Hurry though – this offer is only available until June 30.
Get daily insight, inspiration and deals in your inbox
Get the hottest deals available in your inbox plus news, reviews, opinion, analysis and more from the TechRadar team.
NorthDay is a Singapore-based furniture brand and the creator of the ErgoTune office chair and EverDesk standing desk.