The best business card printing services make it simple and easy to order new business cards, offering top design and print quality and competitive pricing.
This is important, as even in our inter-connected world, business cards remain a vital addition to any marketing strategy and a must for networkers looking to find new leads when mixing at events.
There are many questions to consider when looking for a company to design, print and ship your cards. How much of the design do you have to come up with yourself – can you start from a template? How many cards can be shipped at once, and how long will they take to get to you? What quality of paper will they print on, how thick are they, and what coating can be applied? And, of course, there's the cost.
We've compared these business card printing services across multiple points, from their template range and design quality to their delivery speed, print quality, and pricing. We evaluated how many card materials they offer, whether there's same-day shipping, and how easy to use the service is, among other things.
Whether you're looking for a standard business card that just does the job, or you want one that uniquely conveys your business, continue reading our list of the best online business card printing services to find out which ones will meet your needs.
For all your other needs, you can also check out the best business networking apps around - and also the best online printing services.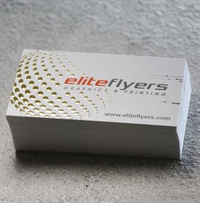 (opens in new tab)
Elite Flyers specializes in top-quality custom print projects and the service is well-known for its custom printing specialties including Spot UV, Foil Stamping, Full Color Foil, 3D Lenticular Printing, Plastic Business Cards and more. New customers can take advantage of this promotion (opens in new tab) to get 10 percent off by using the promo code EF10OFF.
---
The best business card printing services of 2022 in full:
Why you can trust TechRadar Our expert reviewers spend hours testing and comparing products and services so you can choose the best for you. Find out more about how we test.
Vistaprint offers a wide range of business card printing services to accommodate most needs. A range of existing business card templates are provided for you to use, but you can also upload your own designs as required.
If you're not sure what design you would like to use and would prefer something more unique than the templates, and can't design your own, then Vistaprint can also offer you the chance to work with one of their designers on the business card design and format to give you what you want.
Vistaprint also offers a range of different paper thicknesses, from 14pt to 32pt paper stock, with a number of different finishes available. Finishes include foil, embossed gloss, plastic, and pearl, on top of the traditional matte or gloss finishes. There are also different shapes available, too, from rounded corners to square business card designs.
If you're not sure which type you prefer, you can request a free sample kit, which allows you to check our the print quality and designs available.

Moo is one of the easiest printing services to use – you don't even have to register an account as you can log in through Facebook.
Moo also offers some of the most stylish templates of any of the printing card services we tested. They also offer an NFC business card option, which allows your contacts to tap your business card against their smartphone (or other NFC-enabled device) to bring up your website or LinkedIn Profile.
As with Vistaprint, Moo allows you to use their existing templates, upload your own design, or get help designing your own business card online. Once you have a design set there are a range of different formats and finishes available to you.
In terms of size, as well as the standard business card size Moo also offer a larger version for increased impact, as well as cards with rounded corners, square-shaped business cards, or even mini-business cards.
The range of finishes includes some impressive gold and silver foil options, as well as embossed, and embossed glass. Another plus for Moo is that for a lot of customers Moo can promise next day delivery, so it's worth checking your ZIP code to see if you qualify.

If you don't want to wait long for your cards to be delivered, Staples is the best option. It gives you the option to have cards sent the same day to pick up from your nearest Staples store.
The company's online card creator is incredibly straightforward to use, allowing you to upload a card design from cloud storage services such as Google Drive and Dropbox and in a range of file formats – from JPG to PNG.
However, if you would rather use an existing template there are plenty of options to choose from, with a number of suggestions provided by profession - though these tend to be more functional than stylistic than some of the other providers in this list. However, don't let that put you off as some of the designs are great, they just don't have the extra flourish than some others, such as Zazzle, put into theirs.
There are also a number of different formats to choose from, such as standard, raised print, executive (with linen effect), and ultra-thick business cards. All in all, this means you should be able to get a good and eye-catching design printed out and picked up from your local Staples within a day.

Jukebox provides a number of premium business card templates, with the focus on high-end designs for maximum impact. One way they do this is by offering business cards made from different materials than are commonly provided by other business card printing services.
For example, you can have business cards printed on bamboo, hemp, cork, cotton, or even wood. Additionally, there are a range of gold foil designs available, as well as exclusive and very effective premium black business cards available for really making an impression.
This means that a number of the business card designs offered by Jukebox Print are a lot more expensive than standard business card printing from other providers - but that's part of the point of offering stunning card designs.
However, it's not all aimed at the exclusive end of the market, and there are design options available that are reasonably price-competitive compared to other providers, especially when you factor in that Jukebox Print can offer a range of different print runs, from anywhere between 50-500 cards at a time.
Overall, Jukebox Print offers high-end business cards that aim to be attention-grabbing, so if this is something you think may help with your business, introductions, and sales, it's a service well worth considering.

Zazzle offer an impressive range of different business card templates, which you can explore by profession of style. While you also have the option to upload your own design, you're really going to get the most out of Zazzle if you use one of their own templates.
The range of options look very professional, and in terms of size and shape you can choose standard business card size, large, square, mini, as well as Euro and Oceania which are also bigger than the standard size.
Zazzle also makes it easy to pick your business card by profession, with a number of design templates suggested specifically for areas such as make-up artists, photographer, real estate agent, hair stylist, bakery, DJ, dentist, and personal trainer, among others.
You can also do a keyword search through the design templates to help drill down to something more to your tastes according to the keywords you use. There are also a number of search filters such as by size, format, orientation, material, and price.
---
Also consider these online business card services:
When it comes to professional business card printing there is a competitive market, with various companies offering anything from free to cheap business card designs and printing, while others focus on a printing service that can deliver the same day.
Business cards have also changed, and nowadays don't be surprised if you find yourself offered digital business cards as well as the traditional paper form, or even plastic business cards - or even have yours scanned by a business card scanner.
Either way, if you do need business cards printing, there are a lot of businesses out there offering modern and professional cards, that allow you to be creative and customize your design, to ensure you get the personal business card look that you want.
Here then are a few additional companies worth looking out for, according to the type of business cards you need:
Instantprint (opens in new tab) could be an option worth considering if you live in the UK. A number of design templates are provided for you to use if you don't have your own design. What probably makes instantprint stand out more is the fact that the pricing is really competitive.
Clubcard Printing (opens in new tab) is a Canadian company that offers a wide variety of card options, types and finishing options – from coated to uncoated, kraft (cards that have speckles or grains, lending them a homemade feel), foil-coated, laminated, die-cut and plastic. They're competitively priced, and you can work with Clubcard's design team on designing custom business cards to meet your needs.
Primoprint (opens in new tab) offers competitive pricing on its cards, fast turnaround time and (according to its customers) excellent customer service. Print quality is also excellent, wit3h bright and vivid images printed onto cards. The company offers real-time order tracking, business cards with painted edges that come in a wide variety of specialty card stock options (and in a range of thicknesses and weights), and 15 default designs to choose from.
Printrunner (opens in new tab) offers several tools for design cards making it one the most convenient platforms for printing business cards on our list. It lets you work with a number of file formats, allowing users to create new card designs or modify a number of default template options. The company can cover 90% of the US with 1-2 business day shipping.
Uprinting (opens in new tab) offers high-quality business cards in a snip. The company also offers a selection of due-cut cards that can be printed in full color on one side, or on both sides using duplex printing. Uprinting offers its users an online service for designing cards, and a 'Free proof' option ensures that all cards will be individually checked before being printed, which adds a delay but ensures peace of mind.
48HourPrint (opens in new tab) is one of the fastest ways to get business cards delivered to your door. It offers a wide selection of business cards – from classic styles to brochures and even full magazines. Its features include a free online design tool, a free sample kit, custom printing and a number of template designs to get you going. Handily for designers, 48HourPrint.com offers integrations with Adobe's Photoshop, Illustrator and InDesign tools.
We've reviewed the best WordPress website builders and the best alternatives to WordPress.
---
What is a business card printing service?
A business card printing service is an online service that lets users design and print business cards and stationary. These services provide diverse templates for users to conveniently and swiftly build their business cards and get them delivered (sometimes within the same day).
How to choose the best business card printing services for you?
When deciding which business card printing service to use, first consider if you have any specific needs, such as multiple colors to be used, the thickness of the paper or card required, and same-day delivery.
While most online card printing services will offer a range of options sometimes, these are provided as addons so it can be difficult to make a direct comparison between different printing services.
Therefore do ensure you have a relatively clear idea of what you think you might need when comparing services.
You'll also want to check the variety and quality of the templates they offer, the pricing plans, and the card material, among other aspects.
The best business card printing services: How we test
To test for the best business card printing service, we set up an account with the relevant printing service, then we ordered a range of business stationary, not least cards, letterheads, and something miscellaneous, to gauge the different print options and quality features available.
The aim was to get an idea of how each business card printing service compared across a range of services so we could better evaluate them in comparison.
Read more on how we test, rate, and review products on TechRadar.