Best business networking apps of 2023
It's not what you know, it's who you know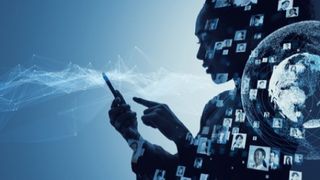 (Image credit: Shutterstock / metamorworks)
The best business networking apps make it simple and easy for you to make professional connections, to help improve your business operations.
It's no longer the case that you have to wait to make business contacts at events and conferences, you can now connect online. The tricky part is being able to identify the people you need to reach out. However, the internet simplifies this process, especially through semi-social business networking websites.
These are especially useful, because they not only provide information on the person's business background and credentials, you can also find other people connected to them.
The overall result is that it's no longer so difficult to find suppliers and contractors, and that with only minimal research you can now find exactly who you need to look for.
Here then are the best in business networking apps and websites, though the first one featured will likely come as no surprise to most people.
We've also highlighted the best social media management tools.
---
The best business networking apps of 2023 in full:
Why you can trust TechRadar We spend hours testing every product or service we review, so you can be sure you're buying the best. Find out more about how we test.
1. LinkedIn
The best known networking website
Reasons to buy
+
Huge user base
+
Great way to find a job
+
Job listings
+
Training courses
Ask anyone about business networking online, and they'll most likely mention LinkedIn, as the classic example of a widely used solution.
However, it has taken 15 years and the acquisition of 17 other networking and contact management companies to make it the top dog. And, in 2016 it was itself bought by Microsoft.
The model behind LinkedIn is straightforward enough, allowing users to create a profile that then enables others to find and connect with them for business purposes.
Protection against unwarranted invites is inbuilt, and users can restrict what information is available about them. But what most people like is that they can share their trusted business associates with others, creating a community of connected and approved people. The only real criticism is that the default email settings leave you open to a potentially large number of pointless updates and marketing information.
However, while business networking remains LinkedIn's core business, it has since branched out into providing job search listings, as well as business training courses through LinkedIn Learning.

2. Facebook
The social networking site
Reasons to buy
+
Huge connectivity
+
Worldwide reach
+
Personal and business profiles
Reasons to avoid
-
Some users withdrawn
-
Limited business focus
-
Privacy issues
It used to be the case that Facebook was arguably the most connected social media website in the world. Although it still is the largest, and continues to grow, a lot of the earlier adopters have moved on.
Even still, Facebook is still an amazing way to connect with people, with the caveat that it's less of a professional networking site than LinkedIn. Although businesses can set up business profiles and pages and interact using these, Facebook is probably best known for making personal connections.
In that regard, Facebook has grown into an absolute behemoth when it comes to absolute numbers of users, but it also comes with the cost of privacy. While that hasn't put off most users, it does mean that business users may feel a little more wary about the connections and content they make within the Facebook walled garden.
Overall, though, chances are that there are many business contacts you can make on Facebook, just on a more personal level than dedicated business networking apps. It's not to be overlooked though, and remains a key part of any business presence.

3. GroupMe
A group messaging service
Reasons to buy
+
Free
+
Built for business users
+
Supports a variety of media
Regular messaging applications like Hangouts weren't specifically built for business users, but GroupMe was, and you can also use it for personal connections.
The GroupMe app is available for Android, iOS, and Windows 10, but users with other devices can also be connected via SMS using your address book. This makes the service accessible even for users with older phones, or who would prefer not to download apps.
GroupMe operates much like a private chat room, where any message can be seen by all those in the group, allowing them to react to information sent to each other. Private messages are possible, but it isn't the default mode of this tool.
In addition to text-based communication, GroupMe also supports pictures, videos, documents and web hyperlinks in its exchanges.
It was bought by Skype in 2011, which in turn was bought by Microsoft earlier that same year.

4. Bizzabo
A tool for conference networking
Reasons to buy
+
Great for conferences
+
Free mobile app
Reasons to avoid
-
Needs the back-end to work fully
There are two components to Bizzabo, one for those that attend conferences and another for the businesses that organize them.
Where the mobile app for attendees is free, the management tools to connect all those people costs money. How much depends on the integration needed with other software, and how much information you want to extract about the attendees.
For anyone attending a conference run using Bizzabo, the mobile app is a no-brainer, as it allows you to connect with exactly the people you'd like to meet in what might be a confused and crowded environment.
Existing LinkedIn users won't even need to register their information, as the app can access your profile, and also the LinkedIn profiles of other attendees.
We've also featured the best events management solutions.
---
Which business networking app is best for you?
When deciding which business networking apps to download and use, first consider what your actual needs are. For example, are you looking to connect with other business owners and staff directly, or are you looking to network only in a specific niche or area? Additionally, are you looking for other built-in tools such as jobs and training? So do ensure you have a good idea of which features you think you may require from your business networking app.
How we tested the best business networking apps
To test for the best business networking apps we first set up an account with the relevant software platform, then we tested the service to see how it could be used for different verticals and locations. The aim was to push each networking platform to see how useful its basic tools were and also how easy it was to get to grips with any more advanced tools.
Read more on how we test, rate, and review products on TechRadar.
Are you a pro? Subscribe to our newsletter
Sign up to the TechRadar Pro newsletter to get all the top news, opinion, features and guidance your business needs to succeed!
Mark is an expert on 3D printers, drones and phones. He also covers storage, including SSDs, NAS drives and portable hard drives. He started writing in 1986 and has contributed to MicroMart, PC Format, 3D World, among others.