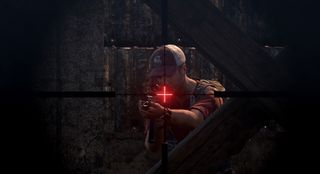 Introduction
If the last few years have proved anything, players really love third-person shooters with huge maps, unwieldy driving physics and a vitriolic fight for gear that would make most of the characters in Mad Max wince.
But while the likes of H1Z1: King of the Kill and DayZ remain popular yet technically flawed experiences, the relatively fresh-faced PlayerUnknown Battlegrounds is actually pretty robust with far fewer hilarious/painful bugs. It's also become one of the most played games of 2017, so before you jump into the next 'in' thing, check out our killer set of survival tips.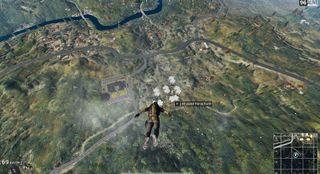 Keep control during freefall
Every time you jump into a game of PlayerUnknown Battlegrounds you quite literally jump from a plane and freefall/parachute into battle. There are two options here and each one will have a radical effect on how you impact on the match below.
Generally we've found that our most successful matches start with us being the only one to land next to our building of choice. This gives you the maximum amount of time to loot it for the weapons and items you'll need for the fights ahead.
The best way of achieving this is to furiously tap W after you've jumped out of the plane to pull away and head towards a key supply point of your choosing.
However, you can land more quickly if you point the cursor towards the ground you'll pick up more speed, but you'll likely head straight into the heart of the action.
We'd also suggest using FreeLook (hold the Alt key) to look without moving the direction of the 'chute - this way you can avoid/pinpoint trouble spots form on high.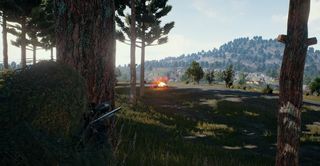 Always, always, always equip a helmet
PlayerUnknown Battlegrounds is a game barely in its infancy, but it's already full of players looking to pop your medulla oblongata like a peach given half a chance. With so many DayZ-style open plains and valleys, snipers are everywhere so play smart and never go into battle without a helmet.
Helmets can be found in many buildings that you'll be trying to loot at the start of a match, so make sure you pick one up if you find one.
Most Level 1 and Level 2 helmets will automatically stop a headshot (and likely disintegrate soon after), essentially giving you a second chance at survival. However, a shot to the face will kill you instantly - unless you're wearing a heavy duty Level 3 helmet. Keep your eyes peeled for those Level 3s!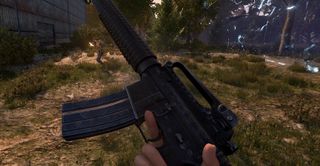 Remember to load collected weapons
Weapons spawned across the map won't come locked, loaded and ready to use - you'll instead find them with no bullets in the chamber and a full clip next to it. So when making a dash for a new gun, make sure you allow enough time to load it before turning your new shooter on a foe.
There are few things more frustrating in PlayerUnknown Battlegrounds than finding yourself in a fresh firefight, flipping to your new weapon and getting the life shot out of when your gun clicks empty. Learn from our mistakes and load those weapons as soon as you collect them.
You should also make a point of keeping an eye on which fire-mode your current weapon is set to. Going into a firefight with an Uzi that you've accidentally set to single-shot mode.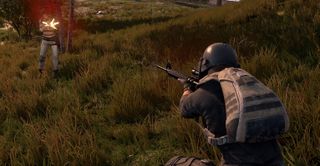 Check all gear for better levels
If you're starting out in the world of PlayerUnknown Battlegrounds you'll want to grab the first bit of gear you can find. However, just because you've grabbed some new clobber doesn't mean you should just stick with it the whole match.
Helmets, vests and backpacks all come in three distinct flavours (Level 1, Level 2 and - you guessed it - Level 3) with the highest providing the most protection/carrying capacity. So make sure you check every piece of gear you find.
Armour also comes in three levels, but it also has a durability rating. If its durability is the same or lower than the one you have equipped, leave it be.
Normally, everything you pick up takes up space in your inventory, but items that you wear are automatically equipped, and you'll automatically drop the item it's replacing. Your backpack's capacity won't be affected.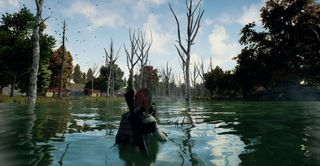 Pros always skirt the edge of the map first
Since the maps in PlayerUnknown Battlegrounds gradually shrink as the match begins to countdown to its conclusion, less experienced players will be busy in the middle of the map looking for kills/more than likely being pwned themselves.
However, if climbing the ranks is your game, then you'll want to traverse the edges of the map since gear and weapon drops are most common here. This way, you'll be geared up for the final showdown and you'll know your six is covered.
Just be aware this tactic is starting to take off across the community, so hunt with caution, and don't take too much time doing this unless you want to find yourself killed off by the map's shrinking boundary.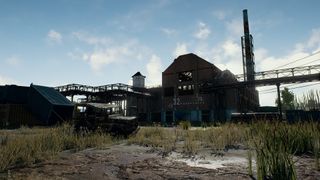 Beware of open doors
Since everyone begins a match racing to find the best equipment, you know most players will find their first few minutes sprinting to every house or abode in sight in hopes of bagging some sweet gear.
With this in mind, be very cautious when approaching one yourself. All doors are closed when a match starts, so if you see one that's open, chances are someone has already looted the house clean (and may well be waiting to cap you the moment you wander in).
Of course, some players actively close doors behind them so watch those corners when searching any building. You can also sneak by holding the Ctrl button as you move. This ensures your footsteps make the minimum amount of noise, and you won't give away your location to any enemies lying in wait.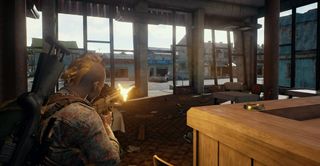 Mute that voice chat from the off
While the quality of PlayerUnknown Battlegrounds' gunplay and combat is significantly more polished than the likes of H1Z1 and DayZ, the same can't be said for the voice chat that swamps you like a stagnant wave every time you wait in a lobby.
Thankfully, lobbies tend to last no longer than 60-90 seconds at most, but we'd advise you switch voice chat to off as soon as you enter one. On the flip side, cranking up the volume up on game itself and investing in a good headset will give you a real advantage - hearing the telltale crack of a sniper rifle or the pounding of sprinting boots could be the difference between death and survival.
We're also massive fans of how the sound of footsteps can be used to track another player in the same building as you, which creates some fantastically tense standoffs.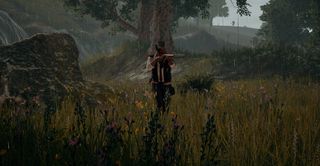 Play smart when it comes to healing
Much like very similar (but technically inferior) H1Z1 and DayZ, healing in PlayerUnknown Battlegrounds isn't a quick, Far Cry-style injection of life. It's a slow process for the most part and one that'll leave you open to sneaky players if you're not careful.
Health comes in two forms - bandages and medkits - with the former offering a small boost with a quick turnaround, while the latter brings a great health gain but at a slower pace. Make sure you find a decent piece of cover first, then activate the item. A timer will also appear, letting you know how long you have until you can use another.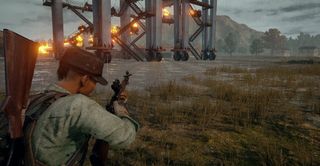 Know your weapon's effectiveness
As it stands (we can't speak to what changes developer Bluehole will patch in post-launch) PlayerUnknown Battlegrounds' arsenal of weapons all have their standout guns and items that prove more effective for certain playstyles.
For instance, the AKM is a beast of an assault rifle at close and medium ranges, but has one helluva recoil. Alternatively, you can settle on the M16 if you're looking for something that's deadlier over longer ranges. Talking of long range, the monster Karabiner 98 Kurz (Kar98) is a bolt-action rifle with serious stopping power and is well worth your time.
Each of these weapons can be augmented with add-ons that you'll find around the map, which can transform some of the less useful weapons with the addition of a good scope for example.
Finally, many guns have different firing modes, meaning you can switch between single-shout and rapid-fire modes.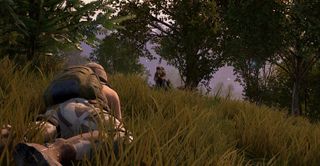 Be strict with your looting
So we all know by the now that looting gear and items is kind of a big deal in PlayerUnknown Battlegrounds, but that doesn't mean you should just grab everything you see and fill your inventory to the brim.
You can only hold so much, so be strict and only take what you need. Don't fill up on too many energy drinks and medkits - you'll only ever get a chance to use a couple. Avoid ammo and attachments for guns you don't currently possess and only keep gear with the highest level possible.
You can, however, expand your carrying capacity with upgraded backpacks - so keep an eye out!