Online shopping has become an everyday occurrence for more than 2 billion people; therefore, having an online e-commerce store is becoming mandatory for most businesses. At first, it may seem daunting, requiring appealing design, easy navigation, and SEO adjustments to have your audience find you. However, there are now one-stop shops offering their platform services, where you can build your e-commerce site without writing a single line of code.
Shopify (opens in new tab) and Squarespace (opens in new tab) come to mind when trying to solve these challenges, with Squarespace being more of a website builder, while Shopify offers its entire platform to help you sell online. There are advantages and disadvantages for both platforms, and in this guide, we will look at which platform could be ideal for your needs.
Main similarities and differences
While at first glance similar, both Shopify and Squarespace had distinct target audiences in mind when they created their business models.
Shopify, for example, seems more geared toward retailers looking to sell higher volumes that they look to support through the various apps in their app marketplace (opens in new tab). It began back in 2006 with a group of friends in Canada who struggled to sell their goods online. From then on, it has been on an unstoppable march forward, with over 4.4 million websites (opens in new tab) using Shopify in over 175 countries globally.
Squarespace, on the other hand, offers a large number of useful templates (opens in new tab) to make your web presence more appealing. With that being said, it could be argued that Squarespace is better at helping businesses build their brand and customer engagement online, while Shopify is better at helping its customers sell online. It's important to note that Squarespace began as a content publisher in 2004 and has only recently added e-commerce functionalities. Currently, over 2.96 million websites use (opens in new tab) Squarespace.
Ease of use
When it comes to ease of use, both Shopify and Squarespace offer great user experiences. Yet, one manages to gain the edge by offering intuitive design and a fast setup so you can hit the ground running.
With Shopify, your web store can be up and running in just minutes without having to have previous experience in building e-commerce shops. The intuitive dashboard is well laid out, with all the necessary shortcuts just a click away. Drag and drop functionality allows users to freely add or remove sections, rearrange them, and create the perfect "booth" for their online store. Visual cues assist with theme selection and allow a streamlined experience when adding items to your store.
For complete beginners, Squarespace might have a steeper learning curve than Shopify, especially with its in-built business tools. The drag-and-drop functionality is very intuitive, which allows for a fast setup, especially when using one of the numerous templates the site offers. Being more careful with its visual cues, makes some aspects more challenging compared to its competitor.
Overall, Shopify is easier to use, but by no means is Squarespace difficult to navigate, especially once the user understands the system of Squarespace.
Pricing
Based on your business needs, you will find a wide range of pricing options for both of these e-commerce giants. Shopify offers a price range from $32 a month all the way up to $399 a month for the Shopify Advanced experience. Squarespace, on the other hand, offers ranges from $23 to $65 if you opt to pay per month. Both platforms offer discounts on the above-mentioned prices if users opt to pay for the entire year.
While the basic plans are ideal for beginners, businesses selling higher volumes might consider upgrading, and here is how Shopify and Squarespace try to convert their users to higher-paid plans.
Shopify offers more insightful reports, more staff accounts and lowers the transaction fees compared to the basic plan, thus inciting users with higher sales to subscribe to their more premium pricing plans. Squarespace offers almost all of its advanced features with the "Business plan" option; however, the basic plan does not have the e-commerce option.
On the whole, Squarespace is the cheaper option, but there are additional features that need to be looked at before deciding on a plan.
Features
Both platforms pack a lot of features in their offering; therefore, going through all of them would require another long-form blog post. So, let's focus on the key elements important for a business's online presence.
In terms of product types, both platforms allow users to sell digital and physical products along with services. Shopify will require an additional app to sell digital products, while Squarespace has everything available "out of the box."
Presentation of these products takes center stage on both platforms, with Squarespace again having everything ready without the need for additional apps. The zoom feature and the ability to turn your photos into a video to show off your product in a 360-degree view give Squarespace a slight advantage over Shopify. However, Shopify has a zoom function with an additional app, making their product presentation also stand out.
Once you make a sale on Squarespace, users will be limited to a few payment options such as Paypal, Stripe, and Apple Pay. Buyers on Shopify, on the other hand, are able to pay using almost all major payment gateways, cryptocurrencies, and a dozen other payment methods, giving the obvious edge to Shopify over Squarespace when it comes to payment options. Squarespace does offer a physical POS integration, but only in the US.
If you're looking to ship a physical product, again Shopify offers more options compared to Squarespace. Printable labels and built-in integration with UPS are provided. Squarespace is working hard to catch up and still has some way to go to properly compete with Shopify in this field.
Finally, the marketing features are more complex on Shopify compared to Squarespace, with the latter taking a slight edge when it comes to blogging. Interestingly enough, Shopify offers better SEO tools, e-mail campaign options, and social media integration. Most of the advantages that Shopify has come thanks to the numerous app choices they offer, which simplify most of the marketing efforts a business may have.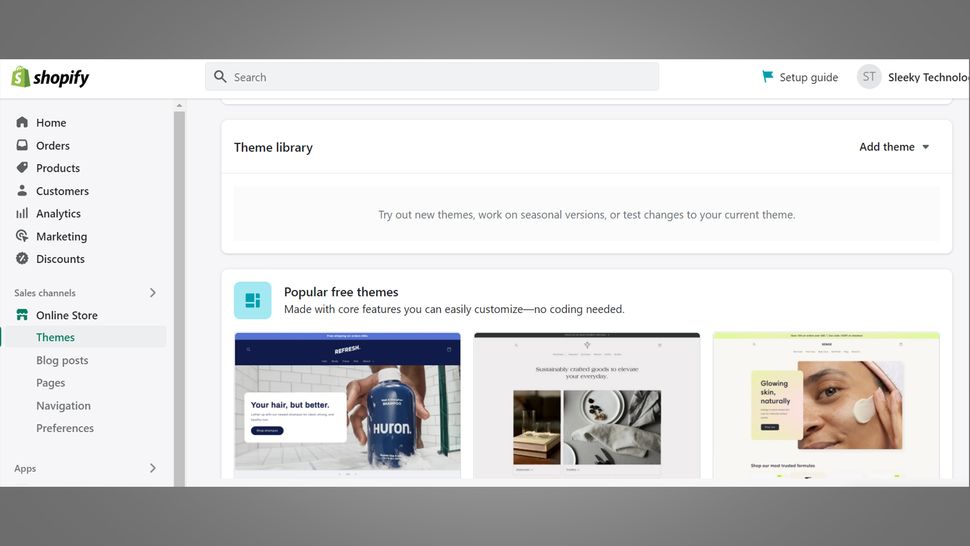 Security
Security is probably the second biggest reason why retailers opt to use platforms like Shopify and Squarespace instead of hosting their e-commerce solutions themselves. SSL encryption comes as a standard for both platforms, ensuring that all data is encrypted. Furthermore, both platforms comply with PCI rules ensuring that all credit card and personal data is processed using the highest security standards.
When it comes to security, there is no clear-cut winner; both offer superb security features, and both are safe places to do business.
Customer support
Both platforms offer great customer support, with availability through e-mail, phone, live chat, or community forums. There is also extensive documentation on both platforms that can help users find their way on their own.
With the Shopify Plus plan, users get a special support agent and 24/7 phone support, giving Shopify a slight edge when it comes to customer support. Note that Squarespace does not offer phone support to their customers. But overall, it could be argued that customer support for both is exceptional.
Which one is best for SMBs?
While Shopify may be a "swiss-army knife" solution for businesses, both platforms should be considered before deciding which to use.
Shopify is geared more towards retailers with higher sales volumes, drop-shippers, and manufacturers. It truly represents a great professional tool that allows great freedom and excellent options to sell your products to the target audience. At the time of writing, Shopify offered over 6,000 extensions in their app marketplace to offer users a high level of customization to reach their sales goals.
Squarespace is geared towards businesses that are primarily looking to have a professional online presence quickly and easily. While it could be argued that businesses that are based offline should pick Squarespace for their online presence and turn to Shopify for their online sales channels, it's much more complex than that. Small businesses might actually opt for Squarespace as it's better value for money thanks to its cheaper pricing plans and the fact that its e-commerce aspect is not so bad that it's unusable. Of course, Shopify is much stronger in that aspect, but for SMBs looking to have everything on one platform, Squarespace seems to make more sense.
Verdict
To sum it all up, both Shopify and Squarespace are great options for building an online e-commerce presence. Squarespace is more geared toward businesses looking to create a compelling online presence, blog, and improve their brand while also offering an adequate e-commerce solution. Shopify offers great sales features and complex business tools to make it more geared toward businesses looking to sell large volumes online.
The final choice of which one to pick will depend on the needs of your businesses, as well as what type of online presence you're looking to have. Both have been present long enough to have perfected a lot of elements, making them leaders in their respective fields.