Verdict
Simply put, the R11s is the most impressive handset that Oppo has released so far. Almost everything about it feels premium, even if a couple of things do keep its feet planted squarely in the mid-range.
We liked
It's beautiful 18:9 AMOLED display is one of the best we've ever seen on a mid-range phone, and its face unlock functionality is easily the fastest we've ever experienced.
We disliked
NFC functionality is still missing from Oppo's phones, and we have to question the decision to keep the Micro-USB port around for another generation. We'd also like to see Oppo venture away from its iOS-aping ways when it comes to ColorOS.
Final verdict
Oppo's R11s is the best handset that the Chinese electronics film has produced yet, with a fantastic modern design, a gorgeous screen, lightning-fast face unlock and a host of other top tier features on offer. When Oppo eventually irons out its remaining issues, it will be hard to keep calling its phones mid-range.
Who's this for?
If you're the type of person who adores the look and feel of flagship phones but don't want to sell your first-born to pay for one, the Oppo R11s is a terrific alternative.
The Oppo R11s does a pretty great job of offering an iPhone X or Galaxy Note 8-style experience while managing to come in at over half the price of either of those handsets, which is going to be a very attractive prospect to many people looking to purchase a new smartphone.
Should you by it?
The Oppo R11s is one of the best mid-range phones we've ever tested, hands down. It's got a beautiful 18:9 AMOLED display, small bezels and almost everything you'd want from a top tier phone, including a terrific dual camera setup, face and fingerprint unlock and a stylish design.
If you're after a premium phone experience but can't justify paying the usual flagship prices, the Oppo R11s should be your first port of call.
The Oppo R11s is one of the very best phones you can get at this budget, but the following three are great options if you're up for spending a little more or less.
Huawei Mate 10
It's a little more expensive than the Oppo R11s, but for the extra money you get a truly great Leica-brand dual camera setup that gives you the tools to take stunning, professional-level photos that will make jaws drop.
Like the R11s, it's got a Full HD AMOLED display with small top and bottom bezels, but it lacks that phone's 18:9 aspect ratio, making the phone much wider in the hand.
Still, the Huawei Mate 10 is one of two flagships the Chinese phone-maker has released this year, and is top of the line in almost every aspect of its design.
Read the full review: Huawei Mate 10
Sony Xperia XA1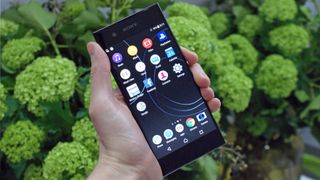 Another slick-looking phone with a seriously impressive camera, the Sony Xperia XA1 is almost half the price of the already affordable Oppo R11s. That said, while the camera is truly spectacular, other aspects of the XA1 fall quite short of being a true flagship contender.
For starters, it's screen, while lovely, has a maximum resolution of 720p. It also lacks a fingerprint scanner, which is pretty common now on mid-range phones.
Still, if all you really care about is your phone's photographic capability and looks, the Sony Xperia XA1 is a good, affordable option.
Read the full review: Sony Xperia XA1
Nokia 8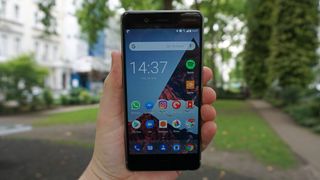 At present, the Nokia 8 is HMD Global's flagship handset, offering powerful performance, a great dual sensor camera and a terrific 'pure Android' experience. Sure, it's more expensive than the Oppo R11s, but not by much.
What it lacks in personality, it makes up for it grunt – It boasts a beefy Qualcomm Snapdragon 835 chipset and 4GB of RAM, making it particularly snappy to use and great for gaming.
The Nokia 8 is also quite stylish, sporting a beautiful and shiny design that feels quite premium in the hand.
Read the full review: Nokia 8