GoodAccess is an ideal cloud VPN solution for small businesses requiring static IP addresses. Developed by Samohyb, a Czech-based company established in 2009, it provides the perfect online security solution for managing an online team. Not designed for individuals, GoodAccess offers fantastic value for money while allowing team members to access online business resources securely from an unsecured network such as an airport or hotel. Although it has its drawbacks, such as limited server locations, its features, applications, and level of protection make it an excellent choice for small businesses on a budget.
Pros
+

Affordable

+

Static VPN locations

+

Quality security

+

Easy to use

+

Free forever Starter plan
Cons
-

Not well suited for larger organizations

-

Could benefit from more server locations
Why you can trust TechRadar We spend hours testing every product or service we review, so you can be sure you're buying the best. Find out more about how we test.
GoodAccess VPN is an essential static IP provider, designed specifically for businesses. Based in the Czech Republic, it empowers small business owners to securely access essential resources from any location while allowing administrators to customize the settings via a web-based dashboard, as well as monitor for suspicious visitors and potential risks. GoodAccess aims to offer the benefits of a zero-trust model for remote access purposes wherever you and your workers find yourselves.
GoodAccess is the perfect solution for small and medium-sized businesses, boasting the speed of implementation as its standout feature. With the promise to create a robust virtual VPN moat around your business applications and assets and attractive pricing plans plus a free trial, why wouldn't you choose GoodAccess?
Let's check if it delivers on its bold promises.
Plans and pricing
There is something for everyone with the plethora of pricing plans GoodAccess offers to its customers. The Starter plan is now free forever, covering the basics with their "basic secure shield" functionalities. This is a great starting point for a small group of freelancers who are looking to secure their startup network.
Moving on, we have the Essential plan that costs $9 per user per month, but requires a minimum of five users. In addition, for each dedicated gateway you will have to pay an additional $39 per month.
The Premium plan costs $14 per month per user and also has a minimum required amount of users set at five. It offers much more than the previous two plans and is ideal for cloud businesses.
Finally, the Enterprise plan is for larger organizations, with all details to be discussed with the sales department of the company.
If you opt for annual billing, you will be able to save 20%, which is a welcome sight for firms looking to lock in a long term partner.
All things considered, it's a reasonable value for money if we compare GoodAccess with its more famous competitors.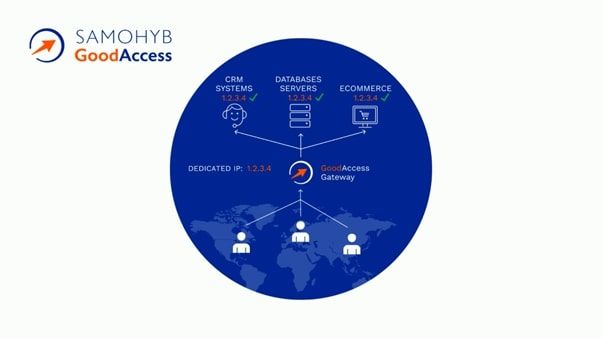 Security features
GoodAccess is your one-stop shop for unbeatable business security features - at a fantastic price. Its SASE (Service Access Service Edge) solution gives your online team the peace of mind that comes with knowing they can access all your cloud-based systems securely. It features 2FA/MFA (two-factor and multi-factor authentication) for an added layer of protection for logins, as well as SSO compatibility with Google, Azure AD, Okta, SAML, Active Directory, or LDAP. On top of that, its encryption protocols (IKEv2 and OpenVPN) offer robust 256-bit security. Plus, it's IPv4-only and has no DNS leaks, while port-forwarding is enabled too.
GoodAccess keeps your team members in check with its employee monitoring and access logging. You'll be able to get a clear view of how well you comply with GDPR, SOC2, or HIP to ensure granularity of access to only necessary materials and areas of the network.
Whitelisting your dedicated IP ensures that all of your online business systems can be trusted, eliminating the risk of employees being barred from shared online resources. Furthermore, personal VPNs provide additional safety measures such as a kill switch, which suspends internet activity should the VPN connection drop; adding this feature to GoodAccess would significantly bolster its security.
All in all, GoodAccess delivers the goods when it comes to security features, bringing it closer to more premium packages at a lower price.
Management features
GoodAccess packs several management tools built around the idea of user-friendliness and accessibility. For starters, you can manage gateways by instantly deploying a private gateway with a static IP for your employees. You can choose these among more than 33 locations across the globe. Using multiple gateways should help you in situations when you need backup or faster connection speeds.
Managing access is done by creating special access cards that can authorize it for specific resources and systems for individual employees or groups. You can easily assign these by the departments, granting different access authorization to, for instance, your marketing team as opposed to your IT personnel.
GoodAccess has really thought of everything, with 16 different application integrations available for businesses using SaaS apps such as WordPress, Google Cloud, Magento and more. Not only do these integrations set up a secure, private and encrypted tunnel from your app to your endpoint, but there is also copious documentation on how to implement each one. On top of that, you can even setup a single-sign-on provider such as Okta, Google or Azure, making GoodAccess a great choice for those wanting the extra protection or those that have already made the decision to use SSO as their main authentication method.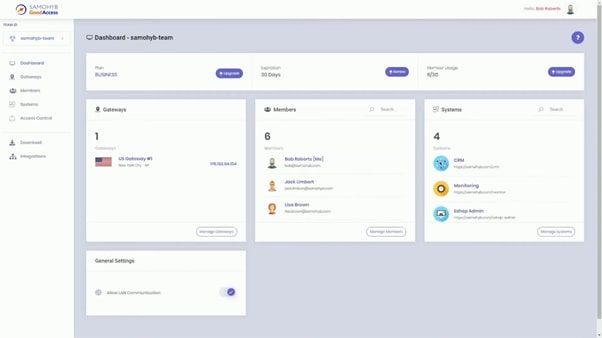 Interface
GoodAccess is designed with convenience in mind. Users can quickly view the active gateway and its associated IP address at the top, followed by a large button to enable the VPN connection. The systems configured by the team admin are listed below. Meanwhile, the options menu in the top left corner offers the chance to alter settings, read the terms of service or contact customer support.
The admin dashboard is a bit more intricate, as it allows for a tailored experience throughout the whole organization. Here, a complete overview of all members, gateways, systems and further options is available, each menu item is dedicated to a specific feature and featuring its own unique look.
Its control panel is dominated by an accessible and clean interface and a responsive dashboard that will help you get the most out of it in a short time. Navigating its buttons and sections goes quite smoothly and, even more importantly, intuitively. This is no small feat if you consider that you do not want to have your staff run in fear when presented with all the options hosted by this system.
All team members can be easily invited to be made a member of individual groups, with a tag-based system helping you filter them out subsequently based on the changing circumstances in the field.
The same level of user-friendliness is provided for the interface used to manage integrations and downloads.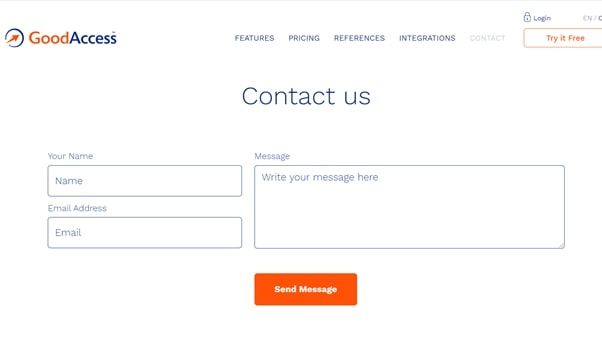 Support and customer experience
The GoodAccess website's contact section features the company's address, and if you need to get in touch with the staff, you can fill out the short form provided. Alternatively, you can schedule a free online session with the GoodAccess Guru and address any initial installation problems, such as whitelisting or plugin issues. Furthermore, customers (especially Enterprise customers) can access 24/7 help through live chat or IT ticketing system. On their website, GoodAccess also provides customer reviews under the References tab.
On the GoodAccess website, Samohyb states that its VPN solutions are used by over 10,000 individuals, and over 1,000 teams. Despite this, it's difficult to source many customer reviews.
GoodAccess provides some customer feedback on its website, under References. There's overall praise for GoodAccess' user-friendly control panel, its low latency (ability to process lots of data quickly), strong encryption, and easy-to-use access control settings.
We sourced two customer reviews from Capterra and both were positive about the overall user-friendliness, affordability, and reliability of GoodAccess. Although a problem with initial whitelisting is mentioned, it's stated that this issue was quickly resolved with the help of GoodAccess Guru.
The competition
Compared with the starting price per user per month of NordLayer, GoodAccess' equivalent is cheaper. However, NordVPN's offering provides security features GoodAccess lacks, such as a VPN kill switch and two-factor authentication.
Like GoodAccess, Encrypt.me is a VPN service that's good for small businesses. It's easy to use and offers similar features, such as a free trial and accessibility across all devices. That said, Encrypt.me notably offers more server locations—over 70 across 40 countries.
Final verdict
Small businesses looking to invest in a VPN service for their employees should definitely consider GoodAccess as a great starting point. With a fixed monthly fee that covers multiple users, it represents a cost-effective option for any organization. On the other hand, larger companies may benefit more from NordVPN Teams, a competing solution with additional features. Nevertheless, GoodAccess provides a free trial, so your business can assess the service before signing up for a monthly or yearly plan.
Larger enterprises should do well to check out more expensive VPN packages with more robust sets of advanced features.
For businesses on a shoestring budget or those that prefer to save on security, it's an affordable option that does not feel like one at any time.
We've also highlighted the best business VPN
Sead is a seasoned freelance journalist based in Sarajevo, Bosnia and Herzegovina. He writes about IT (cloud, IoT, 5G, VPN) and cybersecurity (ransomware, data breaches, laws and regulations). In his career, spanning more than a decade, he's written for numerous media outlets, including Al Jazeera Balkans. He's also held several modules on content writing for Represent Communications.