Asustor Flashstor 12 Pro FS6712X: 30 second review
Asustor Flashstor 12 Pro FS6712X Spec
The Asustor FS6712X that was sent to us for review came with the following hardware:
CPU: Intel Celeron N5105
GPU: Intel UHD Graphics
RAM: 4GB DDR4 (upgradable to 16GB)
Storage: 12 x M.2 NVMe PCIe 3.0 drives.
USB: 2x USB 3.2 Gen 2, 2x USB 2.0
Outputs: 1x HDMI 2.0 port compatible with 4K 60 Hz resolutions, 1x S/PDIF
Raid Types: RAID 0/1 /5 /6 /10, Single, JBOD
Weight: 3.6 kg
Dimensions: 227 x 225x 136 mm
Networking: 1x 10-GbE Ethernet(100/1000/2500/5000/10000)
OS: ADM 4.2
Internal File Systems: Btrfs, EXT4
External File Systems: EXT4, NTFS, FAT32, HFS+, ExFAT
OS Languages: English, German, French, Spanish, Italian, Magyar, Chinese, Japanese, Korean, Turkish, Portuguese and Russian
Exactly how useful having 12 slots of M.2 in a NAS becomes will depend on the falling price and expanding capacities of NAND modules, but the FS6712X is ready to make the most of that scenario as it unfolds.
Network Attached Storage is about to undergo a transformation brought about by the plummeting cost and expanding scale of NAND flash modules.
The Asustor Flashstor 12 Pro (FS6712X) is a new generation of NAS devices that looks down its nose at that that accept physical hard drives and instead ushers in the brave new world of the ultra-high performance NVMe NAS.
This slightly curiously rhombus-shaped enclosure is made largely of plastic, with easily removable panels that provide access to no less than twelve M.2 NVMe slots.
Designed to accept 2280 PCIe M.2 NVMe modules, it is possible to put at least 48TB of storage in the FS6712X or double that once 8TB modules become widely available.
Built around the Intel Celeron N5105 processor, the unit has 4GB of DDR4-2933MHz that can be expanded to 16GB and runs the Asustor NAS operating system ADM 4.2.
Using ADM, it has the whole suite of Asustor-approved apps available, and where this system shines is through media distribution and presentation. The unit can directly output 4K video through the HDMI port on the back and the Asustor Portal interface. High-quality digital audio is catered for with a S/PDIF optical outlet.
Transfers on and off the system are via a single 10GbE LAN port that will support 5GgE, 2.5GbE and 1GbE, depending on the network infrastructure available.
Asustor Flashstor 12 Pro FS6712X: Price and availability
How much does it cost? $799
When is it out? It is available now
Where can you get it? Widely available from the larger online retailers in most regions.
The Asustor Flashstor 12 Pro FS6712X has an MSRP of $799. It comes with 4GB of RAM but no pre-installed storage.
Some brands now make NVMe specifically for NAS use, although exactly how that differs from modules using identical NAND sold for desktop computers isn't clear.
The asking price might appear high, but it is in line with what a twelve-drive NAS SATA device might cost.
If that is more than you wish to pay, Asustor also makes the Flashstor 6 with half as many slots and dual 2.5GbE LAN ports for only $449.
The main competitor for these units is the QNAP TBS-464 NVMe SSD NAS, a four-slot NAS with dual 2.5GbE LAN ports that typically sells for around $599.
The Flashstor 12 Pro has a much greater potential capacity by a factor of three. Alternatively, the Flashstor 6 is cheaper than the TBS-464 and has the potential for more capacity. Although, QNAP does include 8GB of RAM by default.
With the falling cost of NAND modules and new larger capacity drives appearing, expect other brands to jump on board with their designs between now and Christmas 2023.
Asustor Flashstor 12 Pro FS6712X: Design
Loving the rhombus
Removable panels
Most ports on the rear
From what we can ascertain, there isn't any good reason why this product has a rhombus cross-section, but it brings some visual interest to what would otherwise be remarkably plain.
It also doesn't help that Asustor chose to use glossy black plastic for this enclosure, as it obscures the reliefs and shapes that the surface was given.
Therefore, it could be mistaken for a cable TV box or a retro homage to an old Sony game console.
Finding the power on button was initially a challenge, as it's on the right side where the angle of that face obscures it from being easily seen from above.
Before powering up, we need to add M.2 NVMe drives, requiring the disassembly of the FS6712X to install M.2 NVMe drives. And depending on how many you wish to install will dictate how many screws and panels need to be removed.
On the underside, four screws provide access to the first six M.2 slots, and what is lovely about this panel is that an 80mm fan is part of it, and it is connected to the system by a repurposed USB-A plug and receptacle.
Putting drives in is very easy. They're held in place with a plastic clip, and no tiny screws need to be used. One slight disappointment is that these slots only accept 2280-size modules, as the 2230 form factor is becoming more common.
If you want to install more than six or upgrade the RAM, a further three screws allow the topside of the FS6712X to be removed.
Logic might suggest that you fill slots marked 7 to 12 first, and then you will only need to take off the lower panel to add more modules later.
There is plenty of space above the M.2 slots, so drives with heatsinks can be mounted, and we'd recommend that those are added to dissipate heat better.
Once drives are installed, the unit can be powered on and accessed via the Asustor Control Center software. This software doesn't come with the unit, so you'll need to download and then add it to a desktop or laptop system before deployment.
From that point onwards, this system is like any other Asustor NAS since it doesn't differentiate between the NVMe storage and any other drive mechanisms. The front of the unit has a single USB 3.2 Gen 1 port, and all the other ports are on the rear.
These include two USB 2.0, a single USB 3.2 Gen 1 Type-A port, a single 10GbE LAN port, HDMI and S/PDIF optical out.
Are these the correct ports needed for this specification? That's something we need to discuss in the next section.
Asustor Flashstor 12 Pro FS6712X: Features
Short on PCIe Lanes
10GbE bottleneck
While having a single 10GbE LAN port is useful, as it can work across all the other wired CAT6 speeds, where this hardware could have been better was the speed of its USB ports.
But without support for USB 3.2 Gen 2, the fastest transfers to or from external SSDs connected to USB will be around 500MB/s.
These choices infer that the Celeron N5105 might have been the right choice for power consumption and heat generation, where it is less than ideal is the limited number of PCIe lanes this chip supports.
According to Intel, the maximum number of lanes this processor supports is 8, so that's not even a whole PCIe 3.0 lane per potential M.2 slot.
The 10GbE port will take one lane, and the dual USB 3.2 Gen 1 ports will take another lane, leaving six lanes for all the M.2 slots (conveniently forgetting the USB 2.0 ports and the S/PDIF).
Based on this calculation, we may be wrong, but our guess is that each of the M.2 slots gets a single PCIe 2.0 slot or half a PCIe 3.0 allocation of bandwidth.
If that's the case, and it likely is, then there is little point in putting performance NVMe drives in this NAS, as they're unlikely to run at speeds greater than 2,000MB/s.
But this is just the first of a series of calculations about performance that don't add up.
Another is the network bottleneck of a single 10GbE LAN port. It has a maximum speed of around 1200MB/s, and that can easily be satisfied by a single NVMe drive without the requirement for performance-enhancing RAID layouts and/or multiple drives.
For those wishing to invest a little, it would be possible to increase the network bandwidth by using USB to 2.5GbE LAN adapters, channel bonding these with a suitable switch.
That could effectively increase by 50% network throughput, but that path assumes you don't want to use the USB ports for anything else.
What's evident is that the proper performance of the NVMe is trapped inside the NAS for the most part and can't be expressed over the network or even a fraction of it.
If the apps on the NAS are indexing data directly, then they are advantaged by the interactions between the N5105 and the drive array. And, should a drive die, the rebuild of an array will be dramatically faster than any with hard drives or even SATA SSDs.
But on a network, this machine won't be any faster than a conventional hard drive NAS with a single 10GbE and enough drives (at least 6) that would satisfy those bandwidth requirements.
Asustor Flashstor 12 Pro FS6712X: Performance
10GbE speeds
Divide and conquer
In our testing, we just two Crucial P3 NVMe drives, although we'd contest it doesn't matter what drives are used since the limitations on performance are defined by the network connections and not the speed of the M.2 drives.
Connecting a PC with NVMe storage transfer speeds of 1200MB/s is possible, but only to a single client connected to the NAS. By directly connecting the NAS to a client computer, all the bandwidth is available for that communication, and no other extraneous network traffic can interfere.
A more likely network configuration might be that multiple client computers connect to the FS6712X by 2.5GbE LAN using a switch with a 10GbE downlink for the NAS.
Using this approach, four users can get all the available bandwidth over their 2.5GbE LAN ports for both reading and writing data. Even if the NAS only has a single NVMe drive installed, this would work well, and the clients shouldn't be aware of the demands of each other.
Where in conventional HDD NAS configurations, drives are organised into packs to enhance performance and provide resilience, here it's pointless for speed but critical for resilience.
To use RAID 5 requires a minimum of three M.2 drives of approximately the same capacity, and one drive will be sacrificed to protect the contents of the other two.
With twelve slots available other options are available, like the double parity model of RAID 6 or the mirrored RAID 5 layout of RAID 10.
There is no limit to the number of drives that RAID 5 can use, incidentally. But if you use all twelve slots and sacrifice one drive capacity for parity, if a drive dies, any further failures from within the other eleven will cause the loss of all data.
Where that balance lies between flirting with disaster and getting the most capacity out of the installed drives is a personal choice, but we promote a cautious approach to mission-critical storage technology.
As you might expect, the internal performance of the FS6712X is excellent, and unless you intend to overload it with apps or use it for Docker image hosting, then the amount of RAM it arrives with is probably enough. Adding more isn't an expensive option when you consider what loading this with twelve 4TB NVMe drives might run to.
The FS6712X is a clever concept and well-designed NAS that allows NVMe technology to provide a slick experience that makes conventional HDD NAS look decidedly clunky.
However, there is a significant mismatch between the PCIe lanes offered by the platform, the bandwidth potential of the NVMe storage and that available to distribute services over the network.
Putting twelve good NVMe drives in here has the combined bandwidth of 3.6 TB/s, all being accessed through a 10GbE (1.2GB/s) keyhole. There isn't mitigation for this imbalance, as adding USB network adapters barely moves the bandwidth needle.
This box needed a processor with more inherent PCIe lanes and multiple 10GbE ports or even 100GbE. And the problem with that latter suggestion is that a 100GbE switch costs ten times what the FS6712X does before you add drives.
That only leaves the question, how much would it cost to fully occupy with NVMe drives?
That depends on what capacity is chosen, but 2TB drives seem to offer the best value for capacity currently.
On Amazon.com the cheapest 2TB NVMe is $70, or $840 for 24TB of capacity. The cheapest 4TB drives run at $200, escalating the cost to $2,400 for 48TB. It would therefore be cheaper to buy two FS6712X and fill them with 2TB drives than to use 4TB, assuming you could organise the data partitioning to work for a given workflow.
In the coming year, the size of flash modules will increase, and the cost of drives will decrease, making filling the FS6712X less costly and the potential scale of the NAS storage greater.
But that won't fix some of the underlying issues with using NVMe drives in a NAS box that this product conveniently highlights.
Asustor Flashstor 12 Pro FS6712X: Report card
Swipe to scroll horizontally
| | | |
| --- | --- | --- |
| Value | For a twelve-drive NAS, the FS6712X is cheap. | 4 / 5 |
| Design | Odd shape, but the internal access is good and it is easy for users to upgrade. | 3 / 5 |
| Features | Twelve M.2 slots, dual DDR4 SODIMM slots, a 10GbE LAN port, and HDMI out. Needed more LAN bandwidth, but the Intel Celeron doesn't have the PCIe lanes. | 4 / 5 |
| Performance | Excellent performance internally, but the 10GbE is the bottleneck for delivering it to network users. | 4 / 5 |
| Total | If you have a pile of unused NVMe drives, then this is a home for them, but don't expect to experience their combined speed on the other side of the network. | 3.5 / 5 |
Should you buy a Asustor Flashstor 12 Pro FS6712X?
Buy it if...
Have lots of spare NVMe drives
For those that did a big upgrade recently and have sufficient spare NVMe drives, this could be a good way to repurpose them. You might want to test them first and allocate them in a resilient RAID configuration, but that's the same caveat we'd put on a spare HDD or SSD before throwing them in a NAS.
You need HDMI connected media
Lots of NAS have HDMI ports, but some don't have an interface to make that a worthwhile feature. This NAS does, and it works well alongside a TV for delivering content without the noise of spinning HDDs.
Don't buy it if...
You haven't got a 10GbE switch
Making the most of this technology requires high-speed networking, and 2.5GbE or 5GbE probably isn't good enough. While it will work with even 1GbE, it doesn't represent a good return on the investment.
You want fast external storage for a single PC
Even if you have a 10GbE card in your PC, the fastest transfer speed you will likely see directly wired to this NAS is around 1,200MB/s. That's nearly achievable with USB 3.2 Gen 2, and Thunderbolt-connected SSDs can hit 3,000MB/s.
For moving files, 10GbE LAN isn't as good as Thunderbolt 3, USB 3.2 Gen 2x2 or USB 4.0.
Also consider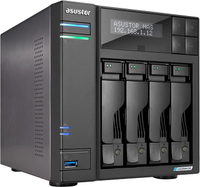 Asustor Lockerstor 4 Gen 2 AS6704T
A more conventional NAS built around the same Intel processor series, this design can accept up to four M.2 NVMe drives in addition to the four traditional drives in SATA bays.
With only 2.5GbE LAN ports, this NAS suffers from the same network bottleneck issues as other NVMe NAS.