The technology and design of this system are exceptional, but that comes at a rather steep price. But if you love its functionality and design and are willing to accept the risks associated with Kickstarter, this is a remarkably classy mini-system.
Pros
+

Beautifully built

+

Clever concept

+

Good performance

+

Modular
Cons
-

Expensive

-

Kickstarter pledge
Why you can trust TechRadar We spend hours testing every product or service we review, so you can be sure you're buying the best. Find out more about how we test.
Khadas Mind: 30-second review
Khadas Mind Specs
Here is the Khadas Mind Premium configuration sent to TechRadar for review:
CPU: Intel Core i7-1360P
Graphics: Iris Xe (96 EU) 1.5GHz
RAM: 32GB DDR5 RAM (soldered)
Storage: M.2 2230 1GB NVMe SSD, with one M.2 2230 free
Ports: 1x USB 3.2 Gen2 Type-A, 2x USB 3.2 Gen2 Type-C (10Mbit), 1x HDMI 2.0
Dock Ports: 2x USB 3.2 Gen1, 1x 2.5GbE LAN, 3.5mm Audio Jack, SDcard reader, 2x HDMI 2.0, USB-C (power port)
Connectivity: Dual-Band WiFi 6, 1x Gigabit LAN adapter, Bluetooth 5.2
Size: 146 x 105 x 20 mm (W x D x H)
OS installed: Licensed Windows 11 Pro.
Accessories: PSU Adapter 20V/3.25A, USB-C power cable cable
Small PCs have generally followed the NUC guidelines defined by Intel until it abandoned this market sector recently.
The Khadas Mind Modular Workstation entirely turns the NUC concept on its head, splitting the functionality into layers that can then be assembled to provide only the functionality that the customer needs.
The top layer is the Khadas Mind, a self-contained Mini PC using an Intel i7 mobile CPU, the same as the Intel NUC 13 Pro, DDR5 memory and an NVMe storage module.
This can be used in isolation or attached to the Mind Dock or Mind Graphics modules.
Expanded I/O is provided with the Mind Dock, almost like a docking station but connected via PCIe, not Thunderbolt or USB-C. Mind Graphics connects a discrete video card plus other I/O options, including USB 4.0.
Engineering like this isn't cheap, and what these modules will cost when the Khadas Mind range is in retail has yet to be defined. Currently, the product is being launched through a Kickstarter, with a pledge of $599 securing the Khadas Mind Standard model and $799 for the Premium release. The Mind Dock is an extra $129, and the Mind Graphics module is $699, or they can be purchased in bundles with the Khadas Mind for a discount.
Anyone pledging for this hardware should be aware that Kickstarter isn't a guarantee of anything, risk is involved.
In this review, we've tested the Khadas Mind and Mind Dock, but not the Mind Graphics, and found them well-made and serviceable. But to achieve this build quality and modular flexibility isn't cheap or easy.
This product is a classic example of unicorn engineering, but it is priced accordingly.
Khadas Mind: Price and availability
How much does it cost? $599/ £476
When is it out? Ships in October
Where can you get it? Only through Kickstarter
We don't like products being promoted through Kickstarter campaigns. Marketing was never the purpose of this mechanism. Kickstarter, and other funding models were created to provide the money to turn a concept into a product, and the Khadas Mind has already been engineered and built in low volume.
At the time of writing, the Kickstarter was asking for the paltry pledge of just £4048, but has managed to get £342,072 from 334 backers, with 47 days to run.
Depending on your pledge, you can get in return (hopefully) the Khadas Mind system (standard model) for $599, with a quoted MSRP of $799. The Mind Dock is $129, and the Mind Graphics is $699, but you can make cost savings with various bundles.
The Premium version of the Khadas Mind has a slightly better CPU and more RAM, elevating the costs by another $200 above the standard system price. But it appears to come with the same amount of storage.
Maybe that assertion is wrong. Because our test hardware came with 1TB of storage, not the 512GB that the standard model has.
As mini systems go, this isn't a cheap option. Once you've added the Mind Dock, it is more expensive than the Intel NUC 13 Pro, although it also has the potential to be something significantly more powerful.
Pledgers are promised that shipping will begin in October.
Khadas Mind: Design
Aerospace engineering
Unique features
Modularity
Picking the Mind Portable Workstation up for the first time, it's easy to be in awe of how finely this hardware is made. It's glorious in a way that might make Apple engineers blush.
This is a level of engineering that is normally reserved for the Aerospace industry, as the machine feels like it was milled from a substantial billet of solid aluminium.
It's slightly wider than a typical NUC at 146mm, shallower at 105mm and only 20mm high. The quoted weight is 450g, although that doesn't include the PSU and cabling needed to connect this to a monitor or any other peripherals.
Having such a small vertical profile, there is limited space for external ports, and the front of the PC has none at all.
On the rear are two USB 3.2 Gen2 Type-A, two USB-C, one of which is needed to power the device and a single HDMI 2.0 out. This selection can be further expanded with the Mind Dock or with a USB-C docking station.
Our review hardware was the Premium model that comes with 32GB of DDR5 and an Intel i7-1360P processor, but a cheaper Standard model is available that uses the i7-1340P CPU and only has 16GB of memory.
Both options come with 1TB of NVMe storage, and according to the development team, this is provided through a 2230 M.2 slot inside the unit, with an additional 2230 slot free for upgrades.
That they used the 2230 form factor and not the larger 2280 one is understandable with the limited space, but that currently would limit this machine to a maximum of 2TB combined.
But we can't confirm any of this since we couldn't find any way into this enclosure. And there were no clues in the documentation about how to open it to show you these things.
What we did notice on the underside is a three-section slot protected by a rubber seal. This is the Mind Link connection that allows it to connect to the Mind Dock and Mind Graphics modules, and it appears to be a proprietary miniature PCI Express connector.
We'd be very careful with this connector for owners of this hardware since power flows through it. We know this because once the Khadas Mind and Mind Dock are linked, it is possible to power both using USB-C ports on either side, so the power flows in either direction across the link.
With these units correctly mated, and they are aligned with magnets, the port should be protected. But if you use the Khadas Mind on its own do make sure the rubber seal is in place, as liquid running underneath while this is on would result in remarkably bad things happening, we presume.
Khadas Mind: Features
Mind Dock
Mind Graphics
Battery included
For those wanting more ports than the base system offers, the Mind Dock adds those when you drop the Khadas Mind onto this extra layer.
On the front are a 3.5mm audio jack, a USB 3.2 Gen 1 port and an SD Card reader slot, with the rear adding another two USB Gen1 ports, two more HDMI, a USB-C port and a 2.5GbE LAN port.
None of the ports on the base unit are disabled, and the unit also adds a volume control and a fingerprint reader on the front corners.
What makes little sense to us is that the fingerprint reader is on the left, and the volume control is on the right. Most people will use their right hands for fingerprint recognition, but that isn't the way it has been organised.
There is another promised layer, Mind Graphics, which can be used instead of the Mind Dock.
We didn't get to see the Mind Graphics module, but we assume that all three can't be assembled since the Mind Link connector doesn't continue on the underside of the Dock.
What the Mind Graphics offers is a discrete GPU, and an NVIDIA GeForce RTX 4060Ti is promised. We do hope this doesn't turn out to be a mobile version of the 4060Ti, as the price is roughly double the asking price of that card for a desktop system.
This module also adds USB 4.0 support, along with some other I/O options.
Clearly, the intention is to build a larger module set that includes a tablet display and other accessories in the future.
One final and curious feature is that this mini system has a battery. If you are wondering why a system that won't run without mains power needs a battery, then welcome.
The logic is that when you are in the middle of a project and have your apps open, you can suspend the machine, which is kept alive using the battery until you next plug it in and can resume. Given how quickly this system can boot and shut down, this does seem rather excessive engineering for the perceived advantage, but they included it.
Khadas Mind: Performance
Intel NUC 13 Pro spec
WD 450 NVMe
Quicker systems exist
Benchmarks
Here's how the Khadas Mind scored in our suite of benchmark tests:
3DMark Wild Life: 13145; Fire Strike: 5261; Time Spy: 1944;
Cinebench R23 CPU pts: 1879(single-core); 9539 (multi-core)
GeekBench 5: 1855 (single-core); 9429 (multi-core), 19237 (OpenCL)
CrystalDiskMark: Sequential Read: 5221MB/s; Sequential Write: 4976 MB/s
PCMark 10 (Office Test): 5669
Windows Experience Index: 8.4
The numbers presented here aren't new to this reviewer since this is exactly the same processor and GPU the official Intel NUC 13 Pro used.
That was a fast machine, and while the Khadas Mind doesn't quite top the Intel machine, the difference is so small that it would be imperceptible to anyone using it.
We're still impressed how using DDR5 over DDR4 makes the Iris Xe GPU come to life with even a modest amount of execution units compared to discrete graphics cards.
However, this system isn't as quick as the Core i7-13700H powered Minisforum NBP7 or those that use the AMD Ryzen 7735HS, like the Beelink SER6 Pro 7735HS.
These machines might not be as flexible, but they are quicker both in processing power and in graphical tasks. That said, if you want true power, a desktop system for the same cost as the base Khadas Mind would probably be substantially faster overall.
For a mini system based on 13th Gen Intel mobile parts, the Khadas Mind is good but not exceptional.
The NVMe drive included in our test system was a WD SN740 1TB, and this is a PCIe 4.0 device that has been popular on Valve's Steam Deck. It's rated for sequential read speeds of up to 5,150 MB/s and 4,900 MB/s write, which are results it achieves in this context.
The snag with the Khadas Mind is that its success is all about hearts and minds. Because should the project not be massively successful, then the promised modules might not appear, and even if they do, nothing about this machine will ever be cheap.
It's difficult to argue with the quality of the design and engineering that went into it, but at the end of the day, it's a small computer, and new ones with more power and features come out every few months.
It is a little daunting to make an investment in this system, knowing that if the options do expand, they will likely be costly.
And, for those wanting portability, this level of expenditure will buy a powerful laptop that comes with a screen and keyboard and possibly Thunderbolt out of the box.
We hope the Khadas Mind is a successful product, as those behind it have worked very hard to do something different from other brands, which should be acknowledged.
Khadas Mind: Report card
Swipe to scroll horizontally
| | | |
| --- | --- | --- |
| Value | It might be gloriously engineered, but you pay for the privilege. | 3 / 5 |
| Design | Modular connections that use a proprietary PCIe bus are innovative if limiting. | 4 / 5 |
| Features | An Intel NUC 13 Pro platform with modular addons and some special design sauce. | 4 / 5 |
| Performance | Good performer, but not the fastest Mini PC we've tested. | 4.5 / 5 |
| Total | Great engineering and build quality, made with good parts, but you pay for the privilege of being part of this Kickstarter. | 4.5 / 5 |
Should you buy a Khadas Mind Portable Workstation?
Buy it if...
You want something radically different
This is unlike any other tiny PC and has the potential to be a very flexible solution. However, it uses a proprietary Mind Link connection between the modules, so don't expect any other company to support the Khadas Mind should those behind it fail to do so.
Portability is important
Being able to break this system down into small parts makes it easy to transport and resemble. However, when you factor in the weight of everything, it isn't much lighter than a similarly priced laptop. And, this won't run off its internal battery.
Don't buy it if...
Cost is important
When compared with some other high-performance mini systems, the Khadas Mind is expensive, and the build quality reflects that.
Those working on a tight budget might get a tiny PC just as powerful for much less money from Beelink or Minisforum.
You don't like Kickstarter risks
Enough people have been burned on Kickstarter that anyone pledging needs to be careful. However, the product exists, so it's not like this company can't make them. We wish companies didn't use this channel for marketing purposes, but Kickstarter won't stop them.
Cynics might want to wait until the Kickstarter ends and the product goes into retail, presumably, but they might end up paying even more for it that way.
Also consider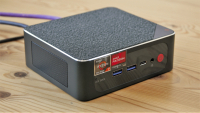 Beelink SER6 Pro 7735HS
The current darling of the NUC community, the SER6 Pro also uses the latest AMD Ryzen 7000 mobile technology and delivers equally impressive performance.
It comes with Crucial branded memory but an OEM NVMe drive. Getting access to the memory and storage is a little more convoluted in this machine, but this isn't anything that most users will be doing daily.
Check out our Beelink SER6 Pro 7735HS review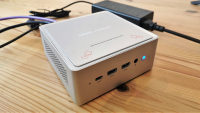 Minisforum Venus NPB7
The NPB7 is the flagship of the Venus series and features the incredible Intel Core i7-13700H (14 cores, 20 threads) mobile CPU and up to 32GB of DDR5 RAM. It can be bought barebones with only the processor installed, RAM and M.2 NVMe storage to be provided by the customer. If you want a high-quality NUC with bags of performance and Thunderbolt baked in, the NPB7 is worth the investment.
Check out our Minisforum Venus NPB7 review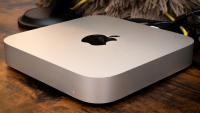 Apple Mac Mini (2023)
Recently revamped, the Mini now comes with either the M2 or M2 Pro chip, and it experienced a small price reduction from the M1 2020 model.
However, this machine can't be upgraded, so you need to buy the model that you will ever need from the outset. For the M2 Pro version with only 16GB of RAM and 512GB of RAM, it will cost you $1,299. Or, twice the price of the AS 5 and more, and with other options, one can approach $5000 of spend. Not for the economically challenged.
Check out our Apple Mac Mini (2023) review
Mark is an expert on 3D printers, drones and phones. He also covers storage, including SSDs, NAS drives and portable hard drives. He started writing in 1986 and has contributed to MicroMart, PC Format, 3D World, among others.