In use
The TC75x runs Android 6.0 Marshmallow with an overlay of Zebra's own proprietary technology which it calls Mobility Extensions (or MX).
These are a set of features designed to make Android, to quote Zebra, a 'more robust' enterprise-class operating system. The device can be configured to run with or without GMS (Google Mobile Services) and AFW (Android for Work).
MX is part of a bundle – Mobility DNA – which is a suite of business tools, "mobility-enabling applications, development tools and utilities" put together by Zebra and including about 16 other components.
These are essentially apps that complement (and can often be used as substitutes) to core Google offerings like Chrome (Enterprise Browser) or Play (AppGallery).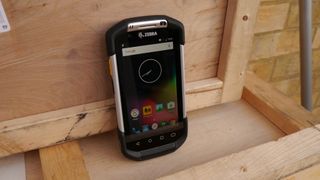 As expected, you can't update the operating system over-the-air and must instead rely on downloads from Zebra's website. These are available as large ZIP files for separate providers (Telstra/ROW, Sprint, AT&T and Verizon) that must then be installed manually (the latest build arrived in May 2017). Not ideal.
The TC75x connects to any external peripheral using a proprietary docking station that charges and transfers data to and from the device. The reinforced customised cable connects magnetically to the back of the rugged device – you can charge it using a USB port, or from the 16.2W (5.4V, 3A) bundled power supply unit.
Final verdict
Zebra's latest ruggedised handheld touch computer (i.e. smartphone) is a sturdy powerhouse that packs all of the necessary features that your average field worker will require. On top of that, the device can easily connect to or latch onto a plethora of accessories (belt holsters, protective covers etc).
It is far more expensive than the rest of the competition, but then again, its features put it at the cutting-edge of what is usually a rather slow moving niche. A number of challengers have appeared on the market (Cipherlab, Cat, Unitech) but a successful product requires more than just a cheap price tag.
Aftersales support, an extensive network of partners and VARs, as well as an international footprint are as important – if not more important – than the price.
We liked the sturdiness of the TC75x and how well-balanced the product is. A more elegant method of updating the OS would be preferable, but other than that one can only applaud the attention to detail exhibited by Zebra's engineers: from the four button Android navigation to the triple-SIM solution and the front-facing power button.