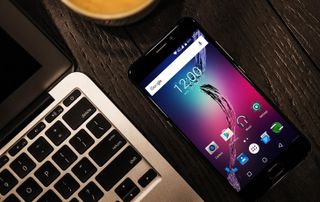 In the first half of the year, MediaTek's affordable yet capable Helio P10 system-on-a-chip (SoC) was adopted respectably among smartphone makers such as Sony and HTC with their Xperia XA and A9S, respectively, among others.
In China, it's even managed to implement its technology into the Oppo R9 and R9 PLUS, which were documented as overall best-sellers this year. MediaTek, however, is a Chinese company uniquely focused on the European smartphone market, where UMi Super and UMi Plus have seen favorable commercial reception.
Although the P10 is still fresh on the market, MTK has determined it's time for a sequel. The Helio P20 sports an octo-core Cortex A53 processor, jam-packed with 2.3GHz clock speeds equating a 20% performance bonus over the Helio P10.
Graphics-wise, the Mali T860MP2 found in the H10 has since been replaced with a 25% faster T880PM2 with clocks bumped from 700MHz to 900MHz. Having been manufactured on a 16nm FinFET node, Helio P20 users will be elated to discover that with faster speeds are met with less power consumption and heat dissipation optimized for more extensive use.
On the multimedia front, Helio P20 users will reap the benefits of, at long last, both 4K encoding and decoding. Meanwhile, the Helio P20 boasts support for single-camera configurations of up to 24MP, or two 13MP cameras.
Because of its integrity and close working relationship with MTK, UMi is launching the first smartphone to feature the Helio P20, (code)namely the UMi Plus Extreme. The UMi Plus Extreme, as its title suggests, iterates on the UMi Plus, according to the company's official Facebook page where the news was confirmed.
While the standard UMi Plus is available for pre-order from the company's website for $219.99 (about £180, AU$289), the UMi Plus "Extreme" will comprise the aforementioned Helio P20 along with 6GB of LPDDR4 RAM, 64GB of internal storage and Android 7.0 Nougat. When it arrives, it is expected to bear a price tag of $299.99 (around £246, AU$394).
See, but don't touch, the UMi Plus for yourself in the unboxing video below
The phone's appeal, UMi says, is owed to its ideal marriage of great specs, premium build quality and affordable cost all rolled up into one. The imminent upgrade to Android Nougat, which remains absent in many competing flagship smartphones, is merely a bonus.
Sponsored by UMI
Sign up to receive daily breaking news, reviews, opinion, analysis, deals and more from the world of tech.