Contrary to popular belief, $220 / £172 / AU$325 can buy you a lot when it comes to smartphones - take the Elephone U3H, which boasts 8GB of RAM and 256GB storage.
So imagine our surprise when we came across the A5 from Chinese tech giant Hisense, a "reading smartphone" that shares the same price tag.
The Hisense boffins have apparently identified an untapped niche, as the A5 eschews the ubiquitous color display in favor of monochrome epaper which, according to the marketing literature, uses "skin-friendly materials like the delicate feel of baby skin".
Abandoning color does have a massive advantage though; you get a massive battery boost. Hisense quotes a 10 days (yes, 240 hours) battery life. Just bear in mind that some Android smartphones offer an "extreme power saving mode" which in some cases, turn the screen into a monochrome display.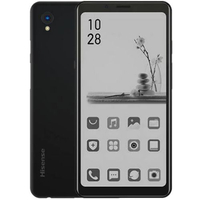 Hisense A5 4G Reading Smartphone - $220 / £171.60 / AU$324.49 at Gearbest
An interesting concept if you want an ebook reader with 4G connectivity and a wealth of smartphone-like features. However, if you're looking for a fully fledged smartphone, you will be sorely disappointed – so adjust your expectations accordingly, because the A5 is definitely not an all-in-one champion. This item is available for shipping to different countries – make your selection of area and currency on the top right of the page.
Watching videos on the A5 could have its charms, making you feel like you're back in the 1980s. But the sobering reality is that refresh rates on epaper displays aren't nearly high enough to play videos smoothly.
For some uses though, like displaying static content (saving QR codes for gigs or tickets) and reading in broad daylight, epaper is exceptionally good.
With the A5, you get a device that will last and last, but is impractical for anything other than reading, email and text-based communication. For all intents and purposes, this smartphone is a glorified, souped-up eBook reader, rival to Amazon's Kindle Oasis.
In truth, you'd be better off with the Kindle or the Kindle Paperwhite, which are both cheaper and share much of the same functionality.