The biggest announcements from Microsoft Build 2015
Here's the TL;DR of what you missed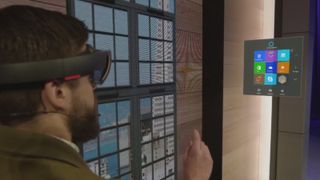 (Image credit: Future)
Windows 10, HoloLens, Microsoft Edge and more
Yesterday, Microsoft's Satya Nadella, Alex Kipman and more (including a cute robot) took the stage to give an overview on how Windows 10 is going to be a big deal. Today, we got an in-depth (read: technical) look that helped to elaborate on many of those talking points.
Build is, indeed, a developer's conference, so the amount of announcements and sizzle reels isn't quite up to CES levels of craziness. Yet, Microsoft has revealed a ton of new information on Windows 10, HoloLens, Project Spartan (now called Microsoft Edge) and everything in between.
It's time to catch up on what you might have missed at Build 2015.
Microsoft Edge
Microsoft's Internet Explorer browser has been the butt of every joke one can possible make about internet browsers. But with Microsoft Edge, you meanies can't make fun any longer.
The new browser, which was previously titled Project Spartan, aims to do everything the big boys like Google Chrome, Firefox and Safari can do, plus some.
What makes the Edge look to be a unique experience is that the Windows ecosystem is baked right into the browser for the convenience of the user. That means Cortana, links to relevant apps in the Microsoft Store and an attractive design that echoes the live tiles from the Start menu will ride along with you while you browse the information highway.
Windows 10 apps retooled from iOS and Android
Microsoft announced a four-part plan to get everyone onboard with Windows 10. The first two parts of said plan did very little to create a ripple, but the last two worked up some "ooh's" and "aah's". There was even an "auuughh?" somewhere in there.
In an effort to beef up the app offering in the Windows Store, Microsoft announced that universal Windows 10 apps can be easily created with only a few tweaks to already-existing Android and iOS code. That means it takes much less work for developers of hot apps like Snapchat, Periscope and Candy Crush Saga to port their work over to Windows.
With that simple retooling, these apps, which were previously locked to either Android or iOS, can operate on any device running Windows 10, be it a laptop, desktop or mobile phone.
Hey, it's the Surface Hub!
It's hard to agree upon an ideal screen size for a tablet. Since there's no consensus, Microsoft though it'd be a good idea to make a 4K, 84-inch productivity tablet/TV/mounted smart table.
This isn't the first we've seen of the Surface Hub. Regardless, it's still looking to be the ultimate business meeting tool by replacing the whiteboard and allowing smooth interaction and collaboration when it finally comes out. We still don't know the release date or price, but we can expect it sometime around the launch of Windows 10, likely costing an amount justifiable only by those in the work world.
Microsoft Makers unite
Microsoft is making moves to attract all you creative types to Windows 10. Whether your interests lie in composing music, manufacturing 3D prototypes of product models, creating collaborative blueprints or if you're Questlove, just air drumming, Microsoft wants its platform to be the one you want to create on.
Just how is it doing that? By toting the versatility of Window 10 being a "Universal Windows Platform", that's how. The code making up your unique application can scale to tons of devices.
Cloud computing and cow farms
By mixing the unthinkable, Microsoft showed off a rather interesting application to show off the ingenuity of its cloud computing platform, Azure.
Microsoft wrapped pedometers around the legs of female cows to track how many steps they take during a given day. Not only does this answer the question of how active these cows are, it also clues farmers into each individual members of the cattle that are about to be in heat. Seem strange? It is. But there's a method to the madness.
Once the farmer detects a cow in heat through a dramatic uptick in steps taken, they are able to artificially inseminate, which offers an increased chance of conception. It's all science, dude.
As the presenter on stage jokingly described, this is AI meets AI. Artificial intelligence and artificial insemination.
Azure Machine Learning will take over the world
A fun concept demonstrated on stage was the "How Old Do I Look?" site. It's powered by Azure Machine Learning, Microsoft's conditional cloud platform that gets better at doing things as it tries, even if it fails sometimes.
In the demo, presenting a picture of yourself (or anyone, for that matter) will display an estimated age. It's fun, pointless and did we mention that it's fun? Overall, the algorithm in place is accurate, but it can be fooled. It thinks Hillary Clinton is 36 and it thinks I'm twelve years older than I actually am (I'm 25).
Some DirectX 12 goodness
There wasn't much going on in the way of gaming at this year's Build developer conference, but near the end of day two's keynote, Square Enix presented a tech demo showcasing the capabilities of DirectX 12.
Titled "Witch" with the subtitle "Chapter 0 [Cry]", the demo looked a whole lot like the Luminous Studio engine shown off a few years ago at the E3 gaming conference.
Needless to say, it all looked gorgeous. The character model shown was incredibly lifelike and with the PC configuration painting the scene, it's easy to see why. The Digital Storm desktop pushing the graphics in the presentation was powered with four GPUs capable of presenting all 63 million polygons of the entire environment.
Visual Studio Code
Windows owners have long-enjoyed using Visual Studio to code their applications and/or web projects. But today, Microsoft announced that it is spreading this love to Mac OS and Linux owners too.
This opens up the coding editor and debug tool up to a whole new community of established developers and budding students looking to get into the field. Better yet, it's totally free to download. What's not to like?
Microsoft wants 1 billion Windows 10 devices
Whoa, that's a lot. But let's put it into context. A Microsoft exec claimed that there are about 500 million adopters of Android 4.4 KitKat and even less who updated to Apple's latest mobile OS, iOS 8. So with 1 billion total users, Microsoft would crush all, right? Not exactly.
Windows 10 is a consistent experience across mobile phone and personal computer, which means that the metric being aimed for combines the sales of PCs and mobile devices. Thus, this goal will be much more easily reached than if the software giant were to instead fight for dominance in only one product category.
Regardless, Microsoft has a few plans to win you over as a Windows 10 user. First, the Windows Store has received a facelift to improve the user experience. Secondly, the apps available are universal no matter which device you use.
Lastly, Windows 10 is a free, no-strings-attached, upgrade for current Windows 7, Windows 8 and Windows 8.1 users. This cheaper than cheap deal won't last forever, but it should give the install base a huge push upon release.
HoloLens is looking incredible
We were all impressed and admittedly, completely surprised, when Microsoft announced its plans to step into augmented reality with HoloLens. A head-mounted display that's completely wire-free? Tech demos that don't seem too good to be true? What is this sorcery?
Microsoft took to the stage to prove us yet again that HoloLens is shaping up to be something unique. Though no details about its release were even vaguely hinted at, we got a peek at some really cool use cases for the AR headset.
The team showed us how HoloLens can adapt to your environment, intelligently plastering app windows against walls and onto tables. One moment even saw the demonstrator gesturing to grab an app window and expand it to cover the entire wall.
Some experts from Case Western Reserve University demonstrated how HoloLens can be used for study, in this case with human anatomy. Our demo showed a meticulously detailed 3D model of the human heart, which the HoloLens user can spin around and zoom in on to get a closer look.
The last demonstration showcased how HoloLens can inject life into inanimate objects, like robots. Not only could the HoloLens control the movement of the robot by plotting AR waypoints for it to travel on, it could reroute its path should something, like Alex Kipman, get in its way.
Continuum
You can tell that this gallery is listed in no particular order because I've saved what's possibly today's biggest announcement for last. Microsoft detailed Continuum, a plan to turn any phone into a personal computer.
The biggest perk of Windows 10, so far, isn't that it can scale down for a mobile-friendly experience. It's that from a mobile device, still being the universal Windows 10 OS that it is, can also upscale to bring the same capabilities of your personal computer –without compromise– to the big screen.
With Continuum, a secondary Windows 10 device can act to emulate a mouse and keyboard, should you not have one handy. Lastly, as the name hints at, Continuum aims to provide a continuous experience. That means that any maps you're gazing at and articles you're reading on one device are shared automatically with your other Windows 10 devices.
Windows 10 release date
Just kidding. Well, the joke is on us too. We, just like everyone else, were on the edge of our seats to hear if Microsoft would loosen its lips and just give us what we want, a release date for Windows 10. Today, unfortunately, wasn't the day.
However, what they ended up giving us was a lot of what we wanted and even some stuff that we didn't know that we wanted. Hopefully, tomorrow's continuation of Build 2015 will provide some clarification as to when people can hope to get their hands on the final product.
Are you a pro? Subscribe to our newsletter
Sign up to the TechRadar Pro newsletter to get all the top news, opinion, features and guidance your business needs to succeed!
Cameron is a writer at The Verge, focused on reviews, deals coverage, and news. He wrote for magazines and websites such as The Verge, TechRadar, Practical Photoshop, Polygon, Eater and Al Bawaba.