Best POS system of 2023
Payment systems and ePOS software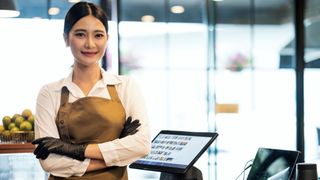 (Image credit: Future)
Today's challenging business environment demands the best POS systems to be robustly built, customizable to your company's requirements and sale ready with powerful tools that enable your business to quickly process transactions- from multiple payment sources. After all, nobody wants to lose a sale because the customer could not use a preferred payment method.
Modern business point of sale, or POS, systems go beyond just the simple collection of money of a cash register from yesteryear. Today's solutions are known for helping upsell goods and services, and can even help automate or administer tasks such as restocking, accounts, tax/tip calculation, employee monitoring, customer loyalty management plus much more, all with user-friendly ease and efficiency.
Even beyond that, the very best of point sale software offers real-time customer data insight, digital marketing management and third-party software integration for an added business bonus.
As you make your selection, remember that the least a POS system built for business should do is:
✔ Help you ring up sales
✔ Manage inventory reports
✔ Make every working day for your customer service team more productive
The top POS systems for business transactions will undoubtedly help to streamline your day-to-day business operations and incentivize repeat sales. When used wisely, they can also be key in building sustainable business growth.
To help you choose the right POS system for your business, we've created this in-depth guide which explains all the benefits and features of POS systems, as well as reviewing and comparing all of the most popular point of sale providers.
---
The best POS systems for business compared
In today's digital world, your customers have a wide variety of options when it comes to purchasing goods and services: credit and debit cards via magnetic swipe, chip or a contactless tap, Apple Pay and Google Pay via cell phone, third-party online payment providers, digital currencies like Bitcoin, or occasionally just plain old cash.
What's more, people like using digital payment options. A recent study by Mastercard found that 50% of consumers globally prefer these new kinds of payments over cash - a trend that accelerated during the COVID-19 pandemic. With greater flexibility in your point of sale system, you can accept a wider variety of payments, speed up transactions, and overall improve customer satisfaction..
Therefore, it just makes sense that any modern business should offer the payment options its customers want to use. No one wants to cancel a sale because a customer has to run to an ATM to withdraw cash. Chances are, they're not coming back.
These new digital payment-processing technologies can also be leveraged by businesses to better understand customer spending habits, manage inventories of all sizes, and offer practical services like on-floor payment processing and price checking.
A modern POS system ties all this together and can do wonders for your front-end and back-end operations. We've compared these POS systems across various factors, like their ease of setup, interface, fee rate, support, and pricing. We also evaluated their learning curves, documentation, and hardware requirements, among other things.
After the reviews, we've answered some of the most frequently asked questions about POS and ePOS systems.
If your business is a small one or a startup, then you might want to take a look at our guide to the best POS for small businesses; we also have guides tailored for different business types: the best POS for retail, and the best POS for restaurants and bars.
---
The best POS systems of 2023 in full:

Square was one of the earliest providers to enable card payments directly from mobile devices, with hardware that plugs into a smartphone or tablet - a method that makes it easy and affordable for mobile business owners to take card payments without needing expensive POS hardware.
While others have adopted the model, Square still remains one of the best choices for mobile businesses. Particularly attractive is the pricing: Square offers a free tier that only charges per transaction, with no monthly fees for software use. This is all the more interesting given that at 2.6% + 10¢, transaction rates aren't much higher than other providers. There are also more flexible options to process a credit card transaction without the physical card, such as from an online ecommerce store, or keyed in, such as over the phone, at a higher rate than a standard credit card transaction. If you only need to occasionally take card payments, as is often the case with mobile entrepreneurs, this is a good compromise.
There is also a Plus Plan for $29 per month, and a Premium Plan with custom pricing. While the Plus Plan adds useful features including barcode printing, vendor management, and an inventory counting tool, the transaction fees are only reduced by a smidge to 2.5% + 10¢
Set-up is easy, and since the Square POS app works on both Apple and Android devices, it should feel immediately familiar. Handy features like Splitting a bill right from the product screen, PCI-compliant Cards on File, and an offline mode make this little app quite surprisingly powerful.
Square's POS options and services have grown considerably in recent years, and it now offers a wide range of hardware and software solutions for businesses of all types.
Accepted payment methods that Square can handle include Visa, Mastercard, American Express and rewards cards, along with newer electronic options like Apple Pay, Google Pay, and Bitcoin – via its Cash App.
Read our full Square review.

TouchBistro – as the name suggests – is a POS system designed with restaurants in mind. By focusing on just the restaurant industry, they can have solutions that cater to specific segments. This includes segments such as a brewery, a family restaurant, a fast casual place, and a quick service restaurant, so a solution that caters to the specific needs of that segment can be acquired.
In addition to its mobile, tablet-centric point of sale system, TouchBistro can (depending on the plan you choose) manage menus, reservations, and tables, as well as customer benefits like loyalty rewards. It also supports online ordering, especially helpful if you're looking to expand your delivery or food pick-up offerings. There are also modern offerings, such as tableside ordering, with prompts to encourage the waitstaff to identify opportunities to upsell, or menu management that can keep dine in, and takeout orders apart.
TouchBistro's POS hardware and software – utilizing iPads – is easy-to-use and well-suited for a restaurant or bar environment. We also like the software integration, designed to work with the kitchen display system, and even the reporting analytics that can provide insight on efficiency, such as staff performance, and analyze sales trends to target promotions, available via cloud based reports.
Small restaurants can benefit from a single iPad POS system, where you have one payment terminal. Medium-sized restaurants can use up to five iPads with a sixth acting as the central terminal. Larger restaurants can benefit from custom-built POS systems with a PC as the central hub, enabling you to connect as many mobile devices as required.
TouchBistro also offers other great hardware solutions such as self-serve kiosks, a digital menu board, and a kitchen display system, the latter streamlining FOH-BOH communications.
With feature-rich software, competitive prices, and a simple setup process, TouchBistro represents excellent value for money. And if you own a restaurant or bar it would be hard to find a more-suited option for your needs.
Read our full TouchBistro review.

The Shopify POS app is one of the best all-in-one e-commerce solutions available. Without the hardware, it's a powerhouse for e-commerce businesses, but the addition of a simple card reader turns your smartphone or tablet into a complete POS solution for physical cash and card transactions.
Shopify Basic comes in at a lean $39/mo, which makes it a good solution for small e-commerce businesses, though others shouldn't dismiss it too quickly. Shopify Standard, at $105/mo, is a good all-round POS, and Advanced Shopify at $399/mo, while costly, is a full business management suite, with everything from staff tracking to advanced analytics. Note that these are the month to month prices, with annual discounts available that save about 25%. We also appreciate that there is a free trial, however we take issue that it only lasts a short 3-days, less than typical of such trials for such a service.
Card rates start at 2.7% (but no additional base transaction fee for an in person transaction) and go as low as 2.4% for more expensive plans, so you can tailor your package to your volume. There are also options for online transactions at a modestly higher rate.
The basic version, great for e-commerce and small businesses, includes an online store, unlimited stock, staff accounts, 24/7 support, sales channels, order creation, and discount codes. It also has two staff accounts, basic reports, available shipping discounts, and up to 1,000 inventory locations. Higher tiered accounts add more staff accounts, up to 15 on the Advanced tier, more advanced reports, and even more discounted shipping costs.
Shopify works on both iOS and Android devices, so the learning curve is quite minimal as it builds on a device you are already comfortable with. In other words, if you know how to use your own device, you're well on your way to opening up an online or physical store with Shopify.
Read our full Shopify review.

Epos Now is a cloud-based POS system that's well-suited for use in hospitality settings, with a built-in CRM and plenty of extra capabilities, thanks to its app store. Because everything is in the cloud, you can access your reports and back-office tools from any browser, making this a convenient and highly versatile option. It caters to smaller business models, for example a golf course, a bike shop or a vape store.
In terms of pricing, apparently there is the option to pay $750 up front for the software, which could mean big savings in the long run, as: it's cheaper after just 20 months of use compared to the monthly rate. However, frustratingly, the pricing is mostly opaque on their website, except for a $99 special (reduced from $449) for a register with a printer, and no mention about the ongoing, if any, software costs. Thankfully, this practice (which in fairness is done in other industries) of not providing transparent pricing, makes it difficult to compare this solution without exchanging business credentials, and an investment of some time. We do note the 30-day free trial.
Product management and performance reporting will help you target opportunities, while employee reports enable you to train and incentivize where necessary.
The built-in CRM will help you keep track of and analyze customer behavior. The loyalty mode is a great feature for hospitality businesses—it costs extra but is quite powerful.
Payments are managed through third parties, like iZettle and PayPal, so transaction rates depend on these services, although the app store means there's no shortage of payment options. However, we wish that they detailed more of the options with the costs involved upfront.
Read our full Epos Now review.


Lightspeed is a rich and robust POS system, particularly well suited to restaurants, but it also works well for retail, golf and e-commerce businesses. Pricing varies by the industry selected.
Lightspeed offers some off-the-shelf packages for some industries, such as retail, while another, golf, is only a custom build, so it's a little more involved to sign up and get started depending on your needs. For smaller businesses looking for a simple solution, this may not be suitable, but for others, this customizability can be a real advantage.
Basic retail pricing starts at $89/month, with a single register, integrated payments, and 24/7 support. Transaction rates for card payments start at 2.6% + 10 centsp, which is about industry standard. Lightspeed also supports cash, checks, gift cards, and store credit variants. We like that across all the tiers, it includes a dedicated account manager, free training resources, and one on one onboarding. There are also annual discounts available, and also a 14-day free trial.
Stock management is a full-service key feature, built for both retail and restaurant POS systems. It's extensive and highly customizable, in keeping with Lightspeed's MO.
Lightspeed is available for Apple devices only: iPad or desktop. However, the apps are powerful and easy to use, so even those unfamiliar with the Appleverse will have no problems. Set-up is more involved than other "ready-made" POS systems, but the upshot is a bespoke, perfectly adapted POS for your business.
Read our full Lightspeed review.

AirPOS is a lesser-known POS service, but it has plenty to offer, including a simple and intuitive back-end and easy integration with payment and accounting software. Fully cloud-based, you can access your POS from anywhere and at any time. As it's simple to use and easy to set up and has no fixed contracts, this is a great solution for small businesses.
To make full use of AirPOS, including taking payments, you'll need to integrate it with companion services like iZettle and SumUp, although this is an easy process. Because payments are handled through third parties, transaction rates are variable; iZettle, for example, starts at 1.75%.
Hardware is available through UK-based ePOS company StoreKit, with a wide variety of hardware options. If you already have a tablet so all you need is a card reader, that's an option too. For small businesses, this makes it easy to start small and add hardware as needed.
AirPOS has an option for two plans. The lower plan is attractive as it has no monthly fee, and rather gets paid via transaction fees. It can process gift cards and vouchers as well, supports Android and iPad, and also features inventory management with alerts when the stock gets low. While this lack of monthly fee makes it easy to see why the lower tier is the more popular plan with users, there is also a single paid tier. The Pro plan, for a monthly payment of £49, adds support for the Windows platform. It also includes the first three POS devices, and integrates with Shopify for integration with e-commerce and inventory management.
AirPOS is available without a contract or any hidden fees—just pay the monthly rate and you're good to go.
Read our full AirPOS review.

Helcim isn't as popular as the aforementioned point-of-sale systems, yet it's a suitable one to adopt. It has no monthly fees, setup fees, or cancellation fees, which is good for small businesses looking to save money. You also get low interchange rates with transparent pricing.
A good thing about this system is that the fees decrease the higher the volume of payments you process. It starts at 0.30% plus 8 cents for in-person payments and 0.50% plus 25 cents for online payments and decreases all the way to 0.10% plus 5 cents for the former and 0.20% plus 10 cents for the latter. However, you'll need to pay for the card reader, and it costs $109, a bit expensive. On the bright side, the company ships the card reader at no extra cost. This card reader can read cards in different ways, including chip & pin, tap & pay, and debit tap.
Helcim's point-of-sale software can run on any device, such as a workstation, a tablet, or even your smartphone. This saves you the need to buy another expensive hardware to run your point-of-sale software on. The platform offers many features, such as smart reports that help you identify trends about your customers to boost sales and a tool for keeping inventory. You can create as many user accounts as you need for no extra cost and give unique permissions to each user account, e.g., some accounts may not be allowed to access sales reports.
Helcim is even more than just a point-of-sale system. It has many other payment-related features such as a checkout system for online stores, invoicing, a subscription manager for recurring payments, and a secure card vault for storing bank info. If you need such features, you wouldn't need to adopt another solution, which is great.
Read our full Helcim review.

Revel is a point-of-sale system designed specifically to work with Apple's iPad tablet. It's often used by restaurants, retail stores, and small shops, and is known for its very intuitive interface. Yet, we think it's a disadvantage that this system works exclusively with one device.
Unlike many other point-of-sale systems on this list, Revel charges a relatively high monthly fee that starts at $99 on a three-year contract. Shorter contracts come with higher monthly fees. There's also a setup & onboarding fee of $674, making Revel quite an expensive solution. The platform charges a flat payment processing fee of 2.49% plus 15 cents per transaction but it seems that high-volume customers can negotiate discounted rates.
A good thing about choosing Revel is that it doesn't offer a jack-of-all-trades point-of-sale system. Instead, it has different systems designed for different needs, e.g., one built for full-service restaurants, another for quick-service restaurants, and another for pizza shops. Each system has software features that cater to their niches, e.g., the restaurant system includes tools for tableside ordering and table management.
Revel's point-of-sale system includes a sophisticated tool that lets you keep track of your inventory. For example, if you run a restaurant, you can keep track of each ingredient that you use to make meals and know when to re-stock to avoid disappointing your customers. The reporting and analytics suite gives you a good insight into your business; you can analyze customer trends, highlight top sellers, labor targets, sales progress, etc.
Revel also offers more than just point-of-sale. For example, there's a software system for restaurants to manage deliveries and another to set up and manage a customer loyalty program, but they come at an extra cost. Revel is indeed a good point-of-sale system, but the main drawback is its high price.
Read our full Revel review.

PayPal is a very popular payment processing vendor. Zettle is the latest point-of-sale system that the company launched in 2021 to replace a previous product known as PayPal Here. For now, the newer Zettle is only available in the U.S. and Europe, but it seems that it'll spread to more regions soon.
Zettle is famous for its ease of use. It's one of the most simple point-of-sale systems that you can lay your hands on. The interface works seamlessly and is a major highlight in customer reviews. Its fee is reasonable; 1.75% for card transactions, but you must pay for the hardware. You can buy just the card reader for $29, the terminal for $149, or the full setup that includes a card reader, terminal, printer, iPad, and barcode scanner for $699. If you wish, you can use an existing iPad or any other type of tablet to save costs.
This point-of-sale system has integrations with several third-party platforms. For example, you can connect it to your Shopify account and accept payments for your store. However, being a relatively new tool that launched barely two years ago, Zettle is lacking in integrations compared to rival platforms.
Another drawback of using Zettle is that it deposits money directly into your PayPal account instead of your bank account. If you want to withdraw the money into your bank account, you'll have to pay an extra fee. There's also the fact that PayPal is infamous for occasionally blocking customer accounts due to perceived irregularities and can be hard to deal with if this happens.
Read our full PayPal Zettle review.
Looking for more information on POS systems? Try these articles: Here we advise on how to choose a POS system; this feature explains how a POS system works; and in this article we demonstrate 5 ways POS systems help you manage staff.
---
POS stands for 'point of sale', and simply refers to the place in a store or restaurant where a financial transaction takes place. In the past, this has almost always meant the cash register, which often remains a prominent part of a modern POS system (it just doesn't have to).
The best POS systems have evolved to do much more than simply manage transactions: they can intelligently manage your stock; handle discounts, sales, and surge pricing; integrate directly with back-end accounting software; and even track employee productivity or theft.
So what is a POS system, for business in physical form exactly?
A POS system typically comprises four main hardware components: a screen to overview and manage information relative to a sale, a card reader, a receipt printer, and software that ties everything together. Of course, in retail sectors, a barcode scanner is also part of the system.
..and what is an ePOS system?
A POS system is sometimes referred to as an ePOS system, especially in Europe, where the 'e' stands for 'electronic'.
How much does a business POS system cost?
The short answer
POS software is usually paid monthly or annually and varies widely. Simplest ones, like AirPOS, are as little as $30.00 per month, while Shopify Advanced comes in at $300, albeit with a bevy of extra features.
Epos, on the other hand, allows for a one-time payment of $750, and Square POS only charges per transaction. In terms of POS hardware—the payment screen, card reader, and printer—you can often get all the hardware you need for a single terminal for about $600.
The long answer
Usually, you'll pay once for POS hardware and then monthly for software use—including software security and support—and additional services. However there are some providers who don't charge monthly, with all fees taken from customer transactions (usually a nominal fee and/or a small percentage of the transaction).
Also, not all providers sell both hardware and software, and not all charge for either hardware or software.
Finally, you'll likely incur certain transactional fees in your day-to-day operations, depending on provider. For each transaction, you'll be charged anywhere from 1-5% of the price. These vary between providers and even packages from the same provider.
More expensive options often have less costly transactional fees, so you'll need to balance things according to your business's average activity.
How many POS terminals do I need?
This depends on the size of your business and your daily turnover. For smaller or medium-sized businesses that deal with lower volume, a single payment terminal is usually enough.
Restaurants may want to invest in multiple handheld payment terminals (or use Apple or Android tablets) to enable payments to be taken at tables by serving staff.
For medium-sized businesses dealing with high volume and for larger companies, two or three terminals will be ideal. The best solution is to start with one or two based on your volume and scale up as needed.
Are all POS systems PCI compliant?
While most, if not all, POS systems are PCI compliant, simply using one doesn't mean that you don't have to worry about other components of your payment ecosystem. Opting for a POS that manages more details can help streamline the process, but it may be more costly.
Read our article about PCI compliance to learn more.
What is an mPOS system?
POS systems have evolved to become more flexible, so they work on many devices. For example, with nothing but a smartphone and mobile card reader, you can manage payments, refunds, and more.
Mobile point of sale solutions (often called mPOS systems) are especially useful for small businesses and those without a fixed address, like food trucks and personal trainers. But they also represent a great opportunity for fixed businesses looking to leverage pop-up stores, kiosks, and mobile storefronts.
For more info, read our article about the best mobile credit card processors.
What is a tablet POS system?
Today's POS systems are built to work on iPads and Android tablets, which gives you greater flexibility and mobility when securing customer payments.
You can choose to have them fixed in place with a stand or to keep them on your person to serve customers, which is a great option for a restaurant or bar.
Tablet POS systems are often the easiest POS devices to use as well, as they've been simplified for easier handling on a tablet. You get all the movement benefits of a mobile POS system with a wider screen and more storage space.
What can a modern POS system do for your business?
These features make it easier to turn impatient customers into enthusiastic ambassadors for your brand. A good POS can facilitate SRM by streamlining these processes.
If you're looking for advice about POS systems for specific type of business, then take a look at our guides to choosing the best POS systems for small business, POS systems for restaurants, and POS systems for retail.
How to choose the best POS systems for you?
When deciding which POS system to use, first consider what your actual needs are, as different platforms can offer differing features fee rates. Additionally, you may need a POS with specific tools for your business, so make sure you look carefully at both features and costs to ensure you can get the POS system your business needs.
The best POS systems: How we test
We reviewed many different POS systems before deciding on which to feature in this guide. Our review process involves evaluating key factors, including features, ease of use, set-up, support, and of course, pricing.
All our reviews are based on hands-on experience: we trial software and materials to get a clear picture of what features are included, for example, and how easy or difficult it is to get started and use the software.
We anonymously contact user support so we can draw honest and informed conclusions about availability, knowledge, and friendliness.
Finally, pricing is gleaned from websites, but we never hesitate to go in-depth with documentation and user support to provide the clearest possible picture.
Read how we test, rate, and review products on TechRadar.
---
Are you a pro? Subscribe to our newsletter
Sign up to the TechRadar Pro newsletter to get all the top news, opinion, features and guidance your business needs to succeed!
Christian is a freelance writer and content project manager with 6+ years' experience writing and leading teams in finance and technology for some of the world's largest online publishers, including TechRadar and Tom's Guide.