Advertisement Feature
Smaller, lighter, faster: how laptop power has gone hand in hand with incredible design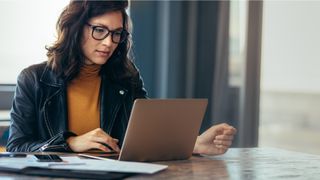 (Image credit: Shutterstock)
These days, all but the most heavy-duty laptops are wondrously thin and light, combining raw power with featherweight constructions. We no longer have to make a hard choice between design and power – we can have both thanks to technical leaps like 10th Gen Intel® Core™ processors. But the world of portable computing wasn't always this way. There was a time when tapering edges and slimline bezels were almost unheard of.
In this article, we'll shine a light on the laptops that changed all that, from the MacBook Air to the Dell XPS and more. We'll chart the key moments that led us into the present – and the innovations that will take us into the future.
Apple stuns the world
Before Apple released the first MacBook Air, other companies had attempted to make thin and light laptops, but no one had really nailed it. That point was rammed home when Steve Jobs unveiled Apple's new laptop on stage in 2008.
At its thickest point, the MacBook Air was a mere 0.76 inches. For comparison, that was thinner than the thinnest point of its closest rival, the Sony TZ series, which stood at 0.8 inches at its slimmest edge. From 0.76 inches, the MacBook Air tapered down to a literally breath-taking 0.16 inches, something that drew audible gasps from the crowd when it was revealed on-stage.
But the MacBook Air was no netbook, the miniature laptops of the day. Netbooks made far too many compromises. Instead, the MacBook Air came in an all-metal design with a full-sized backlit keyboard, a 13.3-inch display and impressive power for its size.
Its processor was the Intel® Core™ 2 Duo, but instead of the 1.2GHz speeds rivals were offering, the MacBook Air came with a 1.6GHz chip as standard, with a further option to swap it out for a 1.8GHz version. What's more, Apple asked Intel to take its current Core 2 Duo and shrink it down to fit the MacBook Air, which Intel was able to do. All this combined to offer more power than Apple's rivals, all wrapped in a stunningly small form factor – a major achievement.
The Ultrabook revolution
The MacBook Air didn't just change things for Mac users – it inspired Windows laptops, too. In 2011, Intel announced its plans to work with laptop manufacturers on building a new generation of portable computers known as Ultrabooks. These promised all-day battery life and seriously reduced bulk compared to many laptops of the day.
The first series of specifications, released in 2011, required laptops to offer a minimum of five hours of battery life, resume from hibernation in no more than seven seconds, and use Intel processors in order to meet the Ultrabook standards. In addition, Ultrabooks that had 13.3-inch displays or smaller could be no more than 18mm thick, while 14-inch Ultrabooks and larger could have a maximum thickness of 21mm.
These aggressive standards encouraged laptop manufacturers to seriously rein in their devices and offer slimline devices that could not only compete with the MacBook Air, but with each other too.
The standards were revised in 2012 and 2013 to increase the requirements in some areas, such as adding touchscreen capabilities and cutting the wake time from seven to three seconds, in order to match the pace of technological improvements.
The end results were seen in breakthrough laptops. Dell's XPS line, already known for producing high-performance computers, was a notable early partner in the Ultrabook world, as were the HP Envy and Acer Aspire lineups. These days there are many superb Ultrabooks on offer, from the HP Elite Dragonfly to the Huawei Matebook 13, all of which exemplify the drive for thinness without sacrificing outstanding capability.
The featherweight future
What does the future hold for the laptop world? The good news is there is plenty more in the works, with every major player hard at work slimming down their products and innovating for the years ahead.
For instance, Intel® has Project Athena, which is essentially the next evolution of the Ultrabook idea. The company is working with various laptop makers to help plan and design laptops that are slim, light, and powerful, boasting instant-on wake times and all-day battery life. This will see close collaboration between Intel and its partners to ensure laptops meet the Project Athena specification, and to help develop new ideas for their products.
The recently-released 10th Gen Intel® Core™ processors have also transformed what we can expect from laptops, offering unrivalled power and battery life in thin, light and portable notebooks.
All in all, the future is looking very bright for the humble laptop. With exceptional performance gains appearing on the horizon, it doesn't look like the trend towards thinner, more powerful machines is going to slow down any time soon.
Get daily insight, inspiration and deals in your inbox
Get the hottest deals available in your inbox plus news, reviews, opinion, analysis and more from the TechRadar team.