Slow or poorly-made websites are costing companies millions
But making some small tweaks can boost your conversion rates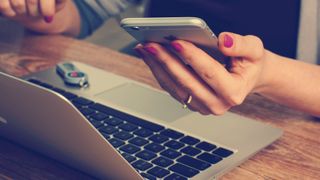 (Image credit: Tank)
New research has exposed just how important a slick website is, especially when it comes to cross-device customer experience.
A study by digital experience analytics website Contentsquare found that businesses could be losing customers where it matters the most - at the point of conversion - if they have a poorly designed, slow, or ineffective website.
On the other hand, a good product detail page, category page, and checkout page all lead to lasting customer interaction, better conversions, and reduced bounce rates.
TechRadar Pro needs you!
We want to build a better website for our readers, and we need your help! You can do your bit by filling out our survey and telling us your opinions and views about the tech industry in 2023. It will only take a few minutes and all your answers will be anonymous and confidential. Thank you again for helping us make TechRadar Pro even better.
D. Athow, Managing Editor
Rubbish websites are losing you customers
According to the insights, more than a third (36%) of users reported having frustrating experiences on most websites, oftentimes because of slow page loads. This left many 'rage-clicking', or pressing the same area of the site multiple times in order to get a response.
High-activity sites, likely to be those with better pages, noticed a 19% increase in conversions, a 47% increase in session depth, and a 20% reduction in bounce rate.
Contentsquare also highlighted the importance of an effective page. It found that consumers browse 20 content pages before a conversion, with session depth and time per session both experiencing year-on-year dips. This stresses the need for clearly designed and easily digestible web pages.
Company CEO Jonathan Cherki said: "Optimizing digital content and creating seamless customer journeys is where you should focus to drive growth and retention."
Web designers have been tasked with three key areas for improvement: capturing attention, reducing friction, and ensuring content relevancy. The action steps also include highlighting high-performing pages and tweaking them to generate more conversions, and blending cross-device browsing sessions.
While consumers tend to browse from mobile devices, they still prefer to complete ecommerce platform purchases on a computer. Helping to prevent abandoned carts by fusing the experience is vital.
Are you a pro? Subscribe to our newsletter
Sign up to the TechRadar Pro newsletter to get all the top news, opinion, features and guidance your business needs to succeed!
With several years' experience freelancing in tech and automotive circles, Craig's specific interests lie in technology that is designed to better our lives, including AI and ML, productivity aids, and smart fitness. He is also passionate about cars and the decarbonisation of personal transportation. As an avid bargain-hunter, you can be sure that any deal Craig finds is top value!