Seven critical questions every business needs to ask before implementing an IoT plan
Fail to prepare, prepare to fail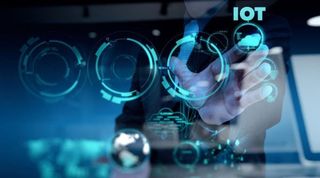 Internet of Things (IoT) adoption is a major priority for many businesses but in the rush to adopt this new technology and implement IoT projects, many businesses fall short of their original goals. Eseye's CTO Ian Marsden has outlined the seven most critical questions that every business needs to ask themselves before actually implementing an IoT plan.
Machine to machine (M2M) IoT is a complex area with a mind-stretching number of inter-related choices. So how do you ensure your project is a business success throughout its lifecycle?
As leaders in the IoT space, Eseye provides project expertise and services for global cellular connectivity and device optimisation – and are the only AWS IoT Strategic Partner for connectivity. Here is a small selection of the critical questions you should ask before implementing your IoT plan:
1. What are the best options for device connectivity: wired, WiFi, radio or Cellular?
If a wire or WiFi, do you have control over the setting in which the device will exist? Do you control the WiFi? How will you stay connected at each location when something happens on-site? If Radio how will you ensure you adhere to local legislation and the approvals required for each country? If Cellular, to what extent can you be clear about where devices will be located and whether they are fixed or moving? Generally, the more global and the more areas your devices are entering, the more you'll need to invest in the planning and the device.
2. How much money will lost connectivity and down-time cost me?
Calculate this carefully as the numbers can escalate. The more downtime costs you, the more you should invest in the build and in connectivity options. Estimate the cost of onsite maintenance visits and do everything to minimise them. Early procurement savings may have long-term negative results on the project if ongoing costs escalate.
3. How should I specify and build devices that will connect and stay connected, wherever they are deployed?
Will you go inhouse or use a third-party contractor for design, and how much are you prepared to spend on device hardware? Eseye has over ten years of device optimisation experience on more than 200 projects, so knows well that there are pros and cons to both approaches. This is another area where early planning and investment will reap rewards further down the line.
4. For cellular connectivity, how can I contract and connect my devices in multiple locations, regions and countries?
If you plan to manage this inhouse, you'll need to build expertise and capacity. For global deployments you'll need to understand local regulations, which can stop a standard roaming SIM card working across different countries. In-country legislation and roaming rules, contracting for multi country deployments and differing data price points and billing formats add further complications. . An alternative is to engage with companies like Eseye, who become a single point of contact and contract, and manage all these variables.
5. Using customer support services, how can I make sure I get problems fixed quickly?
Resolutions will be quicker and more successful if you talk directly to IoT experts. Not all MNOs deliver this, so make sure you check and get references on customer support from existing clients with similar scale deployments to your own.
6. What cloud storage should I use and how will I make sure data can be reported and analysed effectively?
You have two main routes to choose from: either build inhouse server and developer capacity or buy-in external Cloud services and configure your project around their rules. You may initially find it difficult adhering to some of the design rules and standards, and will be tempted to design a simpler custom solution but think hard about whether building in-house is a sensible and scalable, long-term strategy.
7. How can I ensure my deployment is as secure as possible throughout its lifecycle?
It is essential to consider the implications of someone getting into your system before it happens. We advocate and provide a range of advanced security features, which bring new, more affordable protection, and at the same time adhere to the security requirements of AWS Cloud.
Deploying an M2M IoT solution is often highly complex and involves many components to ensure your business needs are met at an affordable cost. But by asking the right questions up front, you'll be able to find the right provider to serve as a single resource for your M2M needs.
Ian Marsden, CTO at Eseye
Are you a pro? Subscribe to our newsletter
Sign up to the TechRadar Pro newsletter to get all the top news, opinion, features and guidance your business needs to succeed!
Ian has a passion for developing technology based solutions which deliver real improvements to business performance, the environment and quality of life. With a proven record for leading technology start-ups, Ian views technology as part of the bigger picture, delivering innovative solutions which solve real problems and demonstrate true business value. He co-founded CompXs, which went on to develop and deliver the world's first ZigBee design; he also chaired the ZigBee Network Working Group. Prior to CompXs, Ian held senior software leadership roles at Philips, where he met Eseye's co-founder, Paul Marshall.
His specialities are: system architecture, project managment, software development, and generally 'making things happen'