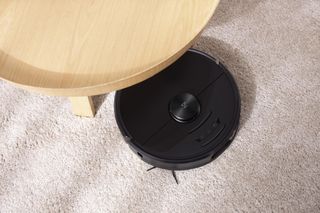 (Image credit: Roborock)
Roborock has consistently been driving forward the intelligence and capability of robot vacuums, and it's doing that again with the Roborock S6 MaxV. This new robot vacuum takes the throne of Roborock's offerings, implementing many of the features found on other Roborock models but taking them to the next level.
At the heart of the Roborock S6 MaxV's upgrades over its predecessors is the inclusion of a high performing Qualcomm® APQ8053 processor chipset, the likes of which are found in high-end smartphones, and its combination of two cameras for obstacle recognition and avoidance. The pairing of Qualcomm's AI processing and twin cameras that allow for stereo vision give the Roborock S6 MaxV tremendous navigational power on top of the already powerful mapping capability its LIDAR sensor offers.
The Roborock S6 MaxV reaches a new level of autonomy thanks to this enhanced vision technology. The cameras and AI will let the smart vacuum see and identify many obstacles, including those that are only 2 inches wide and 1.1 inches tall. When the Roborock S6 MaxV knows something is in the way, it can plan a cleaning route that efficiently avoids the obstacle.
You don't have to worry about coming home to find random spots left dirty. The Roborock S6 MaxV will tag locations where it encountered obstacles, even labelling those it could identify. So, when you check the app, you can see a map of everywhere the Roborock vacuum went, and know everywhere it couldn't get because there was something in the way. Whether its toys on the floor or a mess left behind by your pet, the Roborock S6 MaxV is now more capable than ever of avoiding it so that it can keep on with its cleaning.
And, when it comes to cleaning, the Roborock S6 MaxV is also more capable than ever. It combines the power of its vacuum with a 297ml water tank for dual-cleaning capabilities. The water tank is carefully managed by the device, so it can handle homes up to 2,150 square feet. The vacuum is also more powerful than ever, with a max suction of 2,500Pa that's 25% more powerful than the older Roborock S6.
A large, 5,200mAh battery will let the Roborock S6 MaxV clean around your home for up to 3 hours in one go, and the vacuum can head back to its charger to refill just the amount it needs before heading back out to finish larger cleaning jobs thanks to the Smart Top-Up feature.
You can rest easy knowing the Roborock S6 MaxV will get your house clean, especially after it learns the various rooms in your house. And, it can now learn rooms for multiple floors. Whether you want to run the vacuum while you're away at work or at its low 58dB volume while you're sleeping, the Roborock S6 MaxV's powerful suction, mopping function, and HEPA filter are ready to get your house cleaner than ever. The Roborock S6 MaxV is launching at $749. You can find out more here.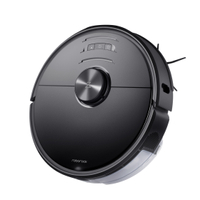 Roborock S6 MaxV is now available for $749
Sign up to receive daily breaking news, reviews, opinion, analysis, deals and more from the world of tech.