In Pictures: OS X 10.11 El Capitan
Set sail to the land of performance improvements and, er, tabs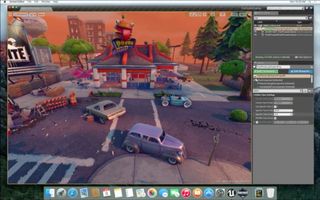 (Image credit: Future)
Introduction
OS X 10.11 El Capitan lands on the Mac App store later today with new versions of stock apps, a slew of updates and a barrel full of performance improvements. There's nothing radically new to be found with Apple's latest release, but the Snow Leopard-esque speed refinements and productivity-focused tweaks will no doubt be welcomed by the Mac-toting hordes. Without further ado, click on to feast your eyes on the OS X 10.11 El Capitan's new features.
1. Never curse at your cursor again
Don't you hate it when you lose your mouse cursor behind windows and apps? ...said no-one ever. Anyway, it's a problem you'll never have again because El Capitan makes the cursor bigger when you shake your mouse like a Polaroid picture. Hopefully it will stop growing before it gets to frankencursor proportions and swallows your desktop. An odd, but welcome feature all the same.
2. Spotlight gets a bit brighter
El Capitan shows that OS X has got smarter. You can now issue context-specific commands via Spotlight to find files; for example, typing in "slides from [person's name] about [something]" will conduct a more specific search than simply searching from the file name. It remains to be seen what different file types and commands El Capitan recognizes.
3. Apple makes a split decision
Here's a feature that Windows users will recognise: Split Screen view. Just as split-screen functionality has come to iOS 9, OS X 10.11 El Capitan now lets you divide the screen to allocate apps in full-screen, with an adjustable black bar running down the middle to alter the size of the screen's two halves.
4. Mail gets full-size attachments
Apple has made some small improvements to OS X's Mail app, which now works with natural search phrases in a similar manner to Spotlight. Typing in "mail I ignored from Hugh", for example, will bring up any unread mail from a contact call Hugh that's been sitting unloved at the bottom of your inbox. Mail also gets iOS-style swipe commands, such as swiping left or right to quickly save an email to a folder or delete it.
5. Metal comes to OS X
Apple's Metal graphics engine, which is currently available in iOS, has made its way to OSX 10.11 El Capitan. Apple claims that Metal "opens up new possibilities for rich and engaging worlds" and allows for 50% performance in supported games and reduces the level of processing power required to run games by 40%. The Metal API is integrated into the Unreal Engine 4 games engine by Epic games, which was demoed using a cartooney zombie-bashing game called Fortnite.
6. Mission Control gets smoother
Apple has made Mission Control smoother and added the ability to see which apps are open using a three-finger upwards swipe. It works in tandem with OS X El Capitan's new Split Screen feature too. When Split Screen is activated, entering Mission Control allows you to drag open apps and windows into one half of a virtual desktop.
7. Safari gets pinned tabs
Safari has added the ability to pin your favourite websites to the toolbar on the left-hand side, something that Chrome users have had for some time. Additionally, El Capitan now tells you which tabs are playing audio, allowing you to close the offending website or mute it. This could be particularly useful when struck by all-infuriating autoplay videos that scream out of the speakers unannounced.
Are you a pro? Subscribe to our newsletter
Sign up to the TechRadar Pro newsletter to get all the top news, opinion, features and guidance your business needs to succeed!
Kane has been fascinated by the endless possibilities of computers since first getting his hands on an Amiga 500+ back in 1991. These days he mostly lives in realm of VR, where he's working his way into the world Paddleball rankings in Rec Room.