The new iPhone 12 is hitting the streets with a bigger battery, which is good news for those of us who live on our phones all day. Still, the inclusion of 5G, a Super Retina XDR display, and bigger screens all mean your smartphone is prone to battery drain. We've put together a list of tips to help you get the most out of your iPhone 12's battery.
Enable Smart Data Mode
Apple is introducing the world to 5G for the first time with the iPhone 12. In tech circles, we know that 5G sucks the life out of batteries. Never a company to overlook the little things, Apple has included something called Smart Data Mode. When enabled, Smart Data Mode turns the responsibility of picking the best network over to your phone. That network may be 4G or 5G, depending on where you are at the moment. Less searching for a network means you get more hours out of your battery.
Adjust screen brightness
One of the biggest contributors to battery drain is screen brightness. Your phone shipped with the brightness slider flipped up to high. Turn the brightness level down manually to save your eyes and extend the life of your battery.
Keep software up to date
Software updates should be a regular part of your life. Developers of apps and iOS push out updates with bug fixes, new features, layout upgrades, and improvements to power management. Setting up your iPhone to allow apps and iOS to update automatically keeps your battery performing at its best throughout the life of your phone.
Clean your iPhone ports
That little port on the bottom of your phone that's used for charging gets dirty. Pocket lint, dust, debris, and dirt can gather inside the charging port, preventing your AC adapter from making a reliable connection. That leads to inefficient charging. Use a can of air, a cotton swab, or some putty to keep your ports free of the yucky stuff.
Get a high-speed charger
The iPhone 12 will arrive on your doorstep sans a charger. And it is not possible to use your old iPhone wall plug to charge it, as it has only one USB-A port. The new iPhone comes with a USB-C-to-Lightning charging cable. When you upgrade to a high-speed charger that takes advantage of Apple's new fast-charging technology, you can juice up your phone faster and more efficiently. We think that Anker Nano is one of the best iPhone 12 chargers on the market. It's a pint-sized powerhouse that charges your iPhone to 50-percent in less than half an hour, and it will also power your AirPods, your iPad, and all your other USB-C devices.
If it sounds like some amazing technology, that's because it is.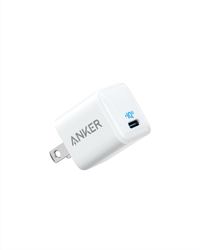 (opens in new tab)
Hurry and grab the all-new Anker Nano. It is undeniably one of the best iPhone 12 chargers available today. Pick up this deal, and we promise, you'll spend less time charging devices and more time enjoying them.
Available on Amazon for $16.99 (opens in new tab)