Happy Birthday Internet Explorer!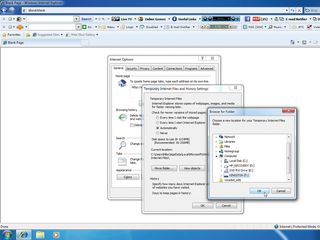 (Image credit: Future)
Introduction
When you think of the history of the internet, Microsoft's iconic Internet Explorer browser is never far away and it was with a heavy heart that Redmond finally decided to put the program out to pasture when Windows 10 arrived.
It has gone from hero to zero to…well…it's a respectful browser these days and it's not farfetched to say that the internet wouldn't be what it is today without the browser. That's not to say there's not been controversy, court cases and more over the years, as there has, and the software still rankles with any hardcore Netscape Navigator fans.
What follows is a look back at the tumultuous 20 years that Microsoft's first entry into the online market has enjoyed.
1995
August 16, 1995 was the date when Microsoft pulled the covers off Internet Explorer 1 as part of the 'Internet Jumpstart Kit' that was included as part of Microsoft Plus! for Windows 95. Famously, IE1 was barely a Microsoft product at all. It grew out of a version of Mosiac that was licensed from Spyglass and this caused controversy due to an agreement stating Microsoft had to pay royalties for every copy sold. This obviously amounted to nothing due to the fact it was given away for free.
It wasn't long until IE2 was out, November 22, 1995 to be exact, and with that came the groundbreaking addition of browser cookies (yes, we can hear you groaning!). IE2 also included support for SSL and those nostalgic internet newsgroups of yesteryear, plus it was the first version of the browser that supported multiple operating systems. This translated into the release for the Macintosh in 1996 and it was even available for Windows 3.1.
1996
IE's feverish release schedule kicked up another notch in 1996 with IE3 arriving for Windows on August 13, 1996, a little less than a year after the first version was released. It added a range of new features such as Internet Mail and News 1.0, Windows Address Book, ActiveX, frames, support for Netscape plugins, and Jscript. It eventually also gained Windows Media Player integration and was a browser that started to look like the modern versions of IE we've gotten used to. IE3 was also significant in that it was the first developed without the Spyglass source code.
1997-1998
Internet Explorer kicked off 1997 in court when a lawsuit brought by Spyglass concerning those fishy royalty payments ended in January with an $8 million settlement. Later that year IE4 rolled off the production line and was another to court considerable controversy, which we'll revisit later on.
It was around now the first much-publicised browser war against Netscape kicked off. At the time of IE4's release, Netscape Navigator had a 72% share of the browser market compared to Microsoft's paltry 18%. This was not to be the case for long though. EWS browser stats show that by the end of 1998 IE had 50.43% compared to Netscape Navigator's 46.87% and that trend continued almost completely unabated.
1999-2000
Internet Explorer 4 had turned the tide thanks to its inclusion for free with Windows and upon its released in March 1999, IE5 was similarly ingrained inside Windows 98 and gave Microsoft an almost unassailable position atop the browser market. It was one of the final versions that included a useful compatibility mode that enabled IE4 to be run alongside IE5.
Going back to IE4, halfway through 1999 a court case brought by the United States found that Microsoft had abused its position as a monopoly to effectively push Netscape's Navigator out of the browser market. The decision was that Microsoft should be broken up into two companies - a ruling that was eventually overturned.
2001-2005
When Internet Explorer 6 arrived in August 2001, the challenge from Netscape Navigator had all but evaporated and with the internet becoming an even more multi-faceted beast, the first popup blocker arrived in a version of IE. Microsoft then reached a point where it owned 95% of the market. This was terrible news for innovation as it simply didn't release anything of note until IE7 in 2006.
By 2004 things were getting a bit stale on the IE front with the only release of note coming in the shape of IE 6 Service Pack 1 for Windows Vista a year earlier. The Mozilla Foundation changed all that when it released the first full version of Firefox in November 2004 and browser wars part two was on.
This time, however, Microsoft was on the receiving end of heavy losses in the market share department and before long it was time to get IE7 out there to try to remedy things.
2006-2007
In the face of competition, Microsoft pushed out IE7 in October 2006 and at the same time welcomed all manner of innovations like tabbed browsing, a search bar, phishing filter and more. The problem with that? Firefox and Opera already had those features and users were in no mood to switch back over and so began its worst decline in terms of usage share among browsers.
Microsoft made another slight boob by only offering IE7 to genuine Windows users and in the face of very poor adoption among the masses it was made available to all Windows users in October 2007.
2008-2009
With the release of Google's uber-popular Chrome browser in December 2008, Microsoft's Internet Explorer 8 had to be good but when it came out inside Windows 7 in March 2009 there were still a fair few complaints. Two years in the making, it included a range of new enhancements yet still flunked when it came to performance against competing browsers and scored a shocking 24/100 in the Acid3 test.
Even so, it still achieved some impressive adoption figures, which had more to do with the fact it came as part of Windows 7 than anything else.
2010-2011
With competition still rampant in the browser sector, IE9 arrived on March 14, 2011 along with the caveat that it would not support Windows XP, an OS that even after its end-of-life in 2014 remains popular.
Much like IE7 the "new" features included many that were already a part of the package offered up by competitors like Chrome and Firefox. It was also one of the first to include HTML5 support and Microsoft overhauled the user interface so that it included new features like pinned sites that were designed to embrace the apps era.
2012-2013
The penultimate version of Internet Explorer, IE10, was released in August 2012 as part of the doomed Windows 8 OS and as such will forever be linked to the disastrous touchscreen interface that has been largely shelved since. It did have a newly designed version of Adobe Flash Player that was meant to save of battery and the user interface of the 'Metro' version was a huge departure from IE9.
Speedy release cycles were becoming the norm when IE 11 first saw the light of day on 17 October 2013 and at the time we were none the wiser that this would be the final version of IE before it became Edge. IE 11 even shipped with Windows 10 after all and Net Applications figures show that at a 26.9% market share it is the most popular browser out there.
2014-2015
Microsoft confirmed the impending death of Internet Explorer in March 2015 when they announced that the age-old browser would no longer be the number one going forward. The replacement, which finally gained its Edge moniker later on in the year, was originally called Spartan and will carry the torch from now on.
Given that so many people still use outdated versions of Windows and IE is the only option for them, IE won't die out just yet and will live to see its 21st birthday and probably even more anniversaries beyond that.
Are you a pro? Subscribe to our newsletter
Sign up to the TechRadar Pro newsletter to get all the top news, opinion, features and guidance your business needs to succeed!