Digital news anchors coming to Abu Dhabi TV channels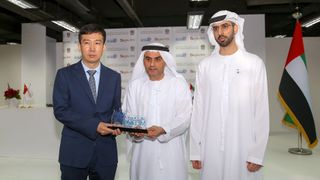 Abu Dhabi Media (ADM) has signed a deal with the Chinese search engine Sogou to develop AI-driven news anchors- a digital version of a regular anchor, in Arabic and English for its channels.
The agreement was signed by Ali Bin Tamim, Director General of ADM, and Wang Yanfeng, General Manager of Voice Interaction Technology Centre at Sogou, in the presence of Omar Sultan Al Olama, UAE Minister of Artificial Intelligence.
Yanfeng told TechRadar Middle East, that this is the first time that Sogou's AI news anchor technology is being leveraged by an international media outside of China. China's state news agency Xinhua has an AI anchor to report 365 days a year and 24 hours a day, in collaboration with Sogou in the Chinese language.
Sogou will develop the English language for ADM within one year and the Arabic language following that. The anchor will be customized to resemble someone from the region.
"The lifelike anchor is developed to simulate the facial movements, voice and gestures of real-life broadcasters through machine learning in real-time audio and video synthesis. Sogou's technology not only provides solutions for traditional media channels but also works to facilitate more natural interactions between humans and machines" he said.
Ali Bin Tamim, Director General of Abu Dhabi Media, said in a statement that the AI news anchor keeps pace with the company's efforts to develop all its brands according to strategic plans that aim to realize a quantum leap in providing media content across digital, TV, print, and audio platforms.
ADM aims to create more quality content for the Arab World
Al Olama said that the use of artificial intelligence and technological tools in the media sector will result in a qualitative leap forward within the media landscape in the UAE and the wider region.
"The use of these advanced solutions will benefit the industry by enriching media content, supporting media research, and providing new opportunities for young professionals to build new skill sets suited to future media channels. The deployment of this advanced technology presents us with the opportunity to further define the future of the sector in a way that benefits all members of society."
Yanfeng said that the company is getting a lot of enquiries for its AI-driven technology from around the world and hopes to sign more agreements this year.
"The technology can also be used for teachers, doctors and lawyers. Our next step is to launch an AI-driven lawyer in China next month," he said.
Are you a pro? Subscribe to our newsletter
Sign up to the TechRadar Pro newsletter to get all the top news, opinion, features and guidance your business needs to succeed!