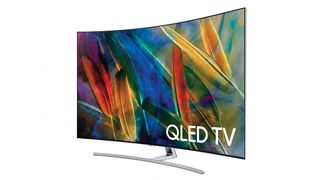 Thanks to new television technologies like quantum dots, high-dynamic-range (HDR) and Ultra HD, which allow for incredibly vivid images with truly lifelike colour reproduction, it's now possible for fans to watch their favourite shows exactly as they were intended to be seen by their creators. So when it comes to picking the right television to make these programs look as fantastic as possible, you'll probably want these technologies to be part of the package. If that's the case, we can tell you there's no better option than a Samsung QLED TV.
With the ability to reach 100% colour volume, television shows are guaranteed to look amazing on Samsung's QLED TVs. This is because QLED technology is able to add light to colour spectrum using electroluminescent nanoparticles, making the colours on Samsung's QLED displays brighter and more vibrant than any other television on the market.
With this in mind, we've put together a list of some the most visually-astonishing TV shows available to stream that will benefit from the technologies featured in Samsung's QLED TVs. Each of these programs has been carefully selected to highlight the strengths of Ultra HD, HDR and quantum dot technology, because if you're going to binge-watch some shows, they should look as awesome as possible! Here are our picks:
Twin Peaks
It's been 25 years since David Lynch's groundbreaking series Twin Peaks went off the air, and just like it promised at the end of its final episode, it's back in a big way. Weirder and more out there than ever before, Twin Peaks: The Return dials the crazy visuals up tenfold in an effort to create a veritable feast for the senses. One second, you're watching your favourite characters interacting with each other in familiar locales from the original series, the next, you're hurtling through space in another dimension while wondering what the heck is going on. In other words, perfect material for a binge-watching session on Samsung's QLED TV.
Sherlock
Love a bit of the ol' Cumberbatch and his classic series, Sherlock? Well, we guarantee you that this award-winning actor's unconventional physiognomy is best appreciated on a Samsung QLED television. Thanks to quantum dot technology, facial textures and skin tones take on an incredibly lifelike appearance, making it feel like the famously arrogant detective is scowling right in your very living room. Beautifully shot, written and acted, you owe it to yourself to binge-watch Sherlock's many movie-length episodes. Mostly taking place in dark and shadowy settings, the show also benefits greatly from QLED's impressive contrast capabilities. This, combined with its 100% colour volume magic, really helps bring the mysteries to life.
Preacher
Based on the cult comic book series by Garth Ennis and Steve Dillon, Preacher is an unexpectedly-hilarious modern day western that follows a somewhat shady man of the cloth with the divine power to make anyone do anything he wants. Along for the ride are his assassin ex-girlfriend and a wise-cracking Irish vampire, so you just know this particular trio is going to get up to some mischief. And, since the show is available to stream in 4K, its gorgeous cinematography will look amazing on a Samsung QLED television. We just hope you like the colour red, because you're going to seeing it a lot in this blood-soaked show.
Better Call Saul
Now that Stan is able to stream 4K content, one of the most visually-arresting shows on television is suddenly looking a whole lot better. Better Call Saul – prequel to the groundbreaking series Breaking Bad – is known for its exceptional cinematography and production design, and thanks to the added resolution afforded by Ultra HD, we are able to get an even better look at the world occupied by Jimmy, Mike, Gustavo and Co. The sun-kissed deserts of Albuquerque, New Mexico, look more cinematic than ever, appearing like a vivid and modern take on a classic spaghetti western. It's also one of the more vibrant shows on television, with its colours popping with extreme intensity, which would certainly make the most of the Samsung QLED TV's 100% colour volume capability.
Wolf Creek
Never has the Australian outback been captured with more stunning clarity than on the Stan Original series, Wolf Creek. While you may be tempted to binge on this grisly show through your fingers, you'd be missing out on some truly gorgeous Ultra HD cinematography. When viewed with Samsung's quantum dot technology, the outback's piercing blue skies have never looked more striking, and its deserts and country towns have never appeared more picturesque. Fine detail is also off the charts, with close-ups revealing pores, wrinkles and fine lines that look so real, you might be tempted to reach out and touch them. If your stomach can handle the gobs of dark blood that the show occasionally flings your way, Wolf Creek would be astounding on Samsung's QLED TV.
Sign up for Black Friday email alerts!
Get the hottest deals available in your inbox plus news, reviews, opinion, analysis and more from the TechRadar team.