Look no further for the best board games for two players. It can be great to play a board game with a large table of people, but sometimes you just want something for two. Maybe you and your family member or housemate are having a board game evening, or you have just one friend coming over. There are many reasons to own board games that can accommodate different numbers of players. The best board games for two players are versatile enough to be as fun for two as they are for three or four – sometimes specific rule sets transform a game meant for a larger party into something you can enjoy as a pair.
This list offers you a selection of the best board games, best card games and best tabletop games, so whatever you enjoy best, you'll be sure to find something. Not only that, but some of the best board games for two people are classics for the whole family, while others represent some more advanced difficulties and themes.
If you're a board game lover, you know the best board games always have the potential to turn loved ones into enemies (at least for a short while), but the most important thing is of course to spend an evening of fun with the people you like best. With the best board games for two players, fun is guaranteed.
If you can't invite someone over or simply want to enjoy board games on your PC, here's a guide on how to play board games online.
The best board games for two players
Ticket to Ride is a classic for a reason and with the price of actual rail travel, it's nice to pretend you're going on a great rail adventure without ever actually leaving your couch. The aim of the game is to collect various types of train cars in order to claim railway routes across the country – or continent. The original edition is set in North America, but there are other versions set in different regions of the world to choose from.
The game builds tension by having to decide whether to expand your rail empire or add more train cars to your collection – while you're building your collection, your competitor may be claiming all the most valuable routes. While Ticket to Ride can be played with up to five players, the minimum you need is two. Its premise is pretty simple but it lets you be very strategic and provides hours of fun.
A list of the best board games for two palyers should have unicorns. Why? because everything should have unicorns. Did you know that they're even more excellent when you have them wage war on one another?
Unstable Unicorns is a fun and simple strategic card game that sees you trying to fill your stable with the required amount of unicorns to win. But your opponent will try to knock the little delights out of your stable – and fill their own too – so they can win first.
Unstable Unicorns may start off sweet but may soon turn bit ruthless, as you steal unicorns and place downgrade curses on your loved one in order to come out on top. While you can play with up to eight players, a specific rule set allows you to play one on one.
There are a fair few expansions for adult players you can grab too to make things a bit spicier and, if you're feeling a bit naughty, there's also a NSFW version available.
This is another game that takes something adorable and makes it destructive. Exploding Kittens, like Unstable Unicorns, is a strategic card game but the premise is a bit simpler: don't pick up an exploding kitten.
The aim of the game is to try and hinder your opponent to make sure they pick up a kitten but have no way to defuse it, meaning you win the game. Expect a lot of pointed attacks, thievery and kittens – the latter of which come in many (very odd) shapes, sizes and personalities.
This setup and the crazy kitten illustrations are part of Exploding Kittens massive success – it's one of the most successful games in the history of crowdfunding platform Kickstarter, and there's even a Netflix series on the way.
The standard game can support up to five players but the rules have specific instructions if you want to play with two people. There are also plenty of expansion packs that you can pick up (we suggest the Imploding Kittens expansion) and both a party pack and a NSFW version.
We won't blame you if you can't look at Pandemic the board game the same way – when it came out over a decade ago, it described a situation that seemed to come right out of a movie.
In Pandemic, you play as a disease-fighting specialist on a mission to stop the spread of several virulent diseases which have broken out simultaneously all over the globe. You need to fight the diseases in global hotspots while also researching the cure, working alongside the other player. Yep, in this game, cooperation is key.
You can play Pandemic with up to four players, but you can also play with two. Conversly, it may even feel more fun to play with two players, because not all roles in Pandemic are equal, which means some palyers regard the game as a bit unfair. There are lots of versions available, as well as expansion packs.
Once you've palyed Pandemic many times, you may prefer the Pandemic Legacy editions to keep things fresh, or play the game's digital version solo.
Scrabble is a classic that works for two players just as well as it does for a bigger group, no rule adjustments needed. It's simple to pick up and somewhat educational. If somehow you've never heard of Scrabble before, the premise is easy to explain – you take a select number of random letters from a bag and then try to make words out of them by placing them on the game board. Each word is worth a certain number of points and the person with the most points at the end wins!
You can play Scrabble with up to four players at a time, but two is probably the perfect amount. It's a game that requires patience and may get quiet. If that doesn't sound like fun to you then we suggest checking out Bananagrams further down this list.
Codenames: Duet is a spinoff of word game Codenames – except this time players are working together. Codenames: Duet sees you and your partner working together as secret agents to try and track down your fellow agents, all while avoiding a band of assassins that are hunting you down.
Codenames is about hints and clues. You have set words you need your partner to guess, which you must give clues for, as well as a set of words that you must try to ensure your partner doesn't say. You need to try and lead them to the right words, without saying them explicitly and without them saying the forbidden words.
Like many of the other games on this list, you can play with more than two players, but Codenames: Duet is designed with two players in mind, so it is a particularly good choice on a list of the best board games for two players.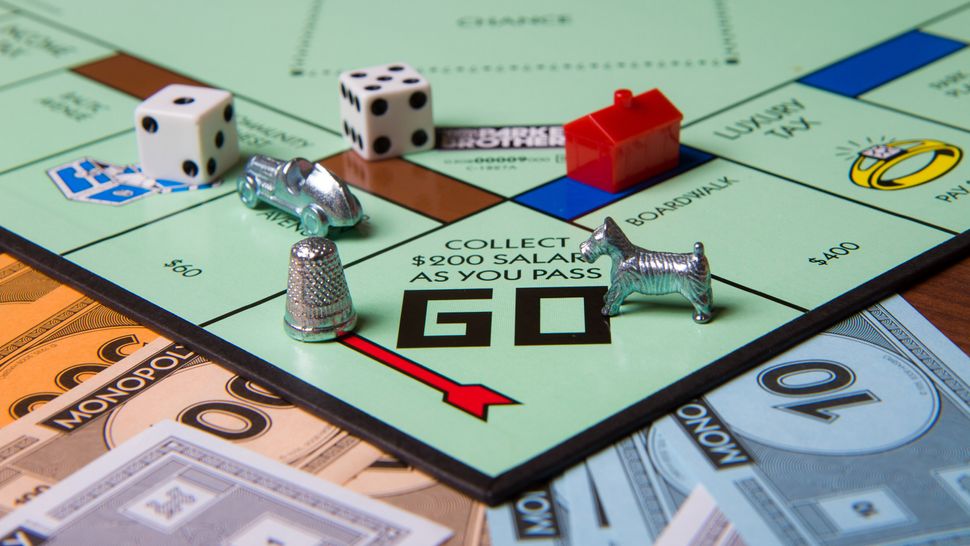 This is the kind of game you either love or hate. Still, it's hard to deny Monopoly is a stone-cold classic and, with a myriad of editions now available, you're bound to find one that suits you.
If you've been hiding under a rock (or perhaps a very pricey boardwalk) and somehow have never played Monopoly then let us explain the premise: you roll dice, move around a board of street names and try to buy as much property as you can, collecting rent payments from unfortunate souls who land on your locations and with the aim of bankrupting everyone who is playing.
You can play Monopoly with up to eight players but it's also great for just two players, with plenty of properties to hoover up. Sessions may take time the fewer of you there are at a table, but the game adapts amazingly to any number of players.
Bananagrams is similar to Scrabble, but instead of playing words against someone on the same board, you're tasked with making your own personal grid and shouting at your opponent every time you finish a new entry.
You have to make your own word grid with the game's 144 lettered tiles. Every time you place a new letter, you'll shout "peel" as you and your opponent take a new letter that you have to fit into your grid somehow. You can move any tile at any time, so if you want to switch your words around so you can fit in a letter like Q, you're allowed to do that, too.
This is one of the best board games for two players, but the game can be enjoyed with up to six players. Bananagrams is also a perfect game to take on the move as there's no board, and it comes in a particularly portable banana-shaped case.
Sushi Go! is a card game that for once is all cuteness without a secret layer containing explosions or warfare. Instead, it's a fast-paced card game that sees you trying to create sushi dish combinations from the cards that go flying by. Each combination earns you points, with some combinations grabbing you more than others.
Sushi Go! Can be played with up to five players but you can happily play it with just two, plus it's easy to take with you, making train and airplane journeys much more entertaining.