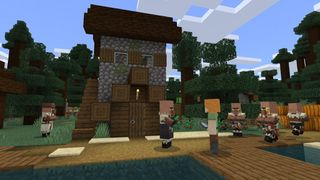 (Image credit: Minecraft)
The best Minecraft texture packs, also known as resource packs since Java Edition 1.6.1, are a great way of making the game look different than before in 2023. Not quite as substantial as new Minecraft shaders or mods, a texture pack adds a new skin to existing blocks and gives you a neat new look to the game. Best of all, unlike shaders, many of them don't require a substantially powerful PC to run them, although there are exceptions.
Texture packs vary from being subtle improvements such as simply making chests or blocks look smoother, right down to adding a cartoon take on the items or making them look more realistic. They're fun to experiment with.
We've listed the best below as well as explained how to put them on a Minecraft server. Remember, you'll need Minecraft Java Edition for most of these although the Bedrock edition does have some custom texture packs on the Minecraft marketplace. Check the texture pack is up to date so it'll work alongside your version of Minecraft too, and also consider one of the best Minecraft server hosting services so as to ensure a seamless and uninterrupted experience overall.
The best Minecraft texture packs 2023
Clarity
Chroma Hills
Retro NES
Anemoia
LB Photo Realism
Faithless
JICKLUS
Annahstas
Beastrinia
Epic Adventures
Depixel
Clarity
Want a change but not too big a change? Clarity looks delightful. It's almost an HD remaster of the vanilla texture pack we all know and are familiar with. It increases the fidelity so everything looks that bit sharper, from crisper blocks to flowers with a bit more character. Even the sheep and villagers look a little more alive and up-to-date. It's not a drastic change but it's certainly charming.
Chroma Hills
For anyone who loves to indulge in a bit more roleplaying than simply building stuff, there's Chroma Hills. It's a medieval texture pack that has elements of realism to it. The resolution is higher than the standard Minecraft resolution with improved textures for stone, wood, doors, walls, trees, and anything wandering too. It's the little details like shaggy sheep that truly shake up how good the game looks again.
Retro NES
You might have never thought of turning Minecraft into a NES-like game but that's exactly what Retro NES does. It's garish and potentially a little divisive but it has some very cool touches. Doors are reminiscent of Super Mario games while paintings of Mario and other retro characters are available here.
Anemoia
You'll need to install the Minecraft mod - Optifine - to use Anemoia, but it's worth the extra effort. It makes everything look like every cartoon you've probably loved watching. The grass is luscious and vibrant and very unrealistic in the best way, while mushrooms look dreamlike and the sheep are adorable.
LB Photo Realism Reload
As the name suggests, photorealism is the focus of LB Photo Realism Reload. It achieves that well while still making the game look great. Flowers and plants look particularly great but you'll also be quietly in awe at the appeal of every animal too.
Faithless
Turning Minecraft into an old-school RPG, Faithless's standout highlight is what it does to your inventory. It looks like a 1990s RPG and it's all the better for it. Blocks are more subtly changed but that Zelda-esque aesthetic is still there sparking some lovely memories.
JICKLUS
Step into a building in JICKLUS and you'll likely think of one of The Elder Scroll games. It's a little more cutely done and still very Minecraftian, but it has hints of the Medieval to it. Greenery is a little more luscious and you're definitely going to want to seek out a ship once you have this texture pack installed.
Annahstas Beastrinia
Inspired by Pokemon and Minecraft mod Pixelmon, Annahstas Beastrinia offers a soft color palette with some adorable visuals. Expect every creature you come across to look extra cute while wandering around a beautifully luscious land. It's cute and cartoony but not too unrealistically so.
Epic Adventures
Epic Adventures mostly focuses on changing up how mobs, animals, and clothing look. You get much more detailed faces with this texture pack which may not be entirely how you envisaged things but still looks good. There are other changes too to add to the roleplaying twist on this pack with everything looking a little more moody.
Depixel
Depixel is more noticeable in certain areas than others. For the most part, it works to change how the blocks look meaning you may not always notice when de-align with a small area. Pay attention though and you'll soon see how having twice as many pixels makes a big difference. Numerous add-ons can be installed too to tackle certain areas or adjust 2D blocks into fully-fledged 3D models adding to the depth involved.
How to install Minecraft texture packs in 2023
Installing Minecraft texture packs is a fairly simple process for the individual user. Here's what to do.
Download the texture pack from your chosen source. If it comes as a .zip file, don't worry about extracting it.
Open Minecraft and click Options.
Click Resource Packs.
Drag the texture pack file into the Minecraft window to automatically add it. Alternatively, you can click Open Resource Packs folder to open the folder then drag the texture pack into that window.
The texture pack will now feature under the list of usable add-ons. If it's unusable, check you have the right version number of both the texture pack and Minecraft itself.
If you want to add a texture pack to your Minecraft server, the process is different. It varies depending on which Minecraft server hosting service you're using, but the general concept remains the same.
Find somewhere to host your texture or resource pack. The best option is to use MCPacks which is dedicated to hosting such content.
Drag the ZIP file of the pack you wish to upload onto the Choose File button.
Click Upload. You'll receive a string of characters similar to: resource-pack=https://download.mc-packs.net/pack/xxxxxxxxx.zip resource-pack-sha1=xxxxxxxxx
Login to your server's FTP and find the server.properties file to edit.
On the server.properties file, find the resource-pack= line and change it to your given link.
Find the resource-pack-sha1= line and change that to the second line you were given.
Reboot the server then under Server Resource Packs in options, select Prompt to give users the choice to install the resource pack.
Image 1 of 4
If you need some other Minecraft tips, then give our guides to the best Minecraft seeds, the best Minecraft shaders, and the best Minecraft servers a read, while we've also got tips on how to set up a Minecraft server too, if you're keen on hosting.
Sign up for Black Friday email alerts!
Get the hottest deals available in your inbox plus news, reviews, opinion, analysis and more from the TechRadar team.