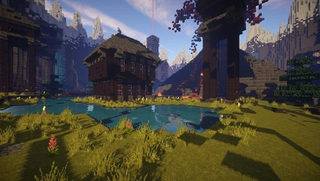 (Image credit: pixabay)
The best Minecraft shaders ensure that the game looks as good as it is imaginative in 2023. There are countless mods, servers, and seeds to try out, but applying a great Minecraft shader means whatever you're doing, it looks better than before.
Sometimes, the right Minecraft shader can even feel like you're playing a whole new game. You don't always need the latest graphics card to reap the benefits either although it'll often help.
If you're keen to see how great Minecraft can look, take a look below at our pick of the best Minecraft shaders around at the moment. Such shader packs will provide you with some great looks and often some excellent customisation options too so you can really savor the world you're exploring.
As an aside, each requires you to be using the Java Edition of Minecraft but that shouldn't be an issue for most players. And as one last aside, don't forget to use one of the best Minecraft server hosting services to ensure you get uninterrupted play and performance.
The 10 best Minecraft shaders 2023
BSL Shaders
Sildur's Shaders
SEUS
projectLUMA
Vanilla Plus
Nostalgia Shaders
Chocapic 13's Shaders
Naelego's Cel Shaders
Continuum Shaders
Trillton's Shaders
BSL Shaders
BSL Shaders is one of the most popular shader packs for Minecraft and for good reason. Its results are beautiful. It provides players with realistic-looking water along with warm and attractive lighting. Somehow though, none of that jars awkwardly with the block-focused environment we're all used to in Minecraft. It simply uplifts it and makes it look even nicer.
Reasonably realistic looking, you also get extensive options for tweaking. These include customizable clouds and water, bloom, depth of field, motion blur, real-time shadows, and a heap more.
Sildur's Shaders
Ease of use is the biggest selling point for Sildur's Shaders. It looks gorgeous the moment you install it with fantastic lighting effects, beautiful reflections, and bloom too.
However, it's also very easy to fine-tune. That makes it a good option if your system isn't exactly fast but it's also fun to see how the tweaks can change things. Besides choosing between basic or vibrant shaders (go vibrant if you can), you can adjust a lot, adding volumetric lighting along with ambient occlusion and other satisfying details.
SEUS
Also known as Sonic Ether's Unbelievable Shaders, SEUS comes in a few different shader packs to accommodate those needing less demanding shaders. SEUS PTGI is the true highlight here with beautifully clear water to check out and see through. Continuing that trend, you also get glossy-looking rain, procedurally generated clouds, and a natural light that really adds to the feeling that the Minecraft world feels more alive than it did without these shaders.
Impressively, SEUS PTGI doesn't require an RTX graphics card to work. It's all a little less obvious than other shader packs but that's what makes it so appealing. It's those subtle signs of life that revolutionize the game's world.
projectLUMA
The successor of KUDA-Shaders, a popular shader pack, projectLUMA focuses on providing great looks with low-performance costs without distracting players. That means photorealistic skyboxes along with great reflections and realistic water waves.
It never oversteps the mark though so you still get the clear Minecraft way of doing things - just slightly improved upon from before. With its beautiful water that actually looks a lot like seawater, it's particularly good if you like to explore a world that's more oceanic than most.
Vanilla Plus
If you want improved visuals without losing the traditional Minecraft style, look no further than Vanilla Plus. It makes regular Minecraft slightly nicer looking without being too excessive. Everything looks really nice with dynamic shadows, motion blur, and improved clouds, and that sense of familiarity as you wander around seeing how things have changed ever so slightly.
Because of its focus on being a slight improvement, it also tends to run well on lower-specced systems so it's ideal if your gaming rig is starting to creak.
Nostalgia Shaders
For a subtle adjustment to your usual Minecraft build, Nostalgia Shaders does the job well. It's fairly subtle, having been designed to emulate the early shader packs that experienced Minecraft players may have already seen. It still offers volumetric fog, custom skyboxes, and some truly gorgeous cloud effects, but it's not as in your face as some more modern alternatives.
It's also a shader pack that works well on lower-performance systems, even if it does lack many customization options.
Chocapic 13's Shaders
Chocapic 13's Shaders' greatest asset is that it's highly adjustable. It offers all the things you'd expect from a good shader like gorgeous water effects, crisp graphics, and attractive lighting, but it's the fact it works on many different systems so well that makes it so appealing.
Options for low, medium, high, extreme, and ultra are all included with the shader pack and they all look far better than you'd expect. Even a mid-range GPU will handle the high pack at a decent FPS rate.
Naelego's Cel Shaders
We're not convinced Naelego's Cel Shaders will be your go-to every time but for an occasional cel-shaded twist, it's a fun change of pace. A little reminiscent of the look of Minecraft Legends, its bold color palate is certainly eye-catching and changes up the Minecraft look substantially.
Looking like a classic comic won't suit purists and performance can dive depending on your setup, but it's unique and stands out among many shaders focusing on realism.
Continuum Shaders
If you have a powerful rig and want Minecraft to look stunning, you need Continuum Shaders. It's demanding on your hardware but in exchange, you gain photo-realistic lighting effects and realistic clouds. Best of all are the shadows that adjust according to the sun's position. It's hardly surprising that you need such a high-end graphics card to reap the benefits but it's worth it.
There are other Continuum Shaders that are a bit more tolerant of older hardware but the focus is squarely on providing the most realistic experience possible. For weather effects, it's unrivaled.
Triliton's Shaders
Do you love visuals that are heavy on vibrant colors? You'll love Triliton's Shaders if so. Effectively whacking up the saturation and temperature levels to the max, the shaders give that sense of everything being around sunset or sunrise on a pleasant day.
It takes a little getting used to but there's something gorgeously positive about the color scheme that really works for it. Like the best shaders, it provides a new take on Minecraft. However, you'll need a decent rig to get the most from it.
If you're on the hunt for a bit more Minecraft help, then head over to our pages on the best Minecraft seeds, the best Minecraft texture packs, and the best Minecraft servers. And don't forget our tips on how to set up a Minecraft server too!
Sign up for Black Friday email alerts!
Get the hottest deals available in your inbox plus news, reviews, opinion, analysis and more from the TechRadar team.