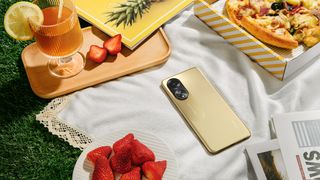 (Image credit: Oppo)
Arrives the hour, arrives the star! OPPO, the global smart devices brand known for its consumer tech innovation, has once again disrupted the market with the launch of OPPO F23 5G in India.
In a recent study, OPPO discovered that three out of every four people have experienced 'NoMoPhobia', a phenomenon popularly used to describe low phone battery anxiety. The OPPO F23 5G is the talisman for those who are looking for a solution to this problem. With its comprehensive safety and privacy features, coupled with the 5000mAh battery and 67W SUPERVOOCTM super-fast charging technology, the device sets a new benchmark in the mobile market.
In its price segment, the F23 5G offers an exceptional package, showcasing its prowess in visuals, battery performance, camera capabilities, and user interface, making it an excellent choice for individuals seeking a well-rounded and high-performing smartphone.
Here's an in-depth look at the OPPO F23 5G.
A battery powerhouse
One standout feature is the super-fast charging capability at 67W SUPERVOOC™, which is unmatched in the phone's price segment. Imagine getting a full 100% charge in just 44 minutes, and 50% in an unbelievable 18 minutes!
That means with just a five-minute charge, you can enjoy six hours of talk time, watch YouTube videos for 2.5 hours, or use Instagram for 1.8 hours, allowing you to finally bid adieu to battery anxiety!
The powerful 5000mAh battery provides long lasting performance for extended usage without the constant worry of running out of power. Whether it's a full day of work, a weekend trip, or a movie marathon, the battery has the stamina to keep up with your needs.
Safety has always been a hallmark of OPPO devices. The OPPO F23 5G boasts the remarkable Battery Health Engine, which ensures the battery's longevity by monitoring the charging process over more than 1,600 charging cycles, which is almost four years. Additionally, five layers of charging protection ensure safeguards against issues like current and voltage overload.
The All Day AI Power Saving Mode rescues you when the battery is running low by allowing you to select up to six apps to operate in super power-saving mode. With just 5% charge remaining, you can squeeze out an impressive 17 hours of usage, or engage in a WhatsApp chat for 0.9 hours.
The Super Night-time Standby feature optimises power savings based on your sleep patterns. With only 2% power consumption during night-time standby, you won't have to worry if you forget to charge your phone before bed.
Flaunt the display, envy the design!
The OPPO F23 5G pushes the boundaries of display technology, offering a 6.72-inch screen with an unrivalled visual experience. With a 120Hz refresh rate, this device delivers buttery-smooth animations and transitions, ensuring a seamless user interface.
The phone boasts of a remarkable screen-to-body ratio of 91.4%, which maximises the display real estate while minimising bezels. This immersive design ensures a captivating viewing experience, drawing you into your favourite content like never before.
In terms of visual quality, the display's brightness capabilities are equally impressive, with a peak brightness of 680 nits that ensures effortless outdoor usability without compromising on image clarity or colour accuracy.
When it comes to design, the F23 5G will impress even the most discerning users.
The unique OPPO Glow makes the device stand out, exuding class and style. The crystal glass piece feels great in the hand.
The phone also features a stylish design including a decorative silver camera ring, keeping in line with the preferences of the target audience, and is available in two colour options: Bold Gold and Cool Black.
The camera king!
The OPPO F23 5G combines cutting-edge camera technology with powerful performance and a sleek user interface. This device is equipped with an AI 64MP triple camera setup, offering photography enthusiasts an exceptional shooting experience.
The star of the camera system is the 64MP main camera, which allows you to capture stunning, high-resolution photos effortlessly.
Accompanying the main camera are two additional lenses: a 2MP depth camera and a 2MP Microlens. The depth camera adds a professional touch to your portraits, creating a pleasing bokeh effect, while the Microlens offers an exciting feature by supporting 20x and 40x magnification. The 32-megapixel selfie camera is also brilliant, and capable of delivering crisp, detailed selfies.
The quintessential Ps – performance and privacy
The OPPO F23 5G is powered by the Qualcomm Snapdragon 695 5G mobile platform, ensuring seamless multitasking, smooth app navigation, and speedy overall performance. Coupled with 8GB of RAM and 256GB of internal storage with RAM expansion, you'll have ample space to store your photos, videos, and apps without compromising on speed or responsiveness. Not only this, by enabling RAM expansion mode, the F23 5G can also convert up to 8GB of unused ROM storage into temporary RAM to boost the phone's performance.

The phone undergoes rigorous testing in OPPO's laboratories, including 48-month fluency tests, ensuring long-lasting performance and reliability.
On the software front, the phone runs on ColorOS 13.1, which is designed to both ensure your privacy and enhance performance. You'll enjoy features designed to enhance your productivity and personalization, and discover the latest privacy features designed to protect your personal information, ensuring a safe and seamless experience.
A standout privacy feature is the Auto Pixelate function, which enables the user to pixelate profile photos and names with one tap for added security when sharing images online, and the Advanced Encryption Standard (AES) which further enhances the safety experience.
Let the music play!
The OPPO F23 5G provides a stupendous audio experience that lets you immerse yourself in your favourite movie, game or music. Tuning by audio experts Dirac further enhances the audio quality, delivering precise and optimised sound.
When it comes to volume, the phone goes above and beyond with its 200% Ultra Volume Mode, which allows you to enjoy every note even in a noisy environment.
Qualitative brilliance!
In terms of build quality, the F23 5G comes with an IP54 dustproof and waterproof rating, providing peace of mind in everyday usage scenarios. This enduring quality is backed by OPPO's rigorous testing across multiple categories, including drops, water resistance, radiation, climate, micro-drops, and signal quality. With over 50 production control tests, over 130 reliability tests, and over 320 experimental test items, OPPO ensures the enduring quality the brand is renowned for.
The final word
The OPPO F23 5G sets a new standard for visual excellence. Its high refresh rate, touch sampling rate, expansive screen-to-body ratio, impressive brightness, nearly bezel-less design and full DCI-P3 colour gamut coverage combine to create a captivating visual feast, elevating your mobile experience to new heights.
The USP of the phone is its remarkable battery experience, featuring super-fast charging, long-lasting performance, advanced battery health monitoring, and comprehensive safety measures. With features like All Day AI Power Saving Mode and Super Night-time Standby, it ensures that your battery lasts as long as you need it to, making it a reliable companion for your everyday mobile needs!
All in all, with the F23 5G, OPPO has delivered a phone that's a must-buy for anyone wanting the best battery, performance and durability from a smartphone that also looks stylish and sleek.
Pricing and offers
The OPPO F23 5G is currently on sale priced at INR 24,999, and can be purchased online via Amazon, the OPPO Store and mainline retailers. Click here to learn more about the offers available.
Sign up to receive daily breaking news, reviews, opinion, analysis, deals and more from the world of tech.