Best UK credit monitoring service of 2023
Track your credit score online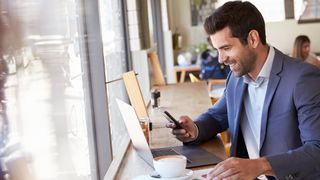 (Image credit: Shutterstock)
The best UK credit monitoring services make it simple and easy to keep track of your credit score, and monitor it for any changes that might suggest fraud or ID theft.
Your credit score is important because various lending agencies use it to determine whether they will provide credit to you or not. This can be anything from a credit card, insurance, loans, or a mortgage. It can also be used anywhere you sign up for a subscription, such as HP agreements and SIM-only contracts. Even your chance of being able to rent a property can rely on you having a healthy credit score.
This is partly to ensure you don't have any bad debts accruing, which can negatively impact your credit score and your ability to get credit. However, with the continuing increase in identity theft, keeping watch of your credit score can alert you to any spurious debts you do not own and have been fraudulently associated with you, allowing you the chance to sort these out and clear them before you are negatively affected.
Below we list the best UK credit monitoring services currently available, to help you better manage your finances.
We've also featured the best UK tax software.
---
The best UK credit monitoring services of 2023 in full:
Why you can trust TechRadar We spend hours testing every product or service we review, so you can be sure you're buying the best. Find out more about how we test.
For your free credit report and credit score
Reasons to buy
+
Provides thorough information
+
Free and paid services available
+
Helpful additional tools with the paid service
Reasons to avoid
-
Very rarely used by itself as the basis for credit decisions by lenders
-
Mobile experience could be better
Experian is a flexible platform that offers free and paid reporting. The free version gives you your credit score once a month, and it's well worth setting an account up even if you don't need it right now so that you can take a glance in the future when you're looking to borrow money.
The CreditExpert package adds daily credit score updates, a historical report dating back up to six years, email and/or SMS notifications for changes to your credit status, and even a web monitoring service that scans the Internet for any fraudulent activity relating to your personal details. The best part is that it helps victims by alerting lenders on their behalf. Experian also offers an Identity Plus plan which places more of an emphasis on fraud rather than credit scores.
Signing up is simple and shouldn't take long. Don't be alarmed that you will need to provide some personal details, including your banking history. This is for the service to locate your records. Once you're in, the Credit Score Builder tool will provide actionable advice to help you build your score.
Experian Boost is a free tool that factors payments to savings accounts, council tax payments, and digital entertainment subscriptions into your Experian credit report. In addition to the alerts for use of your personal information anywhere, the service also has a specific line dedicated to serving customers with concerns on fraud and identity theft.
The online dashboard is clearly laid out and easy to understand, and even created mock reports to help you understand the sections. While the mobile app mostly does the same, we couldn't help but feel it could do with a bit of a makeover - it looks like a bit of a low-budget afterthought in some areas.
Read our full Experian CreditExpert review.

Take control of your financial journey
Reasons to buy
+
Detailed and easy-to-understand reports
+
Provides deeper information to lenders
Reasons to avoid
-
Only one account type available - Not free
-
Not used as a stand-alone tool for determining loan approval
Despite being an American company, Equifax operated in 24 different countries worldwide and forms one of the 'big three' in the UK. There's only one plan available, and unfortunately, it's not free.
If you're willing to overlook the cost, you can get access to your credit score, along with a report, and notifications of credit score changes. The package also bundles in an identity protection feature that alerts you of any fraudulent activity surrounding your personal information online.
The credit reports from Equifax follow the same format as Experian and are easy to comprehend. Even so, they offer up a good amount of detail, so determining specific information like late credit card payments should be hassle-free. Any debts to collection agencies and liens against your assets are also indicated in the report.
With Equifax, your credit score can fall anywhere between 280 to 850. It uses the same criteria that FICO uses when calculating a credit score, so a high Equifax credit score usually means a high FICO score. Lenders, however, generally take a look at all three credit bureaus and not Equifax alone. That being said, there are some lenders out there that prioritise Equifax, so having a good score here can
Equifax does not have any mobile applications, limiting your ability to check your credit score anytime you like. It is also quite a disadvantage that a paid account is your only option if you wish to use their service on a long-term basis, not to mention the credit-building tips are next to non-existent.
Signing up with the service is a bit of a hassle because of some technical glitches that can occur. Their customer service is also reported to not be the best in dealing with new customers. It can take an hour to complete the sign-up process, which is not something people appreciate considering other services have made it fast and easy.
Read our full Equifax Credit Report and Score review.

3. Credit Karma
Reach your financial goals starting with free credit scores
Reasons to buy
+
Absolutely free
+
Provides explanation regarding credit score and report
+
Recommends solutions
Reasons to avoid
-
Displays only two credit scores
Credit Karma offers lifetime access for free, which really counts when others charge considerable monthly fees. This means that you do not have to spend a single penny to use its services. These include your present credit score, your credit report with all the details regarding your financial transactions for the previous six years, a listing of the lenders that have viewed your file for the last two years as well as details of all your financial connections such as joint account holders.
The credit report is all-inclusive, providing details about electoral roll registration, notices of correction, and search histories, to name a few. Information on the different things that can affect your credit score is also provided along with tips on how it can be improved. There are also credit monitoring tools you can use to evaluate the changes in your credit rating.
Your credit scores presented in Credit Karma are from Equifax and TransUnion, and they are not always the same. This is due to numerous factors such as your lenders not reporting to the three credit unions or their reports not being sent at the same time, which is very often why there may be a delay in your report.
Like most other offerings, CreditKarma can offer up a number of steps to help you build your credit score, however because it relies on two databases, it's likely to have a marginally better effect.
Signing up is really easy and the experience is intuitive - the company has clearly spent a lot of money making its app one of the best and even the website has undergone significant development to make it easy to use. In fact, the whole experience is underpinned by helpful graphics and colour-coded systems. Additional protection like two-factor authentication also provides peace of mind.

Checks data from Equifax, Experian, TransUnion, and Crediva
Reasons to buy
+
Very detailed report with a lot of information
+
Provides advice on improving your credit
+
Free trial
Launched in the year 2000, CheckMyFile prides itself on being the UK's only multi-agency credit report provider, as well as the first to offer access to credit reports online.
CheckMyFile takes a unique approach compared to its competition by formulating your credit report using data from Equifax, Experian, TransUnion, and Crediva together.
Users have the ability to check through the reports and request amendments to the information such as credit agreement details, the payments made as well as any accounts closed. The report also categorizes your credit like credit cards, loans, mortgages, and others. Your report gets updated as your score improves, so you can track your progress regularly. You also get a more detailed view of your report, highlighting the positive and negative parts of your credit score instead of the common single-dimension credit report.
Like most other services, CheckMyFile lets you view any financial associations, and also notifies you of fraudulent activity. Overall, we think CheckMyFile gives you the most complete look at your credit information given its multi-agency approach.
Another advantage of CheckMyFile is how it shows you which agency gives the best score and which lender utilizes that agency in evaluating your credit rating. Being armed with this information can significantly increase the approval of your credit or loan applications.
Overall, it is quite easy to understand. It presents the information in graphs and lists with bullet points. Every section also has explanations, so you have a clear understanding of where it is taken from and why it is applicable and valuable.
Even though the service deals with four agencies as the basis for its report, signing up for the service and retrieving the data required was pretty quick. The website is also pretty direct and simple to use. To get started, all you need to provide is your basic personal information and credit card details. The service values security highly. Its website is on a secure connection, and encryption is applied to the data that you provide. The reports are password-protected, so they are safe both from malware and unauthorized individuals.
One of the downsides of the service is how the reports appear confusing at first. The abundance of information makes it too complicated for some people. Their support hours are limited, so it can be a challenge to get in touch with them if you work long hours. It is also unfortunate that there is no mobile app for the service, and you do not get any automatic alerts for signs of fraud and identity theft. You can learn about them when you log in only. If you're willing to pay for your credit monitoring service, then CheckMyFile is a strong contender.
Read our full Checkmyfile review.

5. ClearScore
Credit checking tool that's mobile friendly
Reasons to buy
+
Free of charge
+
Added identity protection features
Reasons to avoid
-
Only uses one credit agency
If totally money serves as a superb destination for checking out your TransUnion credit data, then ClearScore does the same for Equifax. In terms of user experience, it may just be one of the best tools we've used and the mobile app is next to none.
As this list goes on, you'll begin to notice that most services offer the same features, and that's because the realm of what a credit monitoring service can offer is actually fairly narrow. However, ClearScore does have one standout feature and that's its free identity protection service, which scans the dark web for information related to you, including leaked passwords.
Because it's an Equifax-only service, it's best combined with other tools to give you a more complete picture. That said, pick a selection of free platforms and you'll be better informed about your status without having to part with a penny.

6. TotallyMoney
Check your TransUnion score for free
Reasons to buy
+
Free to use
+
Pre-approval for some borrowing services
Reasons to avoid
-
It only considers your TransUnion score
While we've featured Experian and Equifax above, we've chosen not to include TransUnion owing to its limited feature set. In fact, on its website, it recommends that users consider other applications like TotallyMoney which offer a lot more information. The best way to look at it is that TransUnion is the database, and TotallyMoney applies that database to its platform.
Unlike some other websites and apps, TotallyMoney isn't a multi-agency platform, meaning that the data you get is only pulled from TransUnion. When it comes to features, though, you can expect much of the same, including regular credit reporting, six years of history, and even pre-approval for some money-borrowing services like credit cards.
The best thing about TotallyMoney though is that it's free, so you'll only be better off by setting up an account. Combine it with another service that looks at the other two main agencies and you'll have a really well-rounded view at your creditworthiness.
Looking to up your career? We've also featured the best UK job sites
---
What is a credit monitoring service?
Credit monitoring services compile financial data about you in order to ascertain your creditworthiness. Beyond how much you're currently borrowing and whether you've missed any previous payments, there are other things that a credit agency may want to consider, such as how long you've been registered on the electoral role.
In the UK, there are three main agencies: Experian, Equifax, and TransUnion. Lenders may look at any combination of the three, so being armed with your data from across the board can help you to prepare for when you eventually want to borrow money, giving you action plans in the meantime.
Why bother getting a credit monitoring service?
Any time any financial institution will lend you money, whether that's a mortgage or a car loan, or just a humble phone contract, you'll be subject to a credit check. Whenever you have a check carried out against you, which could lead to you opening an account and borrowing money, it will be noted against your name. The more of these you have, the more desperate you look, and the less willing lenders may be to part with their cash.
To save unnecessary checks, you can take control of your own data and find out what lenders' systems will tell them, so that you can take action to improve your credit score before being declined and receiving a bad mark.
Choosing the best UK credit monitoring services
Each of the services on the market today that offer credit monitoring brings its own set of advantages and disadvantages, benefits and limitations.
If you really have a budget constraint, there is still the option to go with the free services available. Some of them have limited features while others lack certain attributes such as security. However, they are still able to provide the basic assistance that you need in handling your credit score, and for many, being able to see what sort of position their in could be all they need to go ahead and apply for a loan.
Determining which one is most suitable for you is a process in itself. You have to take several considerations into mind. These include how long you have been monitoring your credit score and what is your purpose for doing so now. Some service providers can give you in-depth information about your history going a few months or more years back.
Overall, the best method will involve combining data from all three of the UK's leading credit reference agencies, though how you do this is down to you.
How we tested the best credit monitoring services
To test for the best credit monitoring services we first set up an account with the relevant software platform, then we tested the service to see how the credit service could be used for different purposes and in different situations. The aim was to push each credit monitoring service to see how useful its basic tools were and also how easy it was to get to grips with any more advanced tools.
Value for money plays an important role in our tests, because if you can get the same paid service for free, then there's little point in forking out each month. That said, some features that are exclusive to paid plans may be enough to tempt users over.
Read more on how we test, rate, and review products on TechRadar.
Are you a pro? Subscribe to our newsletter
Sign up to the TechRadar Pro newsletter to get all the top news, opinion, features and guidance your business needs to succeed!
With several years' experience freelancing in tech and automotive circles, Craig's specific interests lie in technology that is designed to better our lives, including AI and ML, productivity aids, and smart fitness. He is also passionate about cars and the decarbonisation of personal transportation. As an avid bargain-hunter, you can be sure that any deal Craig finds is top value!