The best iPhone games 2023
The best iPhone games in the App Store right now
Our favorite iPhone point-and-click adventures, room escape games, narrative tales, and gamebooks.
Night in the Woods
Why you can trust TechRadar We spend hours testing every product or service we review, so you can be sure you're buying the best. Find out more about how we test.
($5.99/£4.99/AU$9.99)
Night in the Woods finds protagonist Mae Borowski returning home after quitting college. She tries to reconnect with friends and family – but things have changed. It isn't just the people or the weather either – something strange is afoot in her town.
Your task is to accompany Mae during this period of her life, as she navigates challenges, works on relationships, and explores darkness at the center of the story.
Although resembling a side-on point-and-clicker, Night in the Woods is quite linear in nature. Tests of brainpower and arcade skills are diversions as you work your way through the story. But the narrative here is compelling, as is the way in which Night in the Woods encourages you to take the time to explore – even if what you discover won't always be joy.
Overboard!
($5.99/£5.99/AU$9.99)
Overboard! begins with a murder being committed. But the mystery isn't who committed the crime – it was you, unceremoniously pushing your husband overboard during a transatlantic crossing. Instead, the mystery is how you'll get away with it.
In trademark inkle fashion, the game plays out as a branching pathway adventure. You select where in the ship you'd like to go, interact with objects and people, and become the master of your own fate within the limitations of your circumstances.
The claustrophobic nature of Overboard! is your biggest enemy – there's nowhere to hide, and too many others suspect what you did. Within limited time – and across multiple playthroughs – you must therefore figure out the actions that will not only allow you to escape, but also to make enough riches to set you up for a life of luxury in your new home.
Cards! – MonkeyBox 2
($2.99/£2.99/AU$4.49)
Cards! – MonkeyBox 2 is part of a mobile-optimized gaming series by Coding Monkeys that aims to present playful, experimental, handcrafted experiences. This time, you're on an adventure, with actions and consequences all depicted by the eponymous cards.
As you flip through scenes, you'll periodically be given a selection of cards to play. Decisions determine what happens next – often your abrupt death. The aim is to figure out a sequence to play that allows you to progress.
The game relies on trial and error, and scenes can be vague and obscure. Planning far ahead is impossible. This might frustrate seasoned adventurers – not least if they get caught in a death/restart loop – but taken on its own terms, this is a beautifully designed reimagining of adventure gaming tropes and ideal for iPhone.
Headland
(Free + $5.99/£5.99/AU$9.99)
Headland is best described as a Zelda-like action adventure played with a single digit. You explore a colorful realm, searching for gem shards that will restore a companion's creativity. In tried and tested fashion, this means roaming about, finding bling, and hacking enemies to bits with your sword.
Intriguingly, imagination itself is used as one of the game's currencies. Dead foes drop globs of it, which are subsequently used to build bridges and other contraptions. You might then surmise that your surroundings are a touch traditional for a game based on the concept of imagination, but there's no doubting the heart, care, polish and sense of fun that underpins this friendly yet challenging adventure.
FAR: Lone Sails
($3.99/£3.99/AU$6.99)
FAR: Lone Sails finds the protagonist in a desolate world, tending to a colossal steampunk vessel that's like a gigantic sailing ship on wheels. You feed its reactor fuel, punch a massive red switch, and are on your way.
This game is as much about the journey as anything else. Large sections are bereft of bespoke challenges, leaving you to admire the landscape and keep your ship running.
Periodically, events occur that require more varied input. Early on, you'll acquire a set of sails. Later, your vehicle is damaged and needs repair. Even during those moments, FAR: Lone Sails is a quiet, contemplative game – but its atmosphere and experience are such that it's not to be missed.
Reventure
($3.99/£3.99/AU$5.99)
Reventure is a side-scrolling 2D platform adventure with a twist. Although you leap about, chance upon quests, and frequently get all violent to dispatch doddering enemies, your aim is to die.
In fact, your aim is to die in 100 different ways. Figuring out how, and collecting your various deaths, can be perplexing, challenging, and highly entertaining. Early on, you can usually meet your demise by unsportingly stabbing someone, but subsequent expiration is much trickier to reach.
The game, fortunately, plays with the concept to breaking point. When you die, you're resurrected in often amusing ways, and sometimes death is the only way to unlock progress to a new section of the map. But this iPhone game takes itself seriously where it matters, in terms of tight controls and level design. Something of a miniature mobile classic, then.
Speed Dating for Ghosts
($2.99/£2.99/AU$4.49)
Speed Dating for Ghosts is an iPhone game all about specters who want to find love after life. You select a room, and blaze through quick chats with potential partners; assuming you don't annoy anyone too much, you then choose who to go on a date with.
This might sound a bit pat, but this isn't a horror-tinged dating sim. Instead, it's closer in nature to Florence - a heartfelt story (or, in this case, set of stories) with little interaction, but plenty of soul.
If you hanker for agency throughout your games, the presentation here will feel limiting. But if you've got time to delve into a set of tales tinged with sadness but peppered with hope - and with a suitably surreal spooky twist - this one has more than a ghost of a chance of winning your heart.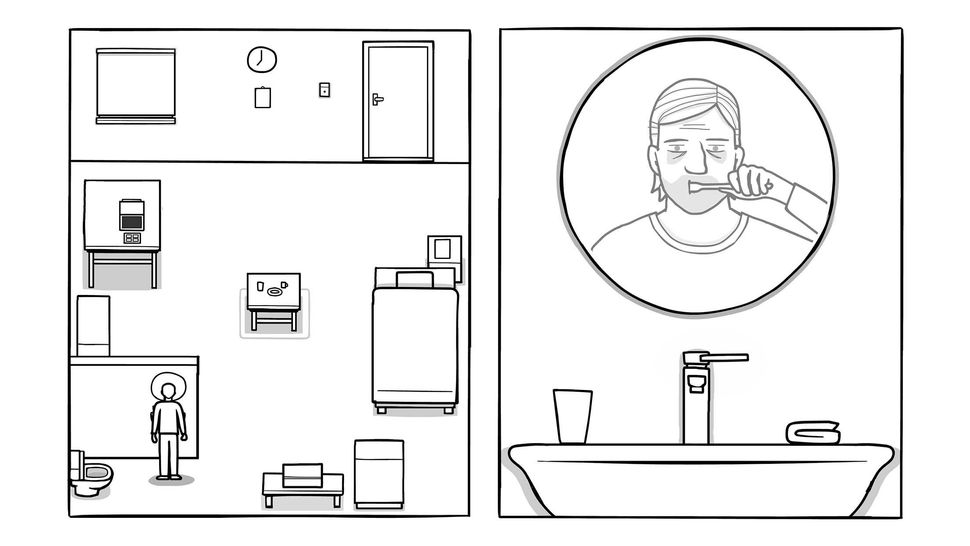 The White Door
($2.99/£2.99/AU$4.99)
The White Door is part classic point-and-click adventure, part puzzle, and part emotionally charged storytelling. It begins with the protagonist in bed, within the stark, white confines of a mental health facility. He has no memory of how he got there.
On poking around, you soon find a schedule pinned to the wall. When completing tasks – brushing your teeth; eating – the hands of the clock move, and days pass. Gradually, memories return, presented as animated comic-like cutscenes; but something's off at the heart of this claustrophobic adventure – a creeping unease that grows as you dig deeper, and end up faced with various roadblocks to completing your goals.
The tale itself is short, but it feels very different from any other iPhone game. A door worth opening, despite the horrors you might then discover.
Sky: Children of the Light
(free + IAP)
Sky: Children of the Light is an open-world multiplayer adventure, set in a place of lush open fields, rain-filled forests, and ruins that mask terrifying creatures of the dark. Your aim is to bring light back to the world, and return trapped constellations to their rightful place in the heavens.
Initially, Sky is a rare kind of game where you revel in just existing. You can run around the fields, flap your cape to briefly take flight, and then skid down hillsides when you land. But there's plenty of game here, whether you're poking around caves to find secrets, or working with other players to unlock a puzzle.
The challenges aren't especially tricky, although the game's opaque nature adds a splash of mysticism – and sometimes frustration. Mostly, though, Sky is a unique, premium iPhone gaming experience to be savored.
Minit
($4.99/£4.99/AU$7.99)
Minit has all the trappings of an old-school RPG adventure. The sharp visuals look like they've beamed in from a ZX Spectrum or a Game Boy, and the tiled landscape peppered with buildings, forests and characters puts you in mind of an early Zelda.
The twist here is your adventures come to an end after precisely 60 seconds – although anything collected in your previous run stays with you for the next. You must use your time wisely, memorizing pathways and ensuring efficiency in your every step and action.
Minit's setup ensures it's more tightly constructed finite adventure than sprawling beast – a kind of RPG puzzle to unlock. However, the game's bite-sized nature is not only innovative, but also makes it perfect for a few rounds on your iPhone during odd moments.
Maginary
(free + $4.99/£4.99/AU$7.99)
Maginary exists in a gray area between novella and game. From the off, you get an inkling of what's in store, on inputting your name and seeing it infused into the story. As you read on, it becomes clear interactions with your device affect what occurs within Maginary's world.
There's a great sense of atmosphere, from subtle sound effects to surprising animations that shake up the story in real-time – in narrative and visual terms. Events barrel along at some pace, too.
The story is resolutely linear, though – there's no freedom to explore, unlike in, say, Device 6. But this doesn't matter when you're glued to the screen, and the interactive components are so cleverly designed. Entertainingly, even the one-off IAP to unlock the last two-thirds of the book is baked deep into the storyline – how very meta!
Florence
($2.99/£2.99/AU$4.49)
Florence is really an interactive storybook, but there are game-like elements peppered throughout – and because it was created by the lead designer of Monument Valley, you know it'll be full of heart.
It also features plenty of clever design elements. For example, you at one point create something as a child that later makes a reappearance in a box of mementos. After a crash, sliders are used to make the blurred vision of the protagonist coherent. And at one point you fashion speech balloons from puzzle pieces, which reduce in number as the people conversing with each other become more comfortable.
The downside is brevity – Florence is very short and lacks replay value. But it's a heartwarming experience, and one that showcases the kind of innovation that occurs at the fringe of gaming.
Far From Noise
($2.99/£2.99/AU$4.49)
Far From Noise is as much an exercise in self-reflection as a game. It begins with a car balanced precariously on a cliff edge. With no means of escape, what remains is to make sense of it all – not easy when you start possibly hallucinating a conversation with a surprisingly philosophical deer.
Interaction comes by way of balloons, which you tap to confirm thoughts and actions. As you make decisions, the narrative branches, leading you to one of several endings. Oddly, we could have perhaps done with fewer choices, because many seemed almost inconsequential. Although perhaps that's the point.
Despite the situation (car wobbling; imminent death), the pace is very restful and the experience is unique. We suspect Far From Noise will nonetheless prove divisive, but it's great to see such artistic games on iPhone.
Sorcery! 4
($4.99/£4.99/AU$7.99)
Gamebook-style text adventures have had something of a renaissance on mobile, and the adaptations of Steve Jackson's Sorcery! series are among the very best. The fourth entry, suitably titled Sorcery! 4, again immerses you in a world of fantasy, with you attempting to ascend a mountain, infiltrate a fortress, and recover the Crown of Kings.
If you've played previous games in the series, you'll find a familiar set-up akin to a single-player board game. You drag your character about, respond to scenarios, bash up monsters, and can (thankfully) flip back to save points should you mess up and get horribly killed.
But even for total newcomers, there's a full standalone adventure here – one that perfectly marries and balances a book, interactive game, and touchscreen experience. (Note that should you fancy trying the rest of the series first, it's available as a bargain-priced three-pack.)
The Room Three
($3.99/£3.99/AU$5.99)
The Room is a series about mysteries within mysteries. It begins with a box. Fiddling with dials and switches causes things to spring to life elsewhere, and you soon find boxes within the boxes, layers unraveling before you; it's the videogame equivalent of Russian dolls meets carpentry, as breathed into life by a crazed inventor.
The Room's curious narrative and fragments of horror coalesce in follow-up The Room Two, which expands the 'boxes' into more varied environments – a seance room; a pirate ship. Movement remains restricted and on rails, but you're afforded a touch more freedom as you navigate your way through a strange clockwork world.
The Room Three is the most expansive of them all, featuring intricate, clever puzzles, as you attempt to free yourself from The Craftsman and his island of deranged traps and trials. Get all three games, and play them through in order, preferably in a dark room when rain's pouring down outside for best effect.
Sign up for Black Friday email alerts!
Get the hottest deals available in your inbox plus news, reviews, opinion, analysis and more from the TechRadar team.