Benchmarks
Here's how the 15-inch MacBook Pro (2019) performed in our suite of benchmark tests:
Cinebench CPU: 3,142 points Graphics: 129.63 fps
Geekbench 4 Single-Core: 5,829; Multi-Core: 30,478
Battery Life (TechRadar movie test): 7 hours and 36 minutes
As you'd imagine with a brand-new MacBook Pro with the kind of specs we were sent, the MacBook Pro 15-inch (2019) runs beautifully, with macOS 10.14 feeling fast and responsive when performing daily tasks.
Of course, you'd be doing a laptop of this level a disservice if you only use it for run-of-the-mill stuff such as web browsing and writing emails. Even with the more challenging and intensive workloads we've tried it with – such as transcoding high definition video files – the MacBook Pro 15-inch (2019) handles them without breaking a sweat.
As with last year's model, we noticed that the MacBook Pro 15-inch (2019) does get pretty toasty during particular tasks – and you can feel that heat behind the keys as you type. The MacBook Pro's fans are also prone to kicking in, and while you can hear them whirring away, they aren't too disrupting.
When it comes to the raw stats of our benchmark results, you can see how much of an upgrade this year's high-end version is over last year's.
In the Cinebench CPU benchmark, the MacBook Pro 15-inch (2019) scores 3,142 – a large leap over the 2018's 1,057. The Geekbench 4 processor benchmark shows another big advance over last year's model, with a single core score of 5,829 (vs 5,542) and a multi-core score of 30,478 (vs 23,431).
Therefore, in the processor department, the new MacBook Pro 15-inch (2019) is undoubtedly an upgrade. Graphics get a boost as well, with the high-end AMD Radeon Pro Vega 20 with 4GB of HBM2 in the 2019 model scoring 129.63 FPS in the Cinebench benchmark, next to the 102.28 fps that the 2018 model's AMD Radeon Pro 560X delivered.
But, there are also some things you should bear in mind regarding these benchmark results. First, synthetic benchmark results are a good gauge of the raw power of a device, but they don't exactly tell the whole story.
Our time with the MacBook Pro 15-inch (2019) left us in no doubt that this is a very powerful laptop, but then so is the 2018 model. Frankly, if you own last year's model and are satisfied with its performance, don't dump it for this model just because of marginally higher numbers.
Another important thing to note about these benchmark results is that these numbers are for the maxed-out MacBook Pro 15-inch (2019) Apple sent us. Unless you have the money to shell out and require that kind of power, you won't be using the exact same MacBook 2019 iteration of the Pro as us. If you want these results, then prepare to pay a lot for it.
Battery life
With the more powerful internal components fitted in this year's model, the battery life seems to have taken a bit of a dive, with the laptop lasting only 7 hours and 36 minutes during our battery tests that involves looping a 1080p video at 50% brightness and volume.
That's still about the length of a full workday, and you might manage to squeeze out a bit more juice by toggling some settings and turning off unnecessary features. However, you'll be wise to carry around the MacBook Pro's charger in case you do run out of battery.
If you're running more intensive tasks – such video rendering – then you'll definitely want to plug the laptop in.
Apple claims the MacBook Pro 15-inch (2019) can handle 10 hours of wireless internet browsing, which seems to be its default claim for MacBook Pros these days. While we didn't find the battery to last quite that long during our tests, it still lasts longer than some of its Windows-based rivals, especially the Razer Blade Pro, which has embarrassingly low battery life – though that's probably due to its origins as a gaming laptop.
What the MacBook Pro 15-inch (2019) shines at compared to Windows laptops – as with earlier models – is how long it lasts on standby, with Apple claiming up to 30 days of standby time. This means you can shut the lid of the MacBook Pro 15-inch (2019) without properly turning it back off, and even after a few days, when you open it back up, there will still be battery to work with.
We found this to be the case, although we didn't get an opportunity to test the full 30-day claim. It's an admirable feat especially seeing that a Windows laptop, when closed, still drains its battery audaciously fast.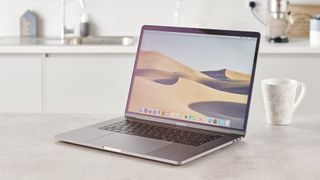 Verdict
So, is the MacBook Pro 15-inch (2019) worth paying for to upgrade from the 2018 model? Absolutely not, but then no one should expect that.
However, if you do have an aging MacBook Pro – especially one that came before the 2016 refresh – then you should consider upgrading to this year's model. Admittedly, it's only a minor upgrade in the grand scheme of things, but it still makes it the most powerful MacBook 2019 has to offer.
The addition of Intel's latest 8-core processors does make a big difference to the performance of the MacBook Pro 15-inch (2019). If you're considering buying one, we recommend this option, not only for the boost in performance, but also future-proofing as well, as you won't feel the need to upgrade for a considerable amount of time.
However, if you already own a more recent MacBook Pro, don't feel like you're missing out if you don't get this version. The spec bumps just aren't radical enough to make your current MacBook Pro archaic.