Too many choices can leave people feeling anxious, and it's no different when choosing the tools to build a business website. Of all the different tools, web hosters are particularly tricky, due to their importance and the sheer number of options available.
If you're like us, you will probably narrow it down to two options that cover your needs and help you get off the ground. Siteground (opens in new tab) and Bluehost (opens in new tab) are leading providers and represent good options for novices and experts. Both cover basic features, offer good value for money, and improve your site's overall performance.
However, choosing one over the other will come down to your level of knowledge in building and hosting a website and the specifics you're looking for in a web hoster. Let's take a look at some of the similarities and differences between the two.
Main similarities and differences
Regarding hosting services, both providers have a similar offering, covering shared web hosting (opens in new tab), WordPress hosting, WooCommerce hosting, and cloud hosting. However, Bluehost provides VPS hosting and dedicated hosting additionally, plus a free custom domain name for the first year of use, while SiteGround does not offer a free custom domain name.
Furthermore, both providers offer their own versions of free website builders, free WordPress installation, and a free content delivery network (CDN). Currently, neither has bandwidth limitations, and they offer a free domain-associated email address, with Bluehost offering a free business email address at your own domain across all hosting plans.
While they may seem almost identical, there are other more specific features each provider offers that sets them apart. These, of course, focus on ease of use and functionality the users would require of their hosting provider. But before we delve into those details, let's take a look at the ease of use.
Ease of use
Note that both providers offer a cPanel-based solution that covers features like FTP accounts, file managers, email accounts, etc. Even so, SiteGround offers a custom cPanel solution which seems more intuitive and is more powerful than the one offered by Blueground. The latter's backend is still intuitive, but there are a lot of unnecessary promotional pitches that aim to sell you additional tools. This complicates the matter for beginners as it may provide less value to users that are new to the entire web hosting game.
The menus offered on the left-hand side for both providers give users a straightforward way to navigate aspects such as SSLs, marketplaces, as well as other shortcuts that can be customized. An additional benefit both hosters provide is the staging environment. This option will provide users with a carbon copy of their website where they can test out new aspects without the original website suffering adverse effects.
All in all, both providers offer great user experience and user interfaces which are easy to navigate. The custom cPanel offered by SiteGround gives it a slight advantage over Blueground, but both are overall simple to use.
Pricing
The short end of it is that SiteGround is slightly more expensive compared to Bluehost, but the pricing for hosters is relative as there are a lot of choices in the niche. SiteGround offers (opens in new tab) StartUp option at $19.99 a month, GrowBig at $29.99 s month, and GoGeek option at $44.99 a month. As with most providers, if you choose to pay for an entire year, you can enjoy a sizable discount on the monthly charge.
Bluehost, on the other hand, offers a wider range of options with four total plans (opens in new tab), from the Basic one starting at $2.95 a month all the way up to the Pro option that costs $13.95, with renewals done at regular rates which are significantly higher. Neither offers a free trial, but users can utilize the 30-day money-back guarantee to test out both hosters before committing to either.
As SiteGround is more expensive at first, Bluehost may seem like a better option; however, in the long run, due to additional offers, SiteGround may be the cheaper option if users utilize the platform to the fullest.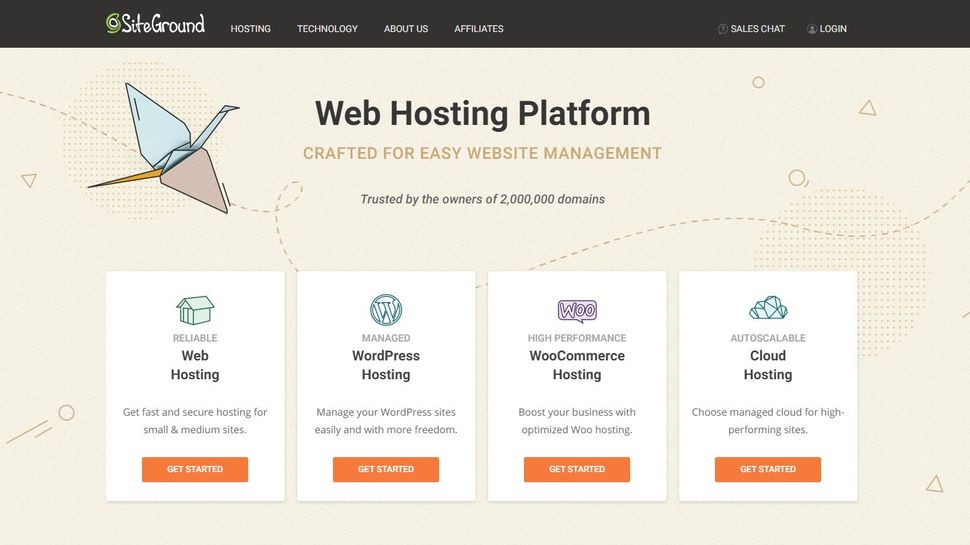 Features
When it comes to features, we will take a look at the major differentiating features both of these providers offer to their customers. Let's start with SiteGround!
SiteGround offers its users "SuperChacher technology (opens in new tab)" that speeds up your site by caching results from dynamic pages, among other things. It has three caching levels, with the most important aspect revolving around caching static parts of your website on its servers, thus increasing the speed of your overall site.
An additional benefit SiteGround offers is the Word Press (WP) migrator service. Via this service, you will generate a migration token from your SiteGround account, install the migrator plugin on the WP side, paste the token, and follow the instructions. It's easy and fast, so customers looking to migrate their WP blog can do it in minutes, with just a few clicks.
Continuing on with WP users, SiteGround also offers the "Optimizer" plugin, which helps your website run smoothly and quickly. It relies heavily on two important processes, the scheduled database maintenance, and the image compression processes. These two unify to shave the precious seconds off of your site's loading times.
Bluehost is recommended (opens in new tab) as a hoster by WP itself, which means that the integration process is almost flawless. Equally important are the layered caching option and the auto-scalability options Bluehost offers. The latter helps your site cope with traffic surges. All of this is nicely wrapped in advanced website analytics tools as well as a central hub for monitoring social media interactions.
If you're looking to start a WP site, Bluehost offers almost inexhaustible design templates along with preloaded images that you can use in your blog. Furthermore, if you're registering a new domain, Bluehost offers a one-year free registration, making a one-stop shop for running a blog for a beginner.
Finally, to round out the offer for a blogger, the hoster developed a comprehensive SEO toolbox for its users. You will be able to overview your SEO performance, find where you can improve, and get a list of suggested keywords. There are step-by-step guides on how to utilize the toolbox to its fullest; the only downside is that it's not free.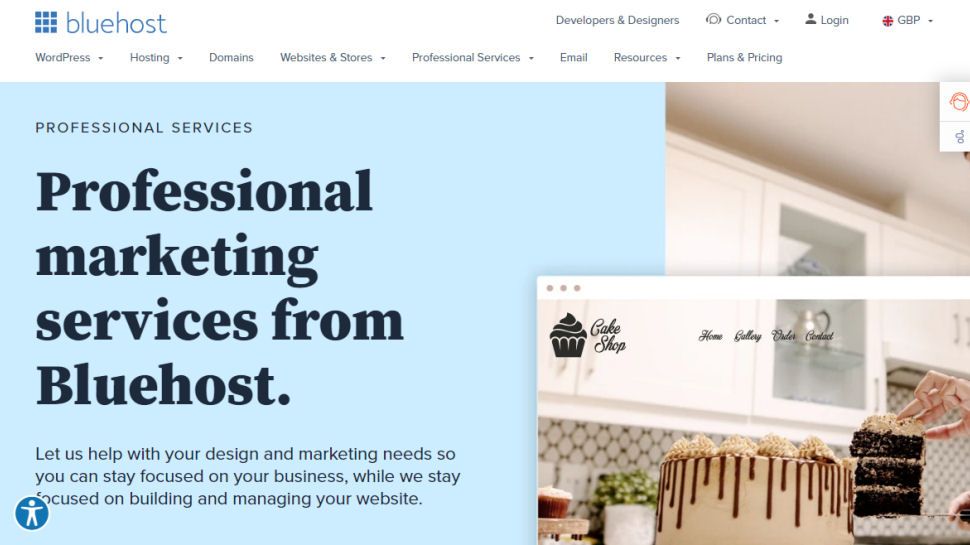 Security
SiteGround has a policy to update its security rules each week. They support PHP 7 by default, while PHP 8 is also allowed but requires some tweaking from the users. As standard SSL, SFTP, and SSH access are available, their team monitors traffic to block brute force attacks.
Bluehost offers similar protection in terms of SSL, SFTP, and SSH; however, they're not as transparent when it comes to their security features. There is also an option to pay an additional $30 per year for an external security solution.
Overall, both platforms are secure and offer the latest features when it comes to securing your website online.
Customer support
SiteGround offers 24/7 support through various channels. The customer support teams on the phone and through the chat are pretty fast and resolve issues quickly. Additionally, the options to reach out to the support team via email and support tickets. If you're a more do-it-yourself person, there is a rich database of over 4,000 articles that solve the most frequently occurring issues. Finally, free ebooks and how-to-tutorials are also available through the site.
Bluehost also boasts a huge knowledge base that can support users in setup, configuring, and troubleshooting tips. These articles and how-to guides can be accessed through their dedicated resource center. Moreover, support via live chat, phone, and email is also available if you need assistance.
We could call this aspect a tie since both hosters provide similar communication channels and similar support levels.
Which one is best for SMBs?
Both are equally good options for an encompassing hosting solution, with Bluehost being the cheaper option with more server resources and a free domain. On the other hand, SiteGround offers advanced caching options and more complex features overall. It will come down basically to the needs you have as a small business owner.
If you're looking for more complex tools, are not needy on server space, and are now sweating the pricing, you can go ahead and choose Siteground. For other small business owners looking for more hosting space and a free domain, Bluehost is your go-to spot, especially if you're not looking to launch an e-commerce site.
Verdict
It is important to note that both providers offer a host of functionalities that can not be found with cheaper hosters. The fact that both offer staging sites, coaching services, and a setup wizard to help you hit the ground running speaks volumes about their customer-centric approach.
Bluehost has a more intuitive UI, offering a more user-friendly experience. Additionally, it is cheaper compared to its rival, offering a more budget-friendly alternative to SiteGround. On the other hand, SiteGround offers overall better performance when it comes to loading tests but is more expensive.
In the end, it comes down to your needs and which one represents the right fit for the budget, business needs, and level of knowledge you possess.