Skull and Bones, Ubisoft's open-seas pirate adventure, could be close to setting sail following years of delays and production difficulties
First revealed way back in 2017, at Ubisoft's E3 conference, and originally lined up to hit shelves in 2018, Skull and Bone's release date has been pushed back multiple times. But hopes haven't been completely sunk. Following an update in September 2020, we know that Skull & Bones is still in the works and that production is "in full swing with a new vision". Ubisoft has since confirmed that the game is now "multiplayer first" and the developer is targeting a release by April 2023.
It remains unclear what this "new vision" involves, but the official Skull and Bones website and social media pages underwent a rebranding in March 2022, with the game's promotional material now sporting a yellow and black color scheme.
This rebranding coincided with the opening of registration for the Skull and Bone's Insider Program, with reports claiming that invites have now been sent out for the game's first technical playtest. If the reports are accurate, we may get our first glimpse at the rebooted game imminently, which should clarify whether Ubisoft has indeed implemented live service elements as has been rumored.
Will 2022 finally be the year we get our hands on Ubisoft's pirate adventure? Read on for everything we know about Skull and Bones so far.
Skull and Bones: cut to the chase
What is it? Ubisoft's upcoming pirate adventure
What can I play it on? PS4, Xbox One and PC (PS5 and Xbox Series X TBC)
When can I play it? TBC 2022/2023
Skull & Bones release date and platforms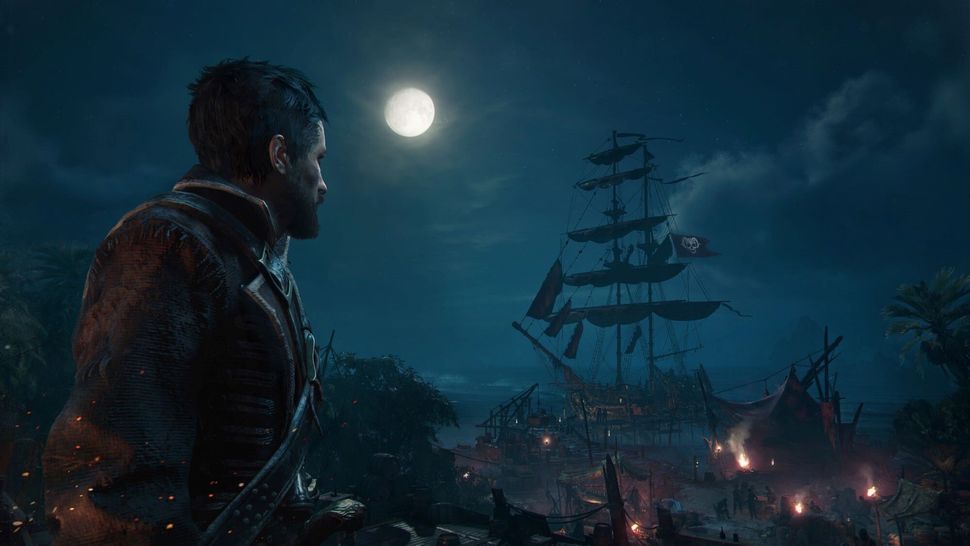 During an earnings call in February 2022 (via VGC (opens in new tab)), Ubisoft stated that it is aiming to release Skull and Bones during its next fiscal year starting April 2022, which means the developer is aiming for a release by April 2023.
Originally Skull and Bones was slated for a late 2018 release, but the game has been delayed numerous times since that original release window. Skull and Bones was first delayed in May 2018, after which Ubisoft announced the game would launch in 2019. In May 2019 it was announced during an earnings call that the game would be delayed into the company's next fiscal year. Then, in October 2019, it was revealed that the game had been pushed back to the fiscal year beginning April 2021. We know Ubisoft is targeting the fiscal year 2022.
Skull and Bones is confirmed to release on PS4, Xbox One and PC - but, due to the delays, we'd expect PS5, Xbox Series X and Xbox Series S releases too.
Skull & Bones trailers
Ubisoft has released a handful of trailers for Skull and Bones so far but given the game now has a "new vision" and was rebooted, following multiple delays, we're unsure how much of the gameplay shown in trailers to date we'll actually see in the finished product.
Gameplay trailer
E3 2018 brought us a gameplay trailer for Skull & Bones, showing off how things will work in the game's cutthroat hunting grounds. It's unclear how much of this gameplay we'll actually see in the finished product. Check it out below:
Cinematic and gameplay walkthrough trailers
Skull and Bones received two trailers during its E3 2017 debut, one which was cinematic and another which showcased the game's multiplayer and PvP gameplay. Again, it's hard to say how much of that footage will be represented in whatever the final game is. Check them out below:
Skull & Bones news and rumors
We've rounded up all the biggest news and rumors around Skull & Bones below for your perusal. It's worth noting that previously confirmed news and features may now be redundant, given the game's "new vision" (read more on that below).
Technical playtests
Notable leaker Tom Henderson has claimed that invites for Skull and Bones' first technical playtest have been sent out which, if true, will mean some players will get their hands on the rebooted game for the first time imminently. Ubisoft has not confirmed this but registration for the Skull and Bones Insider Program (as mentioned below) is still open (opens in new tab) for those who want to try their luck.
Skull and Bones Technical Playtest invites have just been sent out, which begin at the end of week. Looks like the game has had a rebrand since it was first announced. pic.twitter.com/fOCSmqJJVaApril 26, 2022
Rebranding
The Skull and Bones website and social pages have undergone a rebranding, with promotional materials now sporting a yellow skull and crossbones on a black flag. Taking a look at Wayback machine, it seems the rebranding occurred on the date the game's Insider Program registration opened (March 7), suggesting Ubisoft is now ready to start sharing more information on its pirate adventure.
Multiplayer first
In an earnings call back in February 2022 (via VGC (opens in new tab)), Ubisoft stated that Skull and Bones is now a "multiplayer first" game but that it will still have a "big open world" and "attractive fantasy".
During the earnings call, it was also revealed that Ubisoft is targeting a release within the fiscal year April 2022, meaning Skull and Bones should release by April 2023.
Survival elements
Leaker Tom Henderson has claimed (opens in new tab) that Skull and Bones will have survival elements. The leaker claims that players will start the game as a "nobody" only able to build a raft, but will then be able to upgrade to a small fishing boat so they can explore the open sea. According to Henderson, players will then need to collect resources and pirate rep by completing missions in order to build their first pirate ship.
Player progression will be measured by the amount of money you earn by completing jobs, raids and cargo runs (among other things), the leaker claims. The more money you have the more powerful you will be.
Henderson also claims the game will feature five ship types (of varying sizes) which are categorized into three different categories: cargo, combat, and exploration. To unlock these ships you reportedly need to purchase their blueprints at settlements, with the ships able to be upgraded and customized at any time (if you have the money) with armor, smelteries and more. It's also claimed that the perspective from the ships is similar to what was shown in the 2018 gameplay, with players seeing the game in third-person while on land. However, unlike Sea of Thieves, players will apparently only be able to walk on foot in safe havens and hideouts and won't be able to do much outside of walking and talking to NPCs when on foot as the captain.
Finally, Henderson claims Sea of Thieves is set in the Indian Ocean and will have a fictional pirate haven based in Madagascar.
September 2020 update
After a good while without any news, we got an update on the progress of Skull & Bones in September 2020. In a post on the Ubisoft website (opens in new tab), Ubisoft Singapore creative director Elisabeth Pellen confirmed that the game is still in production but that it just needs more time before it's ready.
After thanking fans for their patience, Pellen said, "I'm thrilled to confirm this: production on Skull & Bones has been in full swing with a new vision. Our teams at Ubisoft Singapore are fully committed to launching the game, as well as supporting it for many years to come", adding "we're currently working on plans to present Skull & Bones sometime in the future. It will be worth the wait."
Pellen went on to say that the reason for the game's delayed launch is simply that it needs more time: "We dreamt something bigger for Skull & Bones, and these ambitions naturally came with bigger challenges.
These difficulties resulted in necessary delays for our game. Critical questions needed to be addressed over the past several months such as: how do we modernize the classic pirate fantasy? How do we ensure a more immersive and visceral experience? How do we create cool and memorable moments in-game? For most of these questions to be answered, it was clear that we needed more development time."
As a result of the game's evolution, the Skull & Bones development team has expanded to bring in fresh eyes. Pellen didn't reveal any more about the game's new direction (though it does make those previous reboot reports look more credible) or give a more specific date on when we'll see more but we're hoping 2021 will be the year.
Reports of a reboot
It's been a while since we've heard anything about Skull & Bones, with the game being noticeably absent from the Ubisoft Forward event on July 12. That's because the game has apparently undergone an internal reboot.
Reported by VGC (opens in new tab), Skull & Bones was "struggling to carve itself a unique position among Ubisoft's existing portfolio of open-world games", which includes the likes of Assassin's Creed Black Flag, leading to delays as Ubisoft Singapore attempted to make refine the game's concept.
The report claims that Ubisoft decided to reboot the game entirely in 2019, instead moving towards a 'live' game model similar to that of Fortnite - with the game world constantly being updated with new stories and quests. VGC's source claim that the rebooted Skull & Bones will have more emphasis on collaboration and competition.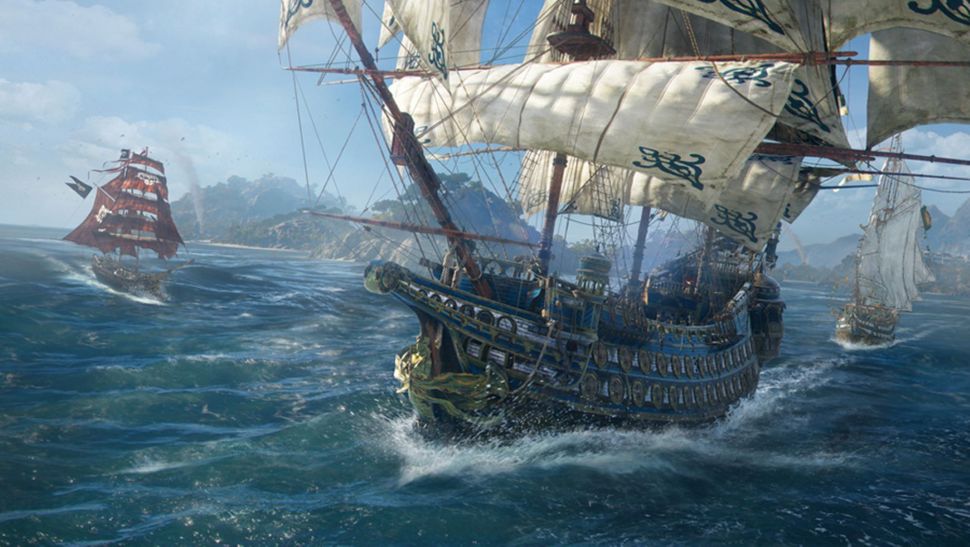 Skull & Bones is being adapted for TV
Skull & Bones hasn't been released yet but it's been announced that it's being adapted for TV. In a report by the Hollywood Reporter, it's being said that Ubisoft is working with Atlas Entertainment on the project which will be "a female-driven drama set in the lawless frontier of the Indian Ocean at the end of the golden age of piracy in the 1700s".
At the moment, that's all there is to know—there's no confirmed air date and no cast to speak of—but this will certainly be a project to keep a weather eye on.
E3 2018
Skull & Bones got some time during the Ubisoft E3 presentation. In this game, we were told, there are no heroes. Skull and Bones will take players to the Indian Ocean since piracy is now dead in the Caribbean. Players will target trading ships loaded with coin in a shared open world.
It's your aim to collect enough loot and coin that you can become a pirate that no empire can crush and take down. Every player interaction in the world will matter, whether you choose to fight or ally.
The reactive and evolving world will apparently change through something called Fortune and you'll need to know the world in order to succeed. Fortunes in the game will reveal changes in factions, weather and trade routes. If there are favorable winds, for example, you'll have more merchants to rob. But that means more competition.
There will be both single player and multiplayer
It's been confirmed that Skull & Bones will have both single and multiplayer elements. However, information on what form the single player mode will take is pretty thin on the ground at the moment since Ubisoft concentrated mostly on the multiplayer during its E3 presentation.
From the game's main website we know that it'll involve starting from the bottom as a wannabe pirate captain with a single ship. From here, you'll sail the Indian ocean, preying on trade ships, taking down rival pirate captains and avoiding pirate hunters.
Successful heists will mean more wealth and reputation. However, power comes at a price and as your reputation and wealth grow you'll naturally become a target for other pirates. It's at this point in the game that it might become somewhat dangerous to sail alone and you'll need to start growing a fleet of ships as well as making and breaking alliances with other pirate captains.
Multiplayer will be made up of a few different modes. The one that's seen the most attention thus far (and the one that we've had the chance to play for ourselves) is Loot Hunt. This will pit two teams of five players against one another, with each player in control of their own ship.
The aim of the game is to be the team that picks up the most loot, taking down ships on the opposing team if you have to. Winning this section is a poisoned chalice, however, as at the end of the mode, pirate hunters will appear to take down the team that's managed to get the most loot. The aim of the game will then change and it'll be up to the team to scarper in a given amount of time. Only those that manage to escape the area in the given time will have their treasure collection counted so it's important to get your most heavily laden ships out of there for a win, even if it means sacrificing yourself.
Voice chat is pretty key in this multiplayer mode, as getting the most treasure will involve splitting up and moving around the map while coordinating your movements. Failure to communicate will make things difficult as we discovered with our own demo team.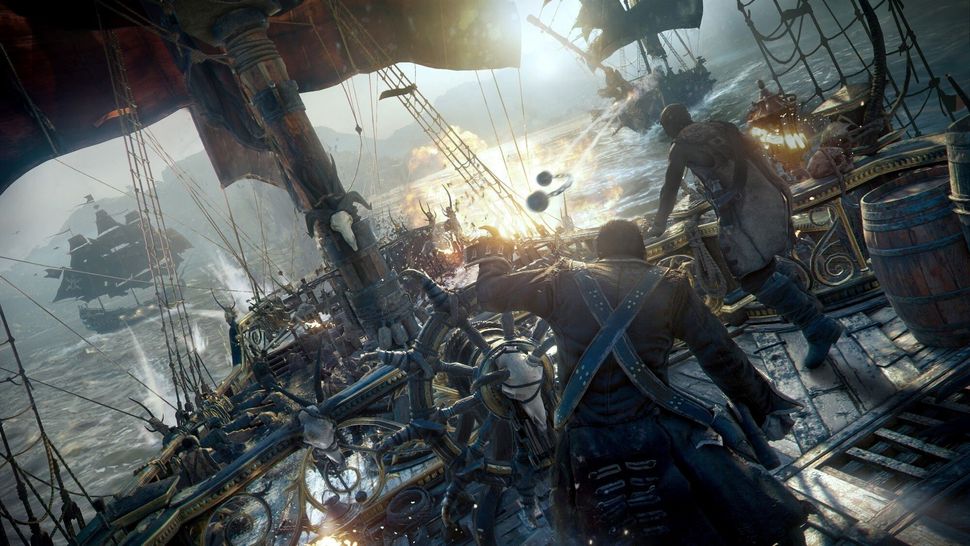 There will be different kinds of ships
Inspired by traditional RPGs, Skull & Bones will have different classes of ships and you can choose the one that best suits your playstyle. Players will have access to lots of different kinds of ships across the game and according to an official video from Ubisoft, they will be able to switch between them during the game to take advantage of their varied abilities and strengths.
Different ships will offer different tactical advantages, from large but cumbersome frigates, to faster and more maneuverable brigantines, to long-range sloops of war. We imagine the option to switch between ships will only appear once you've started putting together a rag-tag fleet, rather than being an option from the off. This has, however, still to be confirmed.
It'll also be possible to customize your ships; Ubisoft has confirmed players will be able to choose their flags, colors and faction emblems.
There will be realistic tactics and gameplay
Just as it was for real pirates sailing the seas and for those who played Assassin's Creed Black Flag, wind will be a key element in Skull & Bones. Players will have to use the wind and positioning to their advantage. The wind can be used either offensively or defensively but it will be a key part of gameplay whether you choose to fight or run away.
There are actually a lot of different things that players will have to juggle. As well as controlling weapons, looking at their surroundings and being aware of the direction and speed of the wind, players will be able to climb to their crows nest for a wider field of view. This will of course, draw them out of the action for a while but it will be key to spotting pirate hunters.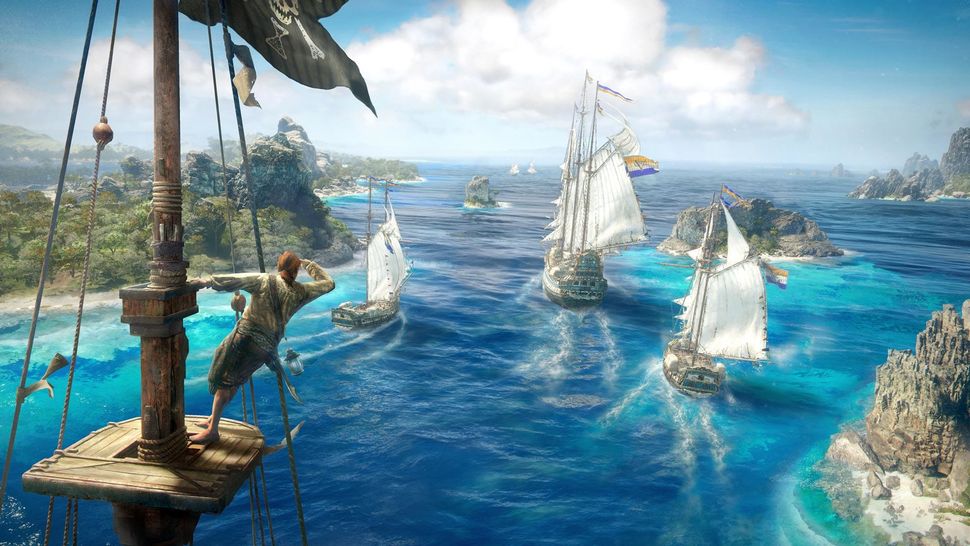 There will be PvE and PvP elements
While players will be able to play with and against one another, everyone will be up against the pirate hunters in some more PvE gameplay. These AI ships will be out to take you down in the name of the powers that be and it's very tough to take them down on your own. Your best bet with these fleets is to use the wind and escape, or make sure you've got the back up needed.
In an interview with GameSpot, Creative director Justin Farren said that these elements would be woven together and all would inform the game's narrative:
"We wanted to create a system that let us tell our narrative month after month, year after year, and then throw in the story elements to it. So, if you're a PVP player, you should still feel like you beat the campaign. If you're a PVE player, or like me, I plan on sailing with my daughter a lot, I want us to be able to go through the story and become kingpins together, and be able to tell the same world narrative through the game ones that we build."
An online ongoing game
It was revealed during an 'everything you need to know' video posted by Ubisoft at E3 2017 that Skull and Bones, like Sea of Thieves, will be an online, ongoing service game set in a shared open world. Players will be the star of their own game and it's expected that they'll be able to create their own story in this open world. Over time there will be new seasons, new ships, new weapons, new items, new locations and new game modes introduced. We imagine there will also be active and random in-game events, given the end of the cinematic trailer for Skull and Bones teased what appeared to be a Kraken.
Loot boxes are unconfirmed
In an interview with GameSpot (opens in new tab)not long after the game's reveal in 2017, creative developer Justin Farren wasn't able to offer confirmation on whether or not loot boxes would appear in the game. Though he said that he had no wish to create a pay-to-win model, Farren did say that in-game purchases for cosmetic and vanity items might appear. This is the most likely route that many games have recently gone down.