As you might have already guessed based on its name, the iMac Pro is a sleek and beautiful all-in-one PC that packs a lot of power in the traditional iMac form factor. Don't judge this behemoth by its cover – the iMac Pro absolutely demolishes the iMac 2017, and even the new iMac 2019, thanks to the superb PC components and features it has on hand.
When Apple first released the iMac Pro, it made claims that it's 'the most powerful Mac ever made.' On this, we must agree. At least until the Mac Pro 2019 hits the shelves later this year, as Tim Cook himself declared it 'the most powerful mac we've ever created' at WWDC 2019.
The iMac Pro is a particularly powerful machine, crafted specifically for creatives and professionals. And, it isn't just about sheer horsepower for its own sake. This all-in-one workstation is a finely-tuned machine, touting powerful hardware that revolutionizes your workflow.
The iMac Pro is very expensive, and most users won't need that much power, especially if they practically have to rob a bank to do it. However, if you are desperate to save some time on every single one of your projects, the iMac Pro will pay for itself in the long run. Time is money, after all.
Spec Sheet
Here is the Apple iMac Pro configuration sent to TechRadar for review:
CPU: 3.0GHz Intel Xeon W (deca-core, 14MB cache, up to 4.5GHz)
Graphics: AMD Vega 64 (16GB HBM2 RAM)
RAM: 128GB DDR4 (2,666MHz)
Screen: 27-inch 5K (5,120 x 2,880) Retina display (P3 wide color)
Storage: 2TB SSD
Ports: 4 x USB-C (Thunderbolt 3), 4 x USB 3.0, SDXC card reader, 10Gb Ethernet, 3.5mm audio jack
Connectivity: 802.11ac Wi-Fi, Bluetooth 4.2
Operating system: macOS 10.13 High Sierra
Camera: FaceTime HD (1080p) webcam
Weight: 21.5 pounds (9.7kg)
Size: 25.6 x 8 x 20.3 inches (65 x 20.3 x 51.6cm; W x D x H)
Price and availability
Despite the iMac Pro looking like your standard iMac, its insides are aimed entirely at professionals, with workstation-level hardware that can easily handle way more than most people require for day-to-day workload, and with a price tag to match. However, if you're a professional photographer, game designer or architect, then the iMac Pro is definitely a solid buy.
So, how much does the iMac Pro go for? Well, as you'd expect from a machine aimed at professionals, the iMac Pro is highly configurable, which means that there is a range in price when designing the perfect iMac Pro for your needs, as well as your budget.
That range starts at the base model, which sets you back $4,999 (£4,899, AU$7,299), pretty pricey for the regular consumers. If you do have the funds, however, that base model is definitely more than enough for many creative professionals. It boasts its 27-inch 5K Retina display, an 8-core Intel Xeon W processor (CPU), AMD Radeon Vega 56 (8GB) graphics (GPU), 32GB of error-correcting code (ECC) memory and a 1TB solid-state drive (SSD).
If you need more than those specs, you can buy a souped up iMac with a 10-core Xeon W CPU, 32GB RAM, AMD Vega 64X graphics and a whopping 2TB SSD. This will set you back $7,099 (£6,789, A$10,659).
Finally, the top-end iMac Pro comes with an 18-core Intel Xeon W processor, a whopping 256GB of RAM, 4TB of SSD storage and the same AMD Radeon Vega 64X GPU for $15,699 (£14,529, A$24,419). That's a massive investment, but you're getting a heck of a lot of power and storage as well.
You can also tweak each of these configurations further, choosing any combination of storage amount, processor and graphics card type, and memory size that most ideally fits your needs and budget, which of course will change the final price of your machine.
The specs and high costs alone will let you know whether or not the iMac Pro is for you. If spending almost as much as a new car on a computer seems excessive, then the iMac Pro just might not be for you. If you rarely use graphic-intensive programs, and you wouldn't know what to do with a GPU with 8GB – let alone 16GB of HBM2 memory, then you shouldn't be spending that much money.
However, if a pro-level workstation is absolutely necessary for work, you're already invested in the Apple ecosystem and you love the all-in-one design of the iMac, then the iMac Pro is your only feasible option. Even a fully kitted out Mac mini won't reach the same level of power and, therefore, won't meet your demands.
The cost will be justified, especially if you're often doing a lot of waiting because your current machine renders 3D images, compiles code and renders videos painfully slow. Spending this kind of cash to drastically cut downtime is an easy sell for the right buyer.
And, if you're on a budget and looking for a bargain on the iMac Pro, you might find a refurbished iMac Pros for a solid 15% off the list price, if you look hard enough.
Design
With the sheer power behind the iMac Pro, especially next to the standard iMac, Apple has really outdone itself, all the while preserving the look of the all-in-one machine. All those powerful components are hidden behind the 27-inch display, resulting in a sleek, minimalist machine that looks beautiful in any office or studio.
The fact that Apple has kept the body as thin as it has is a testament to the hard work – not to mention, careful design considerations – involved in the creation of the iMac Pro. At the edges, the iMac Pro is only 5mm (0.2 inches) thick, meaning it won't take up too much space on your desk. It comes in at just 0.7kg (21.38 pounds) as well, meaning you won't break your back moving it from desk to desk when necessary.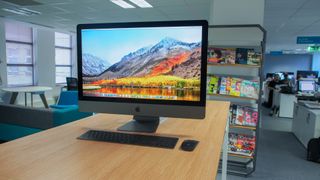 Having such powerful components, which require more power and therefore produce more heat, inside the slimline design of the iMac Pro means that an effective cooling system is essential. It's a good thing that Apple's engineers have designed a reliable cooling system for this workstation, employing dual fans that not only help circulate cool air over components, but also expel hot air.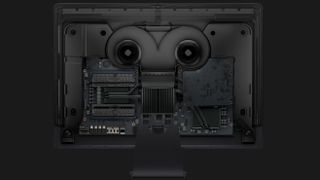 According to Apple, this cooling solution, which includes a high-capacity heat sink and extra venting on the back of the device, allows for almost 75% more airflow and an 80% increase in system thermal capacity. All the while, the iMac Pro is using 67% more power than a 27-inch iMac.
This design effectively cooled the iMac Pro during our tests, which involved editing 4K HDR content in Final Cut Pro X, all while keeping the fan noise down. Yeah, this computer will generate a lot of heat under pressure, but that's the whole point of the cooling system.
It's also impressively quiet. You don't want any distracting fan noises while you work, especially in an all-in-one PC that's right in front of your face, and the iMac Pro does an excellent job of minimizing that noise.
If you're a fan of the iconic look of previous iMacs, but want a device that packs some serious juice for professional use and a cooling system that incredibly effective, then you're going to be very happy with the iMac Pro.
One notable difference with the iMac Pro's design, compared to regular iMacs, is that it comes in a new color scheme: Space Gray. As expected, the Space Gray iMac is beautiful, and the included Magic Mouse 2, Magic Keyboard and Magic Trackpad 2 also come in the new color, for users who prefer to keep things uniform.
Of course, as important as the form factor and peripherals are, one of the most vital aspects, especially for professional photographers, video or image editors, is the display. The 27-inch 5K display is described by Apple as its 'best ever,' featuring 500 nits of brightness, an increase of 43% over previous iMacs' brightness.
The 5,120 x 2,880 resolution is just as impressive here as it is on high end iMacs, which also feature this resolution, and the boost over standard 4K resolution means video editors can work on 4K video at full resolution while still having extra space for their editing tools or other things.
It's little details like this that turn the iMac Pro into such an effective tool for professionals, and help speed up, not to mention make more seamless, your workflow by eliminating the need to enter and exit full-screen mode if you're on a 4K – or lower – monitor.
Because the iMac Pro is designed for professionals, color reproduction has to be as accurate as possible. This is vital to photographers, graphic artists and video editors, amongst others. To offer accurate color reproduction, the display supports the P3 wide-gamut color space, an RGB color space that is widely used in digital movie production. If you work with digital film, then this support will be a big welcome, though not too surprising. Apple iMacs have supported it since 2015, as does the iMac's competitor: the Surface Studio all-in-one by Microsoft.
Although, while P3 is wider than sRGB, it's not quite as wide as Adobe RGB. If you're relying on Adobe RGB – for example, if you work in printing and publishing – then you may be disappointed with the lack of Adobe RGB support here. For many people, however, the P3 color space will more than suffice, not to mention a big improvement over sRGB.
Like with other iMacs, the FaceTime camera sits on the bezel above the top of the screen, and boasts a few major improvements. To start, it can record in 1080p resolution, whereas previous FaceTime cameras on iMacs were 720p.
This boost in resolution is immediately evident when using the iMac Pro for video calls, and for client meetings or chatting with work colleagues, this increase in video quality is greatly beneficial.
In addition, the webcam also features four microphones, compared to a single one on the 5K iMac. This array of microphones really helps reduce background noise, and, since they are placed at the top of the screen (rather than at the bottom with previous iMacs), do an excellent job of noise cancelling. Of course, if you work in very noisy environments, you'll still want to use a headset for the best possible sound quality. Still, these enhancements are definitely appreciated.
Apple has caught flack for the limited ports available in its professional-oriented MacBook Pro. However, the iMac Pro has no such issues since its array of ports are more than enough to allow you to hook up many peripherals to the device.
At the base of the back of the iMac Pro, you get a 3.5mm headphone jack, SDXC card slot, four full-size USB 3.0 ports, four Thunderbolt 3 USB-C ports and a 10Gb Ethernet, which boasts incredible network speeds. The four USB 3.0 ports are perfect for older, legacy peripherals and devices, while the Thunderbolt 3 USB-C ports support Thunderbolt USB 3.1 devices as well as devices with up to 40Gbps data transfers.
The Thunderbolt 3 ports can also be used to connect extra displays, such as two 5K external displays at 60Hz, or four 4K UHD displays at 60Hz. Basically, you're pretty much set for ports, and we're more than pleased to see that Apple hasn't skimped on them here.
However, while the slimline all-in-one design definitely looks stunning, it does mean that this isn't an easily customizable and upgradeable system. This isn't an issue for many people; however, if you're looking for an easily-upgradable device for further future-proofing, then you might want to look into a different, more modular, easily customizable device.
Overall, the design of the iMac Pro is everything you'd expect from Apple: gorgeously made, with some genuinely innovative features and excellent details geared towards professionals, all of which combined will greatly justify the steep price tag.
Magic peripherals
The iMac Pro comes with the Magic Keyboard with Numeric Keypad, Magic Mouse 2, and optionally, the Magic Trackpad 2 – all of which come in the new (to the iMac range) Space Gray color. Apart from this new shade, these peripherals should be pretty familiar.
We were happy to see the Magic Keyboard with a numeric keypad, as that's a convenient addition for writing up sums. While we wouldn't describe the typing experience on the keyboard as 'magic', despite its thin keys and shallow travel, it is comfortable enough to use. However, if you do a lot of typing for work, then you might find a more tactile keyboard more suitable.
In our opinion, the Magic Mouse 2 is much more successful at its job. While the design hasn't changed (again, apart from the color) since its debut in 2015, many would argue that it's already close to being perfect in its current iteration.
The mouse feels smooth and responsive in use, and handles remarkably well on different surfaces. If you're used to using Macs, then you'll feel right at home. But again, for some tasks you might find it better utilizing a specialized pointing device.
There is one drawback that still needs fixing on the Magic Mouse 2: to charge the mouse, you need to hook the Lightning cable up at the bottom of the mouse.
Not only is this a rather inelegant way to charge, but it also means you can't use the Magic Mouse 2 while recharging its battery, a baffling design decision that we're frustrated with Apple for failing to rectify.
Finally, there's the Magic Trackpad 2, which is a great peripheral with an edge-to-edge surface that lets you control the iMac Pro in a similar fashion to a MacBook. Used alongside the mouse and keyboard, it's a great alternative for scrolling through files and websites, and zooming in and out of photos (among other things).
The lack of updates on these peripherals will please anyone who's already a fan of them, but annoy anyone else who isn't, and was hoping for something a bit more special for the iMac Pro.
It has to be said however, that the new color does make them look great, and the Magic Keyboard and Magic Mouse 2 pair smoothly with the iMac Pro as soon as they were switched on. Strangely, the Magic Trackpad 2 didn't pair automatically – we had to connect it to the iMac Pro via the included Lightning cable (which comes in black) before we could use it with the iMac Pro wirelessly.
First reviewed February 2018
Image Credit: TechRadar