ZipRecruiter (opens in new tab) aims to provide one of the fastest, broadest, and simplest job-hunting experiences online, and that means it's got a straightforward and effective design alongside free access.
It's one of the easiest job sites (opens in new tab) to use, which makes it a great option if you're just starting your journey in the world of work or if you're not confident with online job-hunting, or with using computers.
Employers, recruiters and agencies can also use ZipRecruiter as a recruitment platform to find new talent and staff.

(opens in new tab)
How does it compare?
Features
You'll see what we mean if you start a job search on ZipRecruiter. Put your preferred terms into the search box, add your location and specify a distance, and you'll get a list of results that will be familiar to anyone who's used Google or any other kind of search engine.
It's a smart, simple design that means you can see loads of jobs quickly. ZipRecruiter displays the job title, the employer, and the location immediately, and it shows you when the job's posting date and the first line of the job description.
If you click on a job that looks ideal, you'll either open a ZipRecruiter page with more information or the job listing on another site.
If a full listing is available on ZipRecruiter then you'll be able to see the full job description alongside other jobs available at those companies, but this site doesn't list salary information unless that data was in the original job description. If you want to apply and the potential employer has made use of the Quick Apply feature, you're in luck - you'll be able to submit your application in a couple of clicks. If not, you'll have to visit the third-party site where the position was originally listed.
Elsewhere, ZipRecruiter has an extensive profile section – you can easily display your work and education history, a short biography and a photograph, and you can list your social networks and upload your CV. There are options to list professional certifications and skills, too, and employers can message you directly.
As usual, you can save job listings and set up email alerts for your preferred terms and positions. ZipRecruiter also has an app, so you can keep searching for jobs when you're away from your PC or laptop.
ZipRecruiter's ease of use and huge jobs database are its undoubted strengths, but this simple site also has several weaknesses.
You can't apply as many filters as you can on other sites which means you've either got to sift through loads of results or know exactly what you're searching for before you begin. Job listings don't have an abundance of information here, either, so you'll undoubtedly find more detail elsewhere. And, as ever, look out for outdated listings, scams and spam positions on any site that scrapes job postings from third-party sources.
ZipRecruiter also doesn't have many of the features you can find on other free and affordable job sites. There aren't skills assessments, resume reviewing options or articles to read, and there's no social networking element.
In February 2022, ZipRecruiter expanded its feature set with a new addition called Phil – a virtual assistant that aims to simplify the job-hunting process.
In some ways, Phil is a rebrand of some conventional features that you'll find on ZipRecruiter and many other job sites. You'll get emails "from" Phil with alerts about jobs that tally well with your resume, and you're able to use ZipRecruiter's one-click application process to submit to relevant jobs quickly.
Beyond alerts, though, Phil does add extra functionality. By giving feedback about the suggestions that Phil emails, the AI that underpins Phil should learn what jobs you prefer and what kinds of positions you'd like to avoid. You'll also get alerts when employers view your applications, and this AI-powered system will also send your profile to potential employers too, so you can apply for jobs that you may not have spotted.
ZipRecruiter has Android and iOS apps (opens in new tab), too. Once you've downloaded the app, you can tell the software what jobs you're looking for and in which locations, and you'll be ready to go.
The app uses AI and machine learning to discover what jobs you're likely to be interested in, and it automatically lets you know if a relevant new opening appears.
ZipRecruiter's mobile app is free, and it supports on-tap applications, so you can apply for new jobs within seconds. And, if your application is viewed by a recruiter, you'll get an alert on your phone.
Recruitment features
ZipRecruiter is an effective and straightforward job board that functions as a search engine, and its recruitment options are divided into three different access tiers.
The entry-level Standard (opens in new tab) plan costs $299 per month and ensures that your listings will appear on more than 100 job boards, so you instantly get a tremendous amount of reach for your open positions. The Premium (opens in new tab) plan grants you better advert placement and access to the site's resume database. The Enterprise (opens in new tab) option has AI-powered options, ATS integration, and dedicated account managers to help your business find suitable candidates. Prices are negotiable for the Standard and Enterprise plans, and Enterprise users can also have programs that use subscription or performance-based payments.
ZipRecruiter has an impressive set of features that can help recruiters, including more than 500 customizable job templates and AI-based technology that matches job vacancies with suitable candidates. Recruiters can invite candidates to apply before they've even seen your job adverts, and an intuitive dashboard can manage your vacancies and applications.
Elsewhere, recruiters can add screening questions to job listings and access premium customer support depending on the package purchased.
Enterprise customers benefit from a broader range of features, too, including customized hiring strategies and data-based market analysis, and the firm's data specialists manage your spending in real-time, so you have great flexibility when it comes to how your hiring budget is actually spent.
ZipRecruiter integrates with your existing ATS packages, including options from iCIMS, SAP, and Workday, and enterprise customers can also target specific audiences with specific keywords and locations. You can pay for featured employer status and more prominent job listing placements, and recruiters can preview resumes without paying to access candidate information.
The Enterprise option is ZipRecruiter's most powerful product by far, and it's a good option if you want to recruit without any of the fuss – ZipRecruiter stays firmly focussed on finding the right candidates and doesn't get caught up in any peripheral concerns.
The Premium package is a good choice for smaller businesses and certainly does get the job done in terms of finding candidates. Still, you'll find a broader range of features elsewhere – Glassdoor is better for company reputation management, for instance, Monster has more pre-written job descriptions. Linkedin has a wider range of features.
There's no doubt that ZipRecruiter is a good option for recruiters in small, medium, and enterprise-scale businesses. But if you want a broader range of features, then you'll certainly find those elsewhere, too.
Final verdict
ZipRecruiter is one of the simpler and more straightforward job sites on the web – it's essentially a search engine for job positions that have been listed elsewhere.
It's certainly good at collating job listings, with a huge database of positions available at all times, and it's easy to browse listings, open adverts and see basic information without breaking a sweat. It's easy to apply, too, if the employer has made that feature available. The site also has a good profile section, which means that recruiters and employers can quickly see everything they need to know about potential candidates.
This free, straightforward site lacks the data and features you'll find elsewhere, though. ZipRecruiter is worth using if you want to access loads of listings quickly or if you already know what you're looking for, but its basic design means that plenty of rivals are more helpful.

ZipRecruiter vs Monster
Monster leads with a trust rating of 7.7 out of 10, while ZipRecruiter trails not too far behind with 6.7.
Features: Both ZipRecruiter and Monster offer a free trial, after which users can resort to reasonably-priced membership tiers for when they decide to take the leap. ZipRecruiter's long list of features includes an activity dashboard, application management, applicant and candidate tracking and management, job description template, and the ever-convenient AI candidate matching.
Likewise, Monster also features an activity dashboard. Its features also include customizable branding, a built-in database, social advertising, and a resume database. A huge percentage of employers and jobseekers across the globe trust both ZipRecruiter and Monster and find the ease of use both offer a huge advantage for them.
Both platforms have Android and iOS apps, too, and both are excellent – they make job searching quicker and more intuitive. Monster's app allows users to apply for jobs by swiping, while ZipRecruiter's software has one-tap applications. Monster's app goes bigger on quizzes, and it provides daily job recommendations, while ZipRecruiter's tool provides AI-powered job recommendations and it'll let you know when your application is viewed.
Pricing: After the 4-day free trial, Monster offers the following: Starter for $279 per month with one job post and 50 resume views; Standard goes for $399 per month with three job posts and 150 resume views; Premium for $649 per month with five job posts plus 250 resume views.
ZipRecruiter is slightly different with usage plans which allow users to have job posts for a daily fee of $16-$24. Their plans go for $299, $419, and $719 respectively, and include job postings visible across 100+ boards, access to smart dashboards, unlimited candidates, and advanced features such as "Trafficboost" and multiple company recruitments for the higher tiers.
Conclusion: Monster's slightly higher price tag doesn't make it less of an option. If you're looking for a wider reach of candidates, Monster is your best bet. ZipRecruiter makes for the best choice if you're after a more streamlined process.
ZipRecruiter vs CareerBuilder
Careerbuilder and ZipRecruiter both land an average score of 6.7 in ratings, with most users likely to recommend both platforms.
Features: Included in Careerbuilder's list of features are their AI Job Posting tool, AI recommendations and automated self-serve options that increase job applications by 175%, and applicant alerts and resume match notifications delivered to users via email.
ZipRecruiter features screening questions that let users see only the most qualified candidates. They also have matching technology scans, over 500 customizable templates, and a user-friendly mobile app where users can review candidates from anywhere. These features come on top of the smart dashboard, access to over 32 million resumes, and TrafficBoost (only available in the highest tier) which is useful for jobs that are hard to fill.
When it comes to recruitment, ZipRecruiter, and CareerBuilder both impress with loads of HR-friendly features. Both are also ideal tools for medium and small businesses. ZipRecruiter does go further for the largest organizations, though – it's got a broader range of features for enterprise-level customers.
Pricing: Careerbuildeer's unique Build-Your-Own plan requires a one-time payment of $375 for a single job posting, application alerts, 30 days of resume search, and others. Their plans are Lite ($219), Standard ($299), and Pro ($599.) The Lite plan includes one job listing per month, while Standard and Pro include three and five listings respectively. All of these plans offer up to 500 views per month, application alerts, and custom lists for candidate management.
Apart from their $16-$24 daily posting rates, ZipRecruiter's plans are called Standard ($299), Premium ($419), and Pro ($719). The lowest tier is perfect for companies on a budget, letting them utilize a smart dashboard, visibility in 100+ sites, and access to their AI in reaching candidates. Premium and Pro have extra features including access to their massive database of resumes and TrafficBoost.
Conclusion: When it comes to features, both CareerBuilder and ZipRecruiter have their own strengths. CareerBuilder's plans are more straightforward, but ZipRecruiter's plans cater to the needs of small businesses, including filling the most difficult positions. Despite a feature-rich environment, the edge of ZipRecruiter over the competitors make them still the number one choice.
ZipRecruiter vs Glassdoor
ZipRecruiter finishes off with a 6.7 rating, while Glassdoor takes the lead with a whopping rating of 7.1.
Features: Glassdoor ensures your branding stands out so you can grow your company's reach. Aside from that, their plans include engagement and keyword analysis, update analytics, benchmark reports and insights. Brand advertising and Review Intelligence are add-on features that come at an additional cost. Both add-ons let you target the perfect candidates and have an in-depth understanding of what users say about your brand.
You can take advantage of ZipRecruiter's templates in creating your job descriptions, one of the features they're offering. There's also what they call "matching technology" which proactively scans the database for the most fitting candidates and sends them invites. Their job slots are also flexible in that filling a position means you can post a new one right away.
It's always important to bear in mind that ZipRecruiter and Glassdoor are very different products. ZipRecruiter excels when it comes to listing job vacancies and providing recruitment tools for all kinds of businesses, while Glassdoor offers superb company and reputation information – but you'll need to switch to Indeed to view job listings. They're both superb, though, and they complement each other well, so you should use both rather than picking one over the other.
Pricing: ZipRecruiter categorizes their services into three plans: Standard ($299), Premium ($419), and Pro ($719). These plans let you choose the services you're needing, such as the number of job listings posted per month. Extra features are exclusive to the Premium and Pro, also perfect for enterprise clients who have over 5,000 employees.
Glassdoor's plans are also fixed packages that cost anywhere between $219 and $599 per month. The Lite package for $219 includes one job posting, while the next one, Standard, lets you post up to three jobs. The highest tier called Pro has up to five job posts.
Conclusion: Glassdoor caters to the needs of huge companies who have been around a long time and have employees coming and leaving regularly. ZipRecruiter is perfect for companies only looking for high-quality talent to add to their team.
ZipRecruiter vs Craigslist
Craigslist generally comes with a low rating, averaging 3.8. ZipRecruiter is a consistent leader scoring 6.7.
Features: Like most job boards, Craigslist has a resume database users have access to. It's straightforward, and every job post can attract at least 60 million users in the United States alone. It's easy to use and lets users set the location of their target candidates. It's been around for two decades and they've kept their platform as simple as it has always been.
ZipRecruiter lets users advertise their job ads and post on a hundred job boards in just one click. Job postings can be made in a few simple clicks as well when users decide to use their hundreds of templates- perfect for companies who are constantly looking for manpower. ZipRecruiter also features artificial intelligence that scans millions of resumes and sends them an invitation to apply.
Craigslist may have easy and affordable job posting, local listings and expertise in casual jobs, but ZipRecruiter is far better in virtually every aspect of recruitment – no surprise given that it's a dedicated site. For job seekers, ZipRecruiter has a broader selection of listings, more detail, and it's far more trustworthy. Recruiters will also find a far more powerful and comprehensive range of features on ZipRecruiter, especially for hiring in white-collar roles and in larger organizations.
Pricing: Posting on Craigslist can range from $10 - $75 in one category per month depending on your area. Apartment rentals, real estate, car dealerships, and other similar postings cost the least, ranging from $3 to $5 per month. In some areas, advertising is free, provided users abide by the posting regulations. Considering the reach it can give you, these regulations are reasonable enough.
ZipRecruiter has three tiers in their pricing scheme. These tiers start off with Standard for $299 for entry-level postings. The next plan, Premium, goes for $419, and is great for postings that are urgent or semi-urgent. This is also where using AI matching tool starts. The highest tier called Pro costs $719 and is the plan of choice for urgent job listings as well as positions that are not easy to fill.
Conclusion: Craigslist has been around for decades and has since kept its interface. This provides comfort for users who have been using Craigslist for their job postings. ZipRecruiter is the modern way of posting jobs that offers automations.
ZipRecruiter vs Indeed
Indeed's rating is set at a sky-high 8.6, while ZipRecruiter tails a bit far behind with only 6.7.
Features: Indeed keeps the traditional method of searching for jobs alive with a straightforward approach to posting jobs and running ads/promotions. As such, it features a search engine that resembles that of Google. Bigger companies can also take advantage of their large-scale hiring feature, while job alerts, applicant tracking system, smart matching technology, mobile apps, and sponsored jobs are all resources for small businesses as well.
ZipRecruiter offers social recruiting and advertising, real-time notifications, a comprehensive activity dashboard, smart matching technology (like Indeed), a built-in ATS (Applicant Tracking System) with ATS integration, a mobile app and a widget, and phone, email and chat support.
There's very little to choose between ZipRecruiter and Indeed – they're both fantastic and fully-featured products, and you should find success no matter which one you choose. ZipRecruiter tends to have better apps when compared to Indeed, but Indeed gains ground when it comes to holding real-world events for both job seekers and HR professionals.
Pricing: ZipRecruiter has a pay-per-post option for jobs that are easy to fill in, as well as monthly plans that start at $299 per month and can reach up to $719 per month. These tiers can cater to different job posting urgencies and include access to their database of resumes that have over 30 million entries at the moment. Their pay-per-post option costs around $16-$24.
Posting on Indeed is free, but sponsored jobs, also known as the pay-per-click jobs, lets you decide how much you want to spend on a job post. The cost per click can range from $0.10 to up to $5.
Conclusion: Indeed is preferred by most users today because of its Google-like environment. It's easy to use and understand, and is pretty much as transparent as you need it to be.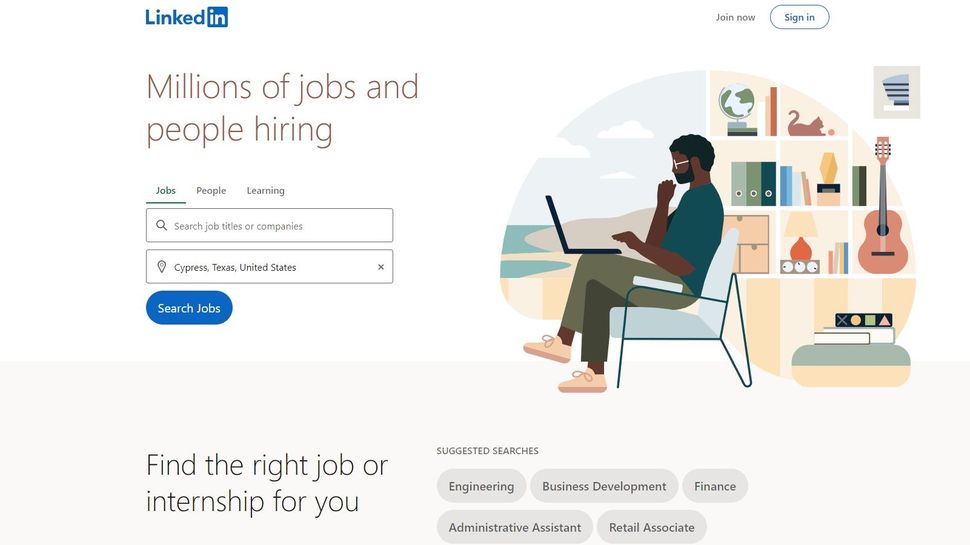 ZipRecruiter vs LinkedIn
LinkedIn's Talent Hub takes the lead with a rating of 8.4, while ZipRecruiter keeps its 6.7 rating.
Features: The LinkedIn Talent Hub offers features for competitive advantage in hiring, including their Applicant Tracking System that lets you manage your hiring process seamlessly. They also provide data and insights that are reported as they come in and integrations that place everything you need to streamline your hiring process in one place.
ZipRecruiter's job ads advertising makes it easier to reach more applicants, while candidate matching tools and applicant management provide a great deal of convenience. ZipRecruiter also features unlimited resume searches in their plans, and resume database access can be purchased as an add-on for the basic tier, although it's free in higher plans.
These are two of the big beasts of the HR world, and there's no reason that they can't complement each other for both job seekers and employers. ZipRecruiter is a key choice for finding new jobs and managing your HR workflow, while LinkedIn does a far better job on the social network side of things – so keep both in your armory.
Pricing: LinkedIn offers a full month free trial for their Recruiter Lite plan, after which they start charging $119.95 per month. Opting for an annual subscription to Recruiter Lite saves you 17%, with its pricing set at $1,199.40. This plan includes 30 monthly InMail messages, a user-friendly interface, smart suggestions, and advanced options in scouting for talents.
ZipRecruiter's plans are called Standard, Premium, and Pro, and cost $299, $419, and $719 per month. These plans give users access to their smart dashboard and distribute their posts to over 100 job sites. Employers get twice as many candidates and can access their database of over 30 million resumes.
Conclusion: ZipRecruiter may have the option for a free trial, and LinkedIn does too, but LinkedI's Talent Hub offers a more comprehensive and affordable monthly rate with a much larger reach.