Wasabi offers its 'Hot Cloud Storage' with an emphasis as a value leader, but there's plenty of innovative features to choose it for, such as the Object Lock to provide the ultimate in ransomware protection.
Pros
+

Free 30 day trial

+

No egress fees

+

Value pricing

+

Object lock feature
Cons
-

Phone support is additional cost

-

No option for chat support

-

Minimum storage duration policy is annoying

-

No free tier
Why you can trust TechRadar We spend hours testing every product or service we review, so you can be sure you're buying the best. Find out more about how we test.
Based in the US, Wasabi focuses on a single product, Wasabi Hot Cloud Storage, that is an object storage service. A relative newcomer to cloud storage, it was founded in 2015 by the same folks that founded Carbonite, with Wasabi's cloud storage offering coming to market in Spring of 2017 with a single data center in Ashburn, Virginia. It has as its mission the lofty goal to be the "Cheapest, fastest, most secure and reliable cloud storage in the world."
Wasabi has a long list of notable clients that includes the Berklee College of Music, Blackstone Publishing, Netgear, and the University of Arizona among others.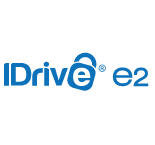 Cheaper than Wasabi?
Save on Hot Object Storage compared to the competition with 1TB as low as $20 for the first year. IDrive e2 offers faster performance than competitors, no charge for egress and costs 85% less than competitors.
Wasabi cloud storage: Pricing
There are a few plans that Wasabi offers. The simplest plan is the Pay As You Go plan which is paid monthly, at a cost of $5.99/TB/month. It includes the Basic support, and no additional fees for ingress, egress or API requests. Keep in mind that there is a "Minimum monthly storage charge" that if you have less than 1 TB of data, you still pay for the terabyte. We also appreciate that there is a free 30-day trial with no credit card required, and beyond that the plan is paid for on a monthly basis.
Overall, Wasabi prices its offering as a value deal looking at simple pricing. Right on its website, it calculates out the cost per gigabyte, and shows how it compares favorably to other S3 cloud storage providers.
However, like most of these services, there are some details when you delve in further. For Wasabi, there is a Minimum Storage Duration Policy. This means that if you upload a file, and then delete it before 90 days, you still pay as if you had stored it for the full 90 days, which can get annoying and potentially expensive for users that turnover their data frequently.
The other plan offered is Reserved Capacity Storage, which allows the user to purchase a storage allotment for 1, 3 or 5 years at a potential discount. Unfortunately, there is no pricing available for this plan, but it does include the Premium support.
Also, keep in mind that Wasabi states that if the bill is not paid, not surprisingly, that the data will be deleted.
Wasabi cloud storage: Features
Wasabi offers a number of features to support its S3 storage. A good example of that is the Object Lock feature. This is designed as a security feature that provides "Object-level immutability," which means that the file cannot be modified, nor deleted within the retention period. This useful feature is included at no extra charge, but keep in mind that it needs to be enabled at the time that a bucket is created, and cannot be added on later, and must have versioning enabled.
This also helps to provide protection from a ransomware attack, which is increasingly common. Wasabi states that they feature "Immutable buckets and support for S3 object lock" to keep data safe from a variety of threats, including ransomware attacks. Storage gets further protection as it is air-gapped to keep it away from unauthorized access. Realize that this goes beyond the industry standard of one offsite copy as Wasabi is using an extended standard with placing the offsite copy to be an offline copy- making it even safer from being overwritten from an unauthorized access.
In terms of compliance, Wasabi is determined to be fully compliant with all data standards. This includes being fully compliant with HIPAA for the storage and protection of health information. Additionally, it meets standards for the more recent HITECH Act. Finally, Wasabi stores its information in data centers that meet standards for SOC 2, ISO 27001 and PCI-DSS, with reports available upon request.
Wasabi cloud storage: Support
Wasabi's support gets divided into two tiers of support plans, Basic and Premium. The Basic support is no additional cost, and has contact via direct email, but the response time is a business day. There is also a Knowledge Base that can be accessed, and technical documents available.
The Premium tier has the same offerings, but the email get prioritized for response. It also adds in telephone support, which has a cost that starts at $100/month for up to 100 TB's of storage, and increases in cost with more storage with a minimum 1 year of commitment. The available hours for both email and phone support are 24/7 and 365 days a year.
There is no live chat available on either tier, and we did not find any webinars.
Wasabi cloud storage: Interface
Apart from any third-party apps you decide to run on top of Wasabi, you'll be spending most of your time in the web interface. It's clean and tidy, and simple to use, but you don't get the user-facing features you do with the likes of Dropbox, Google Drive and so on – this is a place for storing your files and not much else. The desktop clients that Wasabi provides for Windows and macOS are similarly bare bones.
Everything that is included in the web app is easy to find and configure, from compliance tools to group and policy management options. There's a commendable amount of flexibility here when it comes to managing access to files and keeping certain piles of data separate from one another, even if options for viewing and editing files on the web are pretty much non-existent - you'll find yourself needing to re-upload modified versions if this type of work forms part of your working routine.
Some users are going to want a more capable set of features included from the off, but for others this kind of flexibility will be exactly what they're looking for. It's taking on the likes of Amazon S3 and Microsoft Azure directly, and you should bear that in mind when comparing it against other cloud storage services. In other words, it doesn't compare to most consumer-facing cloud storage drives.
As mentioned above, upload and download testing was pretty average given the limitations of our broadband connection, taking less than five minutes to upload 1GB of data. As far as we can tell, Wasabi keeps its promise of speedy cloud storage access. Buried away in the settings area is an Internet speed test tool, though this is just an integration of Ookla's Speedtest.
Wasabi cloud storage: Security
Security is another of the strengths of Wasabi, from two-factor authentication, to data compliance management, to support for user profiles and highly configurable file access. Multiple redundancies and tight physical security on its data centers are used to make sure your data stays safe, and the company promises 99.9% uptime for its servers – a claim we've got no reason to doubt having used the service.
To some extent, the data security protections depend on the programs you're plugging into Wasabi, but end-to-end encryption is available if you want to minimize the chance of your data being read (and you're confident you'll never forget your encryption key). As far as security for your files goes, you don't get many better cloud storage deals than the one you get from Wasabi.
Wasabi cloud storage: The competition
A competitor to Wasabi is IDrive e2, another cloud storage S3 provider. Compared to Wasabi, the advantages of IDrive e2 include the free 10 GB tier, along with that phone support is included, and not an additional upcharge.
We can also recommend taking a look at Backblaze B2. This service offers a simple pricing model of $0.005 GB/Month for data stored, and also offers the first 10 GB for free, but does have download fees.
Wasabi cloud storage: Final verdict
Wasabi offers a well rounded hot cloud storage service that achieves its goals of affordability, reliability and highly secure. We think the positives encompass the free trial without a credit card, the HIPAA and HITECH compliance, the affordable cost of storage along with the option to get a discount for a longer plan, and the protection from ransomware that the Object Lock feature provides.
Some negatives to keep in mind include the lack of phone support with upgrading to a premium support plan, the absence of a free tier as other companies in this space offer the first 10 GB at no cost, and the lack of chat support. Overall, Wasabi is certainly worth an evaluation when choosing an S3 provider.
We've tested the best free cloud storage.
Mark is an expert on 3D printers, drones and phones. He also covers storage, including SSDs, NAS drives and portable hard drives. He started writing in 1986 and has contributed to MicroMart, PC Format, 3D World, among others.