Mindomo is an ideal tool for developing ideas, brainstorming with others, and tracking progress as you take it from concept to implementation. It helps you simply visualize your complex thoughts and share them with others. It's an excellent tool for individuals, professional workers, and educators.
Pros
+

Has many features

+

Allows easy collaboration

+

User-friendly

+

Native desktop and mobile apps
Cons
-

The free version is limited

-

Lacks integration with third-party tools
Why you can trust TechRadar We spend hours testing every product or service we review, so you can be sure you're buying the best. Find out more about how we test.
Expert Software Application (Exswap), a Swiss software company, launched Mindomo in 2006 as a mind-mapping tool based on the (now discontinued) Adobe Flash platform. It released a web app in 2007 and a native desktop app in 2008.
In 2010, Exswap added real-time collaboration to Mindomo, which has become the software's most defining feature. In 2012, the company released native Mindomo mobile apps for iOS and Android.
Mindomo is very popular with educators. Over 1,000 schools worldwide use it to help teachers effectively interact and collaborate with students.
We tested Mindomo extensively to give you an exhaustive, unbiased review. Our review is based on specific criteria, including pricing, features, compatibility, customer support, ease of use, etc..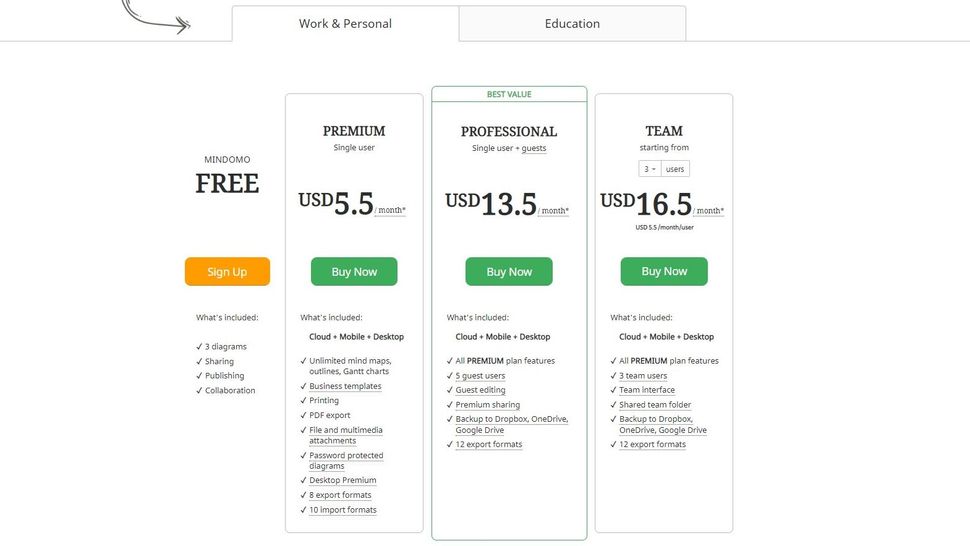 Plans and pricing
Mindomo is freemium software, having both "free" and "premium" versions. The free version has significantly limited features, meaning you have to pay for the premium version to make the best of the app.
Mindomo's premium version has two categories; "Work & Personal" and "Education." Each category has distinct pricing tiers.
Work & Personal has three tiers; "Premium," "Professional," and "Team." Premium costs $5.5 per month for a single user; Professional costs $13.5 per month for a single user; and Team starts at $16.5 per month for a minimum of three users.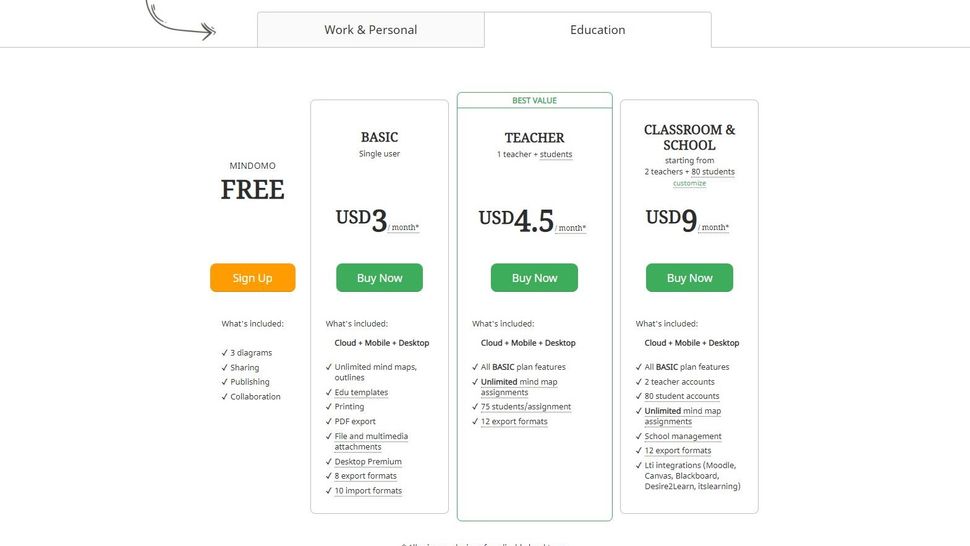 Education also has three tiers; "Basic," "Teacher," and "Classroom & School." Basic costs $3 per month for a single user; Teacher costs $4.5 per month per user; and Classroom & School starts at $9 per month for 2 teachers + 80 students.
You can customize the Classroom & School tier for as many teachers and students as you wish. Mindomo gives significant discounts the higher the number of teachers & students you select.
Mindomo provides a 30-day money-back guarantee for every purchase.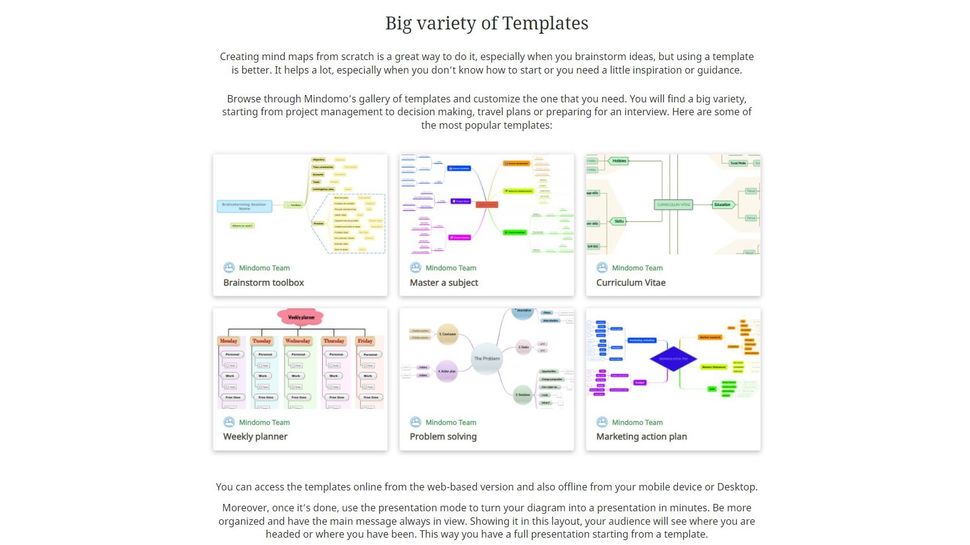 Features
Mindomo's core feature is building and presenting mind maps. Mind maps are diagrams that visually organize information. It's hierarchical and shows relationships between pieces of information. It's a practical technique of visualizing your thoughts and ideas and sharing them with others.
Mindomo provides built-in templates to create various mind maps and convert them into presentations. You can stylize these mind maps to make them as visually appealing as possible. The app lets you build mind maps solo or with your colleagues within a school or workplace.
To make your mind maps as detailed as possible. Mindomo lets you add many objects, including;
Hyperlinks & Attachments
You can add hyperlink resources to link specific parts of your mind maps to external URLs. You can also attach files on the mind map by uploading them from your computer.
Notes
You can create notes to add more detailed text bodies to the topics in your mind maps.
Videos
Mindomo lets you include videos in your mind maps. You can upload videos from your PC or embed directly from YouTube and Vimeo.
Web Images
You can search for photos directly from the web and insert them into your mind maps.
Import/Export Files
Mindomo lets you import files from your computer, Dropbox, Google Drive, or OneDrive accounts and convert them into mind maps.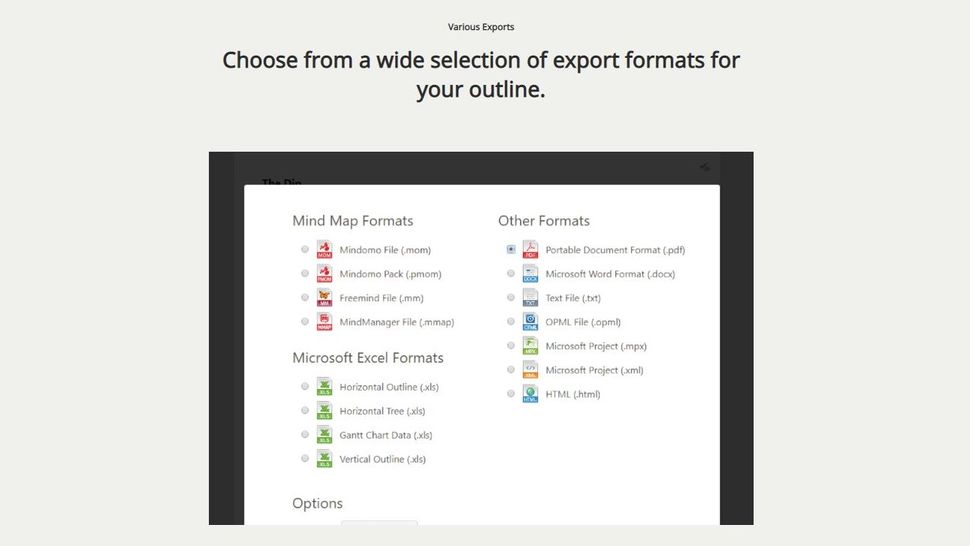 Import/Export Mind Maps
You can import mind maps you created with other tools into Mindomo. Likewise, you can export mind maps you create on Mindomo into similar platforms like MindManager, SimpleMind, and iThoughts.
Presenter Mode
This feature lets you turn any mind map into a slide-by-slide presentation.
Map Search
Mind maps are complex, often cluttered blocks of information. Mindomo lets you easily search through a mind map to find any information you want. The app also enables you to organize your mind maps into folders to declutter them and make information easily accessible.
Offline Editing
When using the web-based interface, you can continue editing your mind maps even if you're disconnected from the net, and your changes will automatically sync once the connection restores.
Bulk Download
You can download all your mind maps in one single ZIP file.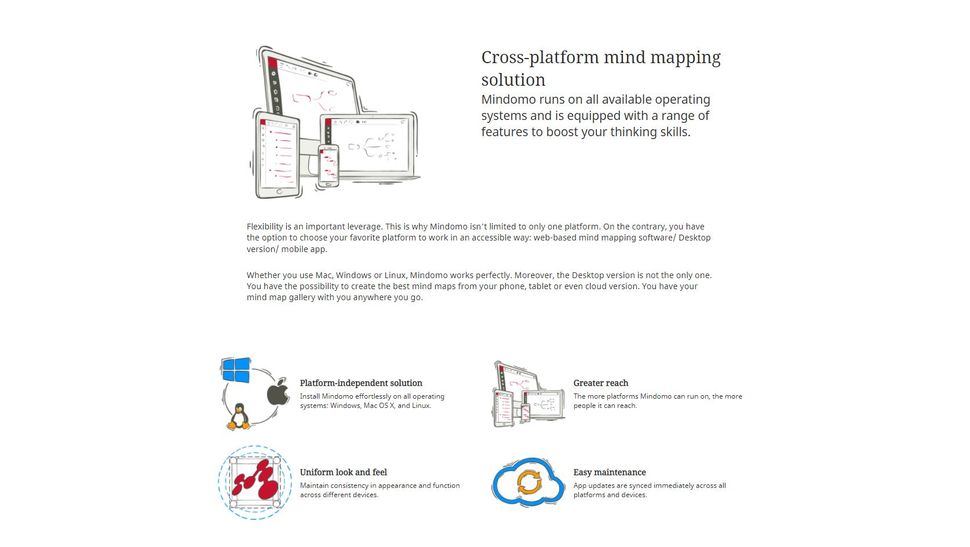 Native Apps
Mindomo has native apps for desktop and mobile. These apps let you create and edit mind maps offline with ease.
Interface and In Use
We found it pretty easy to use Mindomo. The first step is to subscribe through the official website, either for the free or premium version. If you choose the premium version, you must pay before use. You have to provide basic data like your name and email for a subscription. After subscribing, Mindomo sends an activation link to the email you provided. Click on this link, and you're good to go.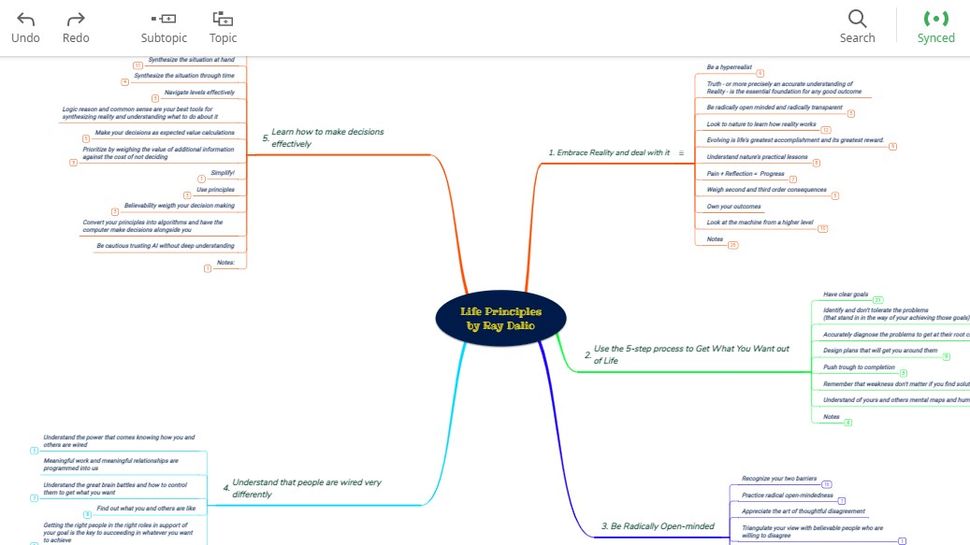 Mindomo has an easy-to-use, uncluttered interface, a significant advantage over competitors.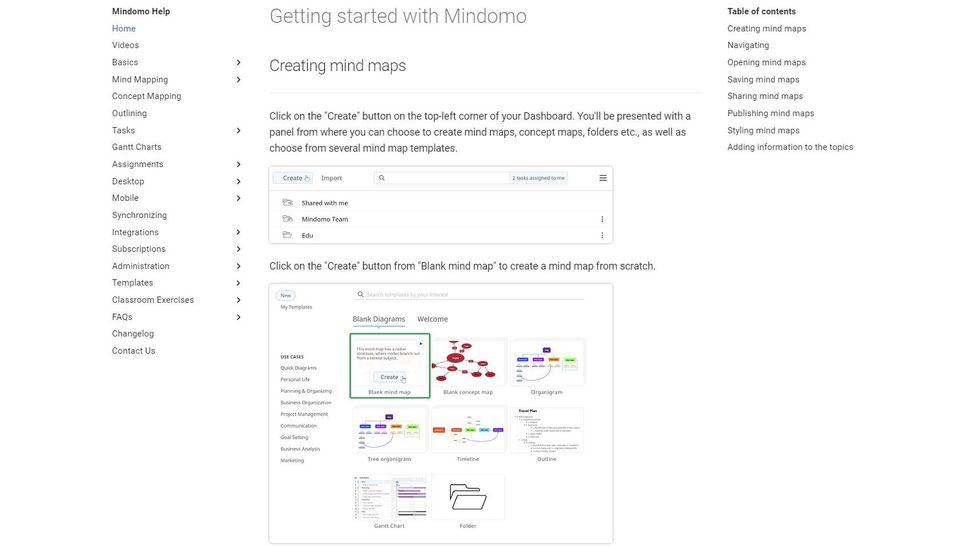 Support
Mindomo provides customer support through email , live chat, or telephone. There are also video tutorials and a customer support forum available in English, French, Spanish, and Italian.
The competition
Common alternatives to Mindomo include Freemind, XMind, and SimpleMind. They offer similar features and are comparably priced.
Final verdict
Mindomo is an ideal tool for visualizing your thoughts and ideas in the form of mind maps and sharing them with others. It's valuable to individuals and professionals, mainly educators interacting with students.
We've also featured the best mind map software
Stefan has always been a lover of tech. He graduated with an MSc in geological engineering but soon discovered he had a knack for writing instead. So he decided to combine his newfound and life-long passions to become a technology writer. As a freelance content writer, Stefan can break down complex technological topics, making them easily digestible for the lay audience.