F-Secure Corporation is a Finnish security vendor with a 25-year history of antivirus development. The company now produces a wide range of consumer products, and recently it's also been expanding into the enterprise market.
The firm's baseline package, F-Secure Anti-Virus, caught our eye immediately with its low £19.95 ($25) one computer, one year licence. This sounded great, until we browsed the feature list, and realised just how short it was. There's no password manager, Wi-Fi protection, banking protection, file shredder, not even browsing protection: it's just antivirus, and that's all.
This kind of simplicity could be an advantage, especially if you're an experienced user and happy to combine F-Secure with your favourite URL filter, firewall and whatever other security packages you need. But if you're a beginner, or looking for the convenience of accessing multiple functions from one interface, it's going to be an issue.
There's another disadvantage in the lack of bulk-buy discounting, which doesn't go beyond a three system, one-year licence for £29.95 ($37.50). If you have multiple systems to cover, McAfee charges just £50 ($63) a year for as many devices as you need.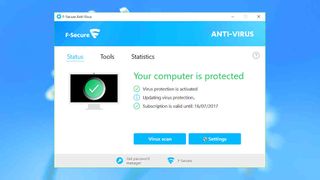 Setup
F-Secure provides a free 30-day trial of F-Secure Anti-Virus, but the company makes it more difficult to get than most. You can't download it until you've filled in a form with your name, email address and country. The company then sends an email with a confirmation link, and clicking that opens a web page explaining that another email is on the way with a licence key and download link.
Our second email arrived almost immediately. There was no licence key, but that seems to be because it's built into the executable name (ours was something like F-SecureNetworkInstaller_74CJ-WC7W-XELE-JLTY-2BP7_.exe). Whatever the reason, the installation was very straightforward, and the program set itself up very quickly and with no hassles or complications.
F-Secure Anti-Virus didn't appear to scan our PC during the setup process, but that was easily fixed. We clicked the F-Secure system tray icon, then the virus scan button, and the program then scanned some 15,000 items in under a minute before giving us the all-clear. Once we were happy, the console could be minimised again and our PC life was able to continue as normal.
We browsed the F-Secure program folder, checking basic details like signed files. There were no problems, but we noticed that F-Secure is one of many to include the Bitdefender engine as well as its own. That works for us – it's very accurate – and it's good to know that both technologies are used by the product.
Features
If you're used to antivirus products trying to win you over with stacks of bonus features, F-Secure Anti-Virus will be a surprise, because it doesn't have any. There's nothing here beyond antivirus scanning and the related settings. The closest you get to an extra is a 'get password manager' button, but even that just opens a web page to download F-Secure Key, the company's free password manager, which you could download separately anyway.
This approach pays off with F-Secure's interface, which is just about as simple and straightforward as you'll ever see. The main console has two buttons: Virus Scan and Settings. Tap the first and F-Secure Anti-Virus runs a very quick scan (under a minute on our test system), deals with any threats automatically and displays its verdict. There are no scan types to worry about, no options displayed, and even a novice user will be using the system right away.
More experienced users will find a few extra functions in the Tools menu. There's a full system check-up (still very fast) and an in-depth rootkit scan, a quarantine manager, a log, a scan scheduler and a few basic settings.
The most interesting options relate to F-Secure's DeepGuard. This uses a cloud-based system to detect brand new and unknown files, then monitors them for suspect behaviour. You can tweak this a little – for example, you can opt to have F-Secure ask for permission if an untrusted program tries to make an internet connection – and there's an option to view and change the list of monitored apps.
Overall, F-Secure handles its core antivirus function very well, being speedy, accurate and user-friendly. The lack of other features – particularly URL blocking – is a downside, and you'll need to address it by finding other programs to fill the functionality gaps. But if you've no problem with that, this product could be a smart choice.
Protection
Our quick malware detection tests showed F-Secure Anti-Virus delivered solid and reliable protection, but to fully understand its abilities we also check the verdicts of the main independent testing labs.
AV Comparatives monthly real-world protection tests deliver mixed results for F-Secure. Protection rates are usually very good, but the tests also record a large number of false positives, which drags the score down a little.
AV-Test's April 2017 'best antivirus software for Windows Home User' report gives a broadly similar verdict. It found F-Secure delivered excellent protection, blocking 100% of threats, but it did raise a few more false alarms than average (though nothing like as many as suggested by AV Comparatives).
A quality antivirus package needs to do its work without slowing you down, and testing shows F-Secure does better than most in this respect. PassMark Software's March Consumer Security Products report combines 23 measurements to assess the impact of each application, and F-Secure Internet Security ranked fifth out of 15. Only Norton, ESET, Kaspersky and McAfee did better.
Final verdict
F-Secure Anti-Virus has no bonus features – not even URL blocking – but its antivirus engine is fast, accurate, and priced lower than most of the top competition.