Driver Reviver (opens in new tab) is the brainchild of ReviverSoft, an American software developer. ReviverSoft is a subsidiary of Corel, a Canadian software giant that acquired it in 2014.
We're reviewing Driver Reviver, a driver updater (opens in new tab) tool to optimize PC drivers for excellent performance. It has been around for over a decade, with regular updates from ReviverSoft. ReviverSoft develops a broad range of PC optimization and security software programs with the "Reviver" brand plastered on most.
We'll judge Driver Reviver based on specific criteria, including features, pricing, customer support, ease of use, compatibility, and so on.
Plans and pricing
There's a free version (opens in new tab) of Driver Reviver you can download directly from the official website. However, this version grants access to just a few features. You'll need to pay for the premium version to unlock access to all Driver Reviver's functionalities and make the most of it.
The premium package (opens in new tab) for Driver Reviver costs roughly $32. It grants access to the software's full features for one year on a single PC. You can pay directly on ReviverSoft's website through PayPal or a credit/debit card.
ReviverSoft also offers a 30-day money-back guarantee for every purchase.
Features
Driver Reviver's main feature is the Driver Scan. It runs an extensive scan on your PC and reports outdated drivers. It checks your PC's drivers against a live database of over 4 million drivers. This vast database can rightly determine which ones are not up-to-date.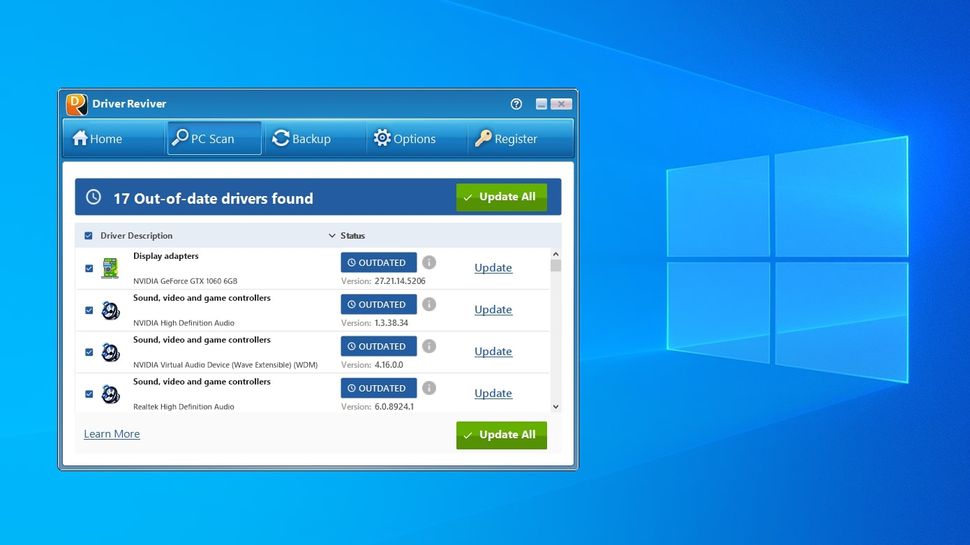 The scan covers your video, audio, network, chipset, and other essential drivers. In our test, the scan didn't take up to a minute. It found 17 outdated drivers on our HP laptop that we could update right from the app. You can update them individually or collectively through the click of a button.
After scanning, Driver Reviver reports the results in a tabular format showing you all your PC drivers and which ones are outdated or updated. It places all the obsolete drivers before the up-to-date ones on the table for easy identification.
Driver Reviver also has a Driver Backup feature that lets you create a complete or individual backup of your system drivers and restore them where needed. This feature is helpful because some driver updates can cause malfunctions in your computer. In such a case, you just need to restore the backup drivers and make your PC function as usual.
You can set Driver Reviver to begin an automatic scan whenever your computer boots up or launch the app. You can also create System Restore points before updating any drivers.
Interface and in use
We found it easy to download, install, and use Driver Reviver. The setup file is readily available to download at ReviverSoft's official website. Afterward, we ran it on our PC, and installation took around one minute. We began using the app immediately after the installation.
Driver Reviver is programmed to start a PC-wide scan immediately after launching the app. It then reports back which drivers are outdated and need updates. You can update them within the app.
Support
A detailed FAQ page/user guide (opens in new tab) for Driver Reviver is available on ReviverSoft's website. If it doesn't satisfy you, you can contact the company directly through email or telephone. The specific emails or phone numbers to contact depending on your region are published online.
The competition
We've also reviewed some common Driver Reviver alternatives, including IObit Driver Booster (opens in new tab) and AVG Driver Updater (opens in new tab). They are more versatile than Driver Reviver because they have a broader range of features apart from driver update and backup/restore.
Final verdict
ReviverSoft's Driver Reviver performs its core function of identifying outdated drivers and updating them well. However, it's pretty limited compared to rivals when considering additional features.
We've also highlighted the best driver update software (opens in new tab)