The built quality, processor platform and elegant design make the Dell Precision 5470 an exciting choice for power users. But the RX A1000 GPU is underwhelming for those expecting video sparks to fly anything like a desktop system.
Pros
+

Powerful processor

+

Good battery life

+

XPS build quality
Cons
-

Not workstation GPU performance

-

Needs a docking station
Why you can trust TechRadar We spend hours testing every product or service we review, so you can be sure you're buying the best. Find out more about how we test.
Dell Precision 5470: 30 second review
There was a time when salespeople were all given the same laptop while executives received something more expensive for no practical reason.
These days users are more stratified on the performance levels they will need, and the Dell Precision 5470 is pitched at those designated as power users.
Starting at around $1670 for an I7-powered model with 32GB of DDR5 and 1TB of NVMe storage, it is possible to bump this up to over $2750 merely by increasing the drive to 4TB.
The critical selling points of this design are a PremierColor and Comfortview plus compliant 14-inch 16:10 ratio HD+ screen, a 12th Gen processor with DDR5 memory, and optional NVIDIA RTX A1000 discrete graphics.
We said the RTX A100 is optional because some regional SKUs come without discrete GPUs and Core i5 class processors. With that specification, those SKUs don't appear to fit the label of 'workstation' at all.
Where some brands make remarkably heavy and less portable mobile workstations, Dell has effectively built an XPS on steroids with the Precision 5470. It has good battery life, and it's reasonably portable if a little heavy (1.48 kg or 3.26 lb).
The downside of this design is that the workstation moniker of this machine isn't entirely convincing since the RTX A1000 isn't much better than the integrated Iris Xe in many tasks. Also, that you need an adapter (included) to get HDMI and a USB-A port will annoy some users.
Dell Precision 5470: Price and availability
How much does it cost? $1650-$3500
When is it out? It is available now
Where can you get it? You can get it in most regions direct from Dell.
Dell Precision 5470 Specs
The Dell Precision 5470 that was sent to us for review came with the following hardware:
Model: Precision 5470
CPU: Intel Core i7-12800H (14 cores, 20 threads)
GPU: Nvidia RTX A1000
RAM: 32GB LPDDR5 6400MT/s
Storage: 1TB, M.2, PCIe 4.0 NVMe
Screen: 14-inch, FHD+, 1920 x 1200, 60Hz, anti-glare, non-touch
SIM: N/A
Weight: 1.48kg (3.26lb)
Dimensions: 31.06 x 21.03 x 1.895 cm
Camera: 720p at 30 fps, HD IR Camera with ALS sensor
Networking: Intel AX211, 2x2 MIMO, Bluetooth 5.2
Ports: 4x Thunderbolt 4 (USB Type-C), Universal headphone/microphone combo jack
OS: Windows 11 Pro Licence
Battery: 4-cell, 72Whr Li-ion battery
PSU: 130W AC adapter, USB Type-C
The Dell Precision 5470 is a classic example of how Dell tries to tailor a machine to different markets in an entirely confusing way.
In the USA, customers are offered three predefined SKUs that use the Core™ i7-12800H processor and have the Nvidia RTX A1000 discrete graphics and only differ in the amount of RAM and storage. The cheapest of these is $1,669, sporting 16GB of memory and 256GB of drive capacity.
The contrast between this and UK (and European) pricing is stark. The cheapest SKU is £2,147.78 ($2,706), and that only gets you a Core i5-12500H, 8GB of RAM, 256GB and no RTX A1000. For a specification like our review machine with a Core i7, 32GB and 1TB, expect to pay £2,412.77 ($3040). The price bump for being in Europe is around 50%, disturbingly.
Those thinking that the UK is specifically singled out for high pricing are wrong. The same specification machine from the German Dell outlet is €3,152.29 or $3403.98.
The official Dell specification sheet for this machine mentions the Intel Core i9-12900H, but this might only be an option for Enterprise customers.
Depending on where in the world you are, the Dell Precision 5470 ranges from being an affordable alternative to the XPS and other premium laptop designs, or an excessively expensive option. For most potential customers, it's the latter.
Dell Precision 5470: Design
XPS styling
Only TB4 ports
Heavy
If we were sent this machine and told it was a new Dell XPS, we'd of entirely accepted it as being from that stable. The similarities between the Precision 5470 and the latest XPS models are notable, as this has the same aesthetic vibe.
The aspects of the 5470 that users will immediately like are the almost borderless and bright 1920 x 1200 resolution display, a spacious keyboard that is easy to use, and a chassis that feels solid and premium.
In the official specifications, mention is made of a QHD+, 2560 x 1600, 60Hz, anti-reflection, touch screen, but we've not seen that, so we can't comment on that experience.
While the keyboard is good, the touchpad is on the small side and a little too close to the front edge of the chassis for our liking.
Another less-than-ideal feature is the selfie camera, which is placed in the very narrow space between the top of the display and the lid. The 720p resolution is disappointing in a machine this expensive, and so is that it has no physical means to obscure it.
But the aspect of the 5470 that might cause some consternation is that it has four ports for peripherals, two on each side, and they're all Thunderbolt 4 USB-C.
Dell does include a single small adapter that enables a single USB-A port and HDMI to be extracted from one of the Thunderbolt ports. But the hint, if you didn't catch it, is that Dell would like a sale of one of its branded docking stations alongside each 5470.
You specifically need the Dell Thunderbolt Dock WD22TB4, because that's the only dock they have that can provide the 130W of power that the 5470 needs to recharge at full speed when connected via Thunderbolt. The other WD19S dock Dell has can only deliver 90W maximum, unfortunately.
The only other external ports are the 3.5mm audio line, a MicroSD card reader and a security slot. That there isn't any SIM card option on this line seems surprising, but there isn't any WLAN capability.
As for the overall form factor, the shape of this laptop is distinctly wedged from front to back, with the thinnest point being around 1cm and the thickest up to 1.8cm.
The underside has two lateral ridges that form feet and keep the underside of the machine from touching any surface it sits on. After using it through several benchmarks, how critical this spacing might be became apparent. The intake of air comes through the underside, and it is subsequently ejected from a series of slots that are on the hinge edge, so having those slots clear is very important.
When pushed, the 5470 can get hot, so we'd certainly recommend using it on a hard surface and not anything soft that can obscure airflow.
The only other comment about this design that might put off prospective customers is how heavy it is. At 1.48kg (3.26lb), this isn't an object that's easy to hold out with one hand unless you've been working out consistently. It also has a very chunky 130W PSU, which, when added to the other peripheral items most laptop users carry, could easily elevate the overall package to over 2.5kg.
That makes the 5470 heavier than the infamous MacBook Pro 13-inch (2020), which had a reputation for being a dead weight.
Dell Precision 5470: Hardware
12th Gen CPU
Gen 4 SSD
Only storage upgrades
At the heart of the review machine is an Intel Core i7-12800H, an Alder Lake design that under typical running consumes up to 45W, but can be boosted with 115W for intensive tasks.
Intel has released the 13th Gen Raptor Lake replacement for this chip series, so more powerful silicon is already available. And those are used in some of Dell's gaming products, like the G16.
As with all the current Intel desktop and mobile chips, this is a stratified design with performance P-cores and efficiency E-cores, with six hyperthreading P-cores and eight E-cores, which can handle twenty threads simultaneously.
It's a decent platform, but it doesn't exactly push the boat out like the i9-13900HX with 24 cores and 32 threads.
The balance here is between the amount of power the chip can consume and the useability of that in the context of battery power. Dell chose that this machine shouldn't be limited to running connected to power for the entire working day, and that made the 12th Gen Core i7-12800H more suitable for this product.
The processor and RAM configuration promotes the idea that the Precision 5470 is a mobile workstation. But to achieve that cult status requires some graphical grunt, and this machine has the Nvidia RTX A1000 mobile GPU.
Nvidia has a long and less-than-glorious track record of selling its mobile GPU with the same name as desktop parts in its inventory when these products aren't remotely comparable.
The mobile RTX A1000 is built around the GA107 Ampere chip, the same one that appeared on the RTX 3050 desktop part. How does this compare to the RTX A1000 desktop part?
We've no idea, as Nvidia never released the desktop component. It would have replaced the T1000 Quadro, and that is an entirely different beast using a different architecture.
To say the RTX A1000 mobile part is underwhelming is a significant understatement, on the basis that gamers wouldn't buy the RTX 3050 because its performance was so lacklustre, and it's about the same speed as that.
What's more disturbing is that in some tasks, it is barely better than the integrated Iris Xe (96EU) that we've run on other machines.
Not sure how Dell squares the 'workstation' label on this, as alternative GPUs deliver much more than entry-level gaming graphics, almost irrespective of the CPU pushing them.
The other predictable regret of this design is that, like almost recent Dell laptops, the DDR5 memory on this machine is soldered, not socketed.
Therefore, if you want 32GB or 64GB of RAM, you need to order that from Dell from the outset because buying 8GB or 16GB and then adding more later isn't possible.
What can be upgraded if you are prepared to open the case, is the NVMe SSD drive. If you choose an M.2 2280 NVMe drive that doesn't have an attached heatsink, it should fit inside fine. A suitable 2TB drive like the Lexar NM790 can be bought very cheaply for this purpose.
Dell Precision 5470: Performance
Effective CPU
Rapid storage
Mediocre discrete GPU
Dell Precision 5470 Benchmarks
This is how the Dell Precision 5470 performed in our suite of benchmark tests:
3DMark Wild Life: 24499; Fire Strike: 9754; Time Spy: 4300;
Cinebench R23 CPU pts: 1516 (single-core); 51808 (multi-core)
GeekBench 5: 1533(single-core); 10977 (multi-core), 11369 (OpenCL)
CrystalDiskMark: Sequential Read: 7127MB/s; Sequential Write: 5327 MB/s
PCMark 10 (Office Test): 6500
PCMark 10 (Battery Test): 8h 45m
Windows Experience Index: 8.4
Where this machine shines is multiprocessing. With all those cores and threads and its vPro processor, it eats the CineBench and GeekBench tests for breakfast.
The SK Hynix PC801 is a decent performer and delivers true Gen 4 level speeds, and not just a little better than Gen 3 SSDs, unlike some OEM drives we've seen.
The processor, storage and DDR5 memory help the Precision 5470 post one of the best PCMark Office test scores we've seen, and it is also an impressively effective user of battery power, lasting longer than a working day.
The only caveat to the battery life is that the PCMark 10 battery benchmark uses common productivity tasks, not heavy number crunching and graphics. Therefore, it might need to charge if you use it as a 'workstation'.
So where is it less special? Amazingly, rendering graphics.
A quick scan of our recent laptop reviews identified several machines, none being sold as workstations, that are quicker than this at some of the graphical benchmarks.
One was the Lenovo Z16 Gen 1, which uses the AMD Ryzen 7 Pro 6850H and AMD Radeon 680 GPU. It did best that laptop in terms of OpenCL, but only by about 20%. When you consider that the Precision 5470 has a discrete GPU, the RTX A1000, and the Z16 has an integrated one, the difference should be much wider.
For those involved in visualisation, 3D modelling or other graphically intensive tasks, we'd look elsewhere. Because the RTX A1000 just doesn't cut it.
When you promote the idea that this hardware is special for a workstation but can't exceed the performance of a mobile RTX 3050Ti GPU, then that's a credibility chasm that's impossible to fill.
Dell's G16 Gaming Laptop comes with an Nvidia GeForce RTX 4060 or 4070, and that's going to crush the video performance of the RTX A1000 across the board and be more power efficient.
Including the RTX A1000 looks like a misstep, as the performance of the Precision 5470 in most other respects is excellent.
If the requirement is for lots of processing power, then the Precision 5470 might be the right choice, as it's like a Dell XPS on steroids.
Most of the Dell Precision 5470 is well-considered, and the CPU combined with excellent battery life could be useful to many users.
While the lack of any USB-A sockets is a minor annoyance, and the camera might have been better, there are two show-stoppers in here that take the shine off this design more significantly.
The first of these is the RTX A1000, a GPU that sounds impressive until you test it and discover it's barely better than Radeon 680M and equivalent to a mobile GeForce RTX 3050Ti. It only has 4GB of DDR6 memory, an amount that no discrete desktop GPU in the current or previous AMD and Nvidia series offers so little.
The current mobile RTX 4060 and RTX 4070 come with 8GB DDR6, which still isn't as much as many gamers would want.
Having a mediocre GPU might have been acceptable if the Precision 5470 was cheap, and while it isn't that expensive in the USA, outside America, it is.
If you want a machine capable of intensive graphical tasks for which you might want a mobile workstation, then look at Dell's G16 Gaming Laptop, as it is cheaper and substantially more potent than the Precision 5470.
Dell Precision 5470: Report card
Swipe to scroll horizontally
| | | |
| --- | --- | --- |
| Value | 50% more expensive outside the USA | 3 / 5 |
| Design | The XPS revisited. Having only Thunderbolt USB-C ports will annoy many.ll want. | 4 / 5 |
| Hardware | Good 12th Gen CPU with plenty of cores, disappointing discrete GPU | 4 / 5 |
| Performance | Powerful processor and excellent power efficiency, but a mediocre GPU that is outclassed by the RTX 4060. | 4/ 5 |
| Total | A heavy machine that sports a decent computing platform, but is not ideal for graphical challenges. | 4 / 5 |
Should I buy a Dell Precision 5470?
Buy it if...
You need a solid computing platform
While 13th-generation processors have some advantages, the previous iteration CPU in this machine is very effective and delivers a smooth and efficient workflow.
You use Thunderbolt peripherals
With four Thunderbolt 4 ports, there are three spare even when charging. These can be used with adapters to connect additional monitors, storage or to wired networks.
But they work best when connected to a docking station.
Don't buy it if...
Graphics performance is critical
For those using CAD, or 3D tools, there are much better options than the RTX A1000 in this machine. An RTX 4060 mobile GPU would be at least 40% faster than the RTX A1000, and has twice as much internal memory. The extra power consumption of the 4060 is offset by it completing the tasks it is given more quickly.
You live in Europe
The price difference between this machine in the USA and Europe is indefensible. Where it is hardly a bargain stateside, adding 50% to the dollar cost to Europeans makes little sense to us, It's excessively priced for what performance it has, and there are cheaper and more powerful options, even from Dell.
Also consider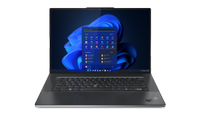 Lenovo ThinkPad Z16 Gen 1
Technically not a mobile workstation, but very comparable in performance terms.
It costs less, has a bigger screen and a full selection of ports that include USB-A and has a WAN capability.
It doesn't have a discrete GPU, but what it can achieve with the integrated one is acceptable for light graphical duties.
Read our Lenovo ThinkPad Z16 Gen 1 review for more information.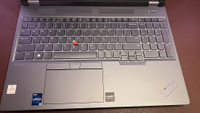 Lenovo ThinkPad P16 Mobile Workstation
An affordable and powerful machine that is made to robust standards and is big enough to have a keyboard with a numeric pad.
Built around an Intel 12th Gen i9 class processor, it has a 16-inch 3840x2400 Multi-touch, OLED display and an Nvidia RTX A5500 discrete GPU.
Read our Lenovo ThinkPad P16 Mobile Workstation review for more information.
Mark is an expert on 3D printers, drones and phones. He also covers storage, including SSDs, NAS drives and portable hard drives. He started writing in 1986 and has contributed to MicroMart, PC Format, 3D World, among others.