Two-minute review
Those people and businesses that are protective of their liquid assets will probably exclude the Danish luxury brand Bang & Olufsen from their product choices.
Bang & Olufsen has a long and impressive history of delivering excellent audio technology for those that care more about quality than price, and its new Beocom Portal headphones (opens in new tab) haven't strayed from that path.
However, compared with gaming headsets (opens in new tab) or general audiophile-luring headphones, these have been designed more with hybrid workers in mind. And are being promoted by Bang & Olufsen as "the next big step in our efforts to grow our business-to-business portfolio which is an important strategic focus area for Bang & Olufsen", according to John Howard, Head of Enterprise at Bang & Olufsen.
In service to those objectives, these Bluetooth-connected headphones are Zoom-certified out of the box and come with support for all the commonly used communication platforms.
Therefore, irrespective of the particular standardisation of the purchasing business, these should be suitable.
One caveat of deploying these types of devices away from the office is resolving technical issues without onsite support. The Beocom Portal headphones come with Beocom link USB wireless Bluetooth adapters (with aptX Adaptive Codec), pre-paired for use and supporting both USB Type-A and USB Type-C ports on the host device.
If the connecting technology is already Bluetooth enabled, Bang & Olufsen has apps, Apple and Android, that can establish the pairing easily with the minimum of fuss.
These headphones aren't exclusively Bluetooth, as they include the cables to connect them to both USB and 3.5mm audio systems. The USB-A to USB-C cable also doubles to charge the Portal headphones, although no charger is included for those that don't have access to a USB-A system.
Once these are connected, the user can experience the "uncompromised Bang Olufsen signature sound", or clear communication and audio rendering for those who don't speak PR.
It achieves this by using an array of beamforming microphones to isolate and amplify the voice of the user while cancelling out background noise, though cancelling can be disabled if required. A prerequisite for those that spend their days calling others, along with long-wear comfort, these are things that business headphone designers can no longer ignore.
While these might look very similar to the previous Beoplay 500 (opens in new tab) design, plenty of business-friendly changes make these more suitable for hybrid workers.
Bang & Olufsen Beocom Portal price and availability
The Bang & Olufsen Beocom Portal isn't cheap or even attractively priced, and those expecting otherwise aren't familiar with this brand.
The only choice here is that they come in Black Anthracite, Navy or Grey Mist colour schemes.
Bang & Olufsen Beocom Portal design
Designed by Jakob Wagner
Stylish and lightweight
Simple to operate
For those unfamiliar with the name, Jacob Wenger is an American industrial designer and entrepreneur that founded his own design firm, Jacob Wenger Design, LLC, and it specializes in high-end custom furniture and product design.
Therefore, while it might be a leap to suggest that he designed the Beocom Portal headphones, his design team was responsible for their ergonomics and visual styling.
Unsurprisingly, these have all the hallmark deference of a product design exercise where every sharp edge has been eliminated and replaced with a sweeping curve.
What makes these stand out from other headphone makers' products are some simple refinements that elevate the user experience.
Where most headbands have a notched connection to the driver covers, on the Beocom Portal, they move smoothly, allowing for a great degree of positioning. It's a tiny thing, but it makes for even greater comfort. The breathable fabric used for the headband is another factor in making these easy to wear throughout a working day.
In other respects, the control mechanisms of the Portal follow a pattern that anyone who has experience with B&O Bluetooth headsets (opens in new tab) will be familiar with.
Each of the metal surfaces on the cup faces operates as a touch input, but the subtle nuances of this design are that strictly what gestures do entirely depends on the mode of operation.
For example, if the wearer is taking a call, then tapping on the left cup will end the call. But the same action will pause a track playing over Bluetooth. Some actions overlap, and some are entirely different. These peculiarities might take some learning by the user, but it's logical.
However, the controls assume oddly that music lovers never repeat tracks or fast forward.
What the designers avoided was using touch on the cups for volume controls, instead using a rocker/slider on the left cup to control noise cancellation and one on the right side to adjust volume levels.
Each side also has a single pressable button, with the right one doubling as the power and Bluetooth pairing control and the left side mute.
The physical controls have their limits, and we'd strongly recommend installing the Bang & Olufsen Beocom app on your phone, as this allows you to easily switch between different modes and levels of noise cancellation. And, this tool can also update the onboard firmware should the makers release updates.
Both the USB-C connection and 3.5mm audio jack is placed on the right side, assuming that the computer will be on that side of the user if they're using wired technology.
Bang & Olufsen opted for a design that doesn't have a boom microphone, instead a beamforming array to identify the wearer from other sounds and focus exclusively on that source. The quality is more than acceptable and well within the spec required for making and receiving calls, but it isn't the clarity needed for broadcast work, like a podcast.
Overall, these are exceptionally classy headphones that work well in a business context, although some audiophiles might take exception to the inability to reverse skip tracks and move through audio accurately.
Design score: 4/5
Bang & Olufsen Beocom Portal features
AAC and aptX Adaptive
Google Fast Pair and Microsoft Swift Pair
Good battery life
Specs
The Bang & Olufsen Beocom Portal that was sent to us for review came with the following hardware:
Frequency range: 20 – 22,000Hz
ANC: Adaptive ANC with Transparency Mode plus Dolby Atmos
Drivers: Electro-dynamic driver w/ Neodymium magnets
Drive diameter: 40mm
Driver sensitivity: 95dB @ 1kHz / 1mW
EQ: Presets and custom settings via Bang & Olufsen App
Designer: Jakob Wagner, LLC
Fit: Circumaural
Dimensions (WxHxD): 167.3 x 178.7 x 92.6mm
The Bluetooth technology in the Portal is version 5.1, which goes beyond the standard ABC codec with both AAC and aptX Adaptive.
Due to the audio compression used, variable between 5:1 and 10:1, the aptX Adaptive is the preferred method of connection for best audio fidelity, as it offers up to 420 kBits of data at 48 kHz.
That's for a single source, but it is possible to have multipoint connections for those transitioning from a PC to mobile phone use.
By default, the headset will automatically try to connect to the last device that was paired, and it supports both Google Fast Pair and Microsoft Swift Pair technologies.
Ironically, the best audio quality available is undoubtedly over USB. When connected using the provided cable, these will be seen by the connected PC as rated for Dolby Atmos playback.
Another high-quality sound option is the audio jack mode, but it has a few limitations since it won't work if the Portal isn't powered by the battery or through USB. But with power available, even when using audio jack input, the noise cancelling and some controls will work as expected.
Noise cancelling on these is good, but not quite as amazing as we've experienced on some of the more expensive options from Sony. The effect is that low-frequency rumbles are all but eliminated, but higher ranges are muffled. This allows you to realise someone alongside is speaking to you in person but removes most unwanted background sounds that you might experience in an office. There are five levels of ANC, enabling the user to find the one that makes them less distracted by those around them while not entirely deaf while wearing them.
You can also adjust the level of your own voice feeding back into the headphones, which can be helpful if you are raising that to cope with a bustling environment.
The similarities between the Beocom Portal and Beoplay 500 series headphones might lead some to think they are the same product, but some distinct differences exist, especially in respect of the battery.
Where the Beoplay 500 offer 19 hours of talk time with Active Noise Cancellation, the Portal has extended that to 23 hours and listening to music at a moderate volume level offers 47 hours with Active noise cancellation (connected to the Beocom Link A or C dongle).
That extra time should make the Portal last through at least three working days, as they turn off after 15 minutes without an active audio stream.
The quoted times are dependent on the sound being relayed through the headphones, as high-impact audio, like rock music, will use more power to output compared to a flute solo.
Bang & Olufsen Beocom Portal Sound
Best over USB
Balanced soundscape
When phones get more than 10,000 mAh, they've got enough battery for extended use without a recharge, and this one has 10800 mAh of battery inside.
According to Doogee, the V30 should operate for more than three days of typical use without needing a recharge, and it might make it to a fourth.
The included 66W charger can recover 50% of its battery capacity from empty in around 30 minutes, although if you use the 15W wireless charging, it will take four hours to reach the same level.
There are rugged designs that offer more battery, but they trade weight for that advantage, and the physical mass of the V30 isn't so great that it becomes impractical.
The available capacity is enough for a camping holiday, and the power efficiency of the platform makes the most of it.
I could wax lyrical about the balanced frequency response, how they feel after you've been wearing them for hours and the generally wonderful build quality, but none of these things obscures the fiscal elephant in this room.
If you want some high-quality headphones that are equally impressive user for work or play and carry this logo, then be prepared to open your wallet wide.
Bang & Olufsen Beocom Portal score card
Swipe to scroll horizontally
| Attributes | Notes | Rating |
| --- | --- | --- |
| Value | As great as these are, the price is a stumbling block | 3/5 |
| Design | Elegant, lightweight and easy to use, full marks B&O | 4/5 |
| Features | Great for business users, but possibly not perfect for audiophiles | 4/5 |
| Sound | The classic B&O sound balance | 4/5 |
| Overall | Great functionality and comfortable for long wear but a pricey option | 4/5 |
Should I buy a Bang & Olufsen Beocom Portal?
Buy it if...
You have an unused budget
The high price of these is off-putting, but those that can afford them will appreciate the experience of owning these.
These are for work and play
Bang & Olufsen makes similar BeoPlay 500 headphones that are meant for wealthy Xbox and PS5 gamers. But these are more business-friendly while retaining many of the features that made its predecessor so desirable.
B&O is a brand you trust
They've been making audio equipment for more than 40 years, and in that time, many people have owned their hardware. If you liked that experience and aren't cash-strapped, these are exactly the sort of hardware you would expect with this logo on them.
Don't buy it if...
It's your money
As nice as these are, there are perfectly serviceable alternatives that cost less than half as much as these.
You are clumsy
As nicely made as these are, they're not indestructible, and they won't like being dropped, thrown, sat on or generally abused.
You forget to charge your devices
The lack of a charging station for these is likely to lead to some unfortunate moments, but you can fall back on USB connection if you make that mistake.
Also consider
(opens in new tab)
Jabra Evolve2 75
At about half the cost of the Portal, and coming with a charging station, these are excellent noise-cancelling headphones. The only weakness is that they don't support a 3.5mm audio jack, if you like to use one of those.
Read our Jabra Evolve2 75 review for more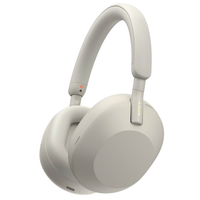 (opens in new tab)
Sony WH-1000XM5 Wireless Headphones
Still considered the best headphones in the world thanks to their class-leading noise-cancelling features and well-balanced audio, and they are cheaper than the B&O Beocom Portal.
Read our Sony WH-1000XM5 Wireless Headphones review for more information.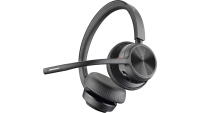 (opens in new tab)
Poly Voyager 4300 UC Series
For those that work at home and don't need noise-cancellation, these are a snip at half the cost of the Beocom Portal, and that price includes a charging station. We wouldn't wear these all day, but they're a good choice for occasional use.
Read our Poly Voyager 4300 UC Series Headphones review for more information.