What is dark web monitoring?
Want to know if your credentials have been leaked? Check the dark web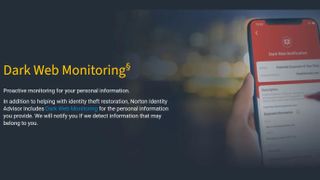 (Image credit: Norton Security)
The dark web can seem like a mysterious, murky world. But it need not be viewed as completely incomprehensible. Our article, "What is the dark web?" for instance, explains some of the most commonly asked questions surrounding this secretive part of the online world.
One part of this world that should probably be better known in mainstream circles is dark web monitoring. This is incredibly important to counter some of the illegal acts that leverage data circulating on the dark web. If you want to find out more about what exactly dark web monitoring is, keep reading.
Dark web monitoring explained
Dark web monitoring describes the process of searching the dark web for information - usually stolen credentials or intellectual property that is circulating among cybercriminals on the dark web.
In one sense, dark web monitoring tools are similar to search engines like Bing or Yandex. However, while the dark web is notorious for not being indexed by conventional search engines, the information stored on the dark web can be found using dark web monitoring tools.
This is particularly useful when individuals or businesses want to improve their defenses after sensitive information has already fallen into the wrong hands. While the best identity theft protection tools will alert you if there's any suspicious activity online, cybercriminals could still be sitting on a host of credentials without you knowing. Likewise, malware removal software is great once a cyberattack has occurred - but prevention is always better than the cure. That's where dark web monitoring comes in.
Dark web monitoring is hugely important to businesses as, without it, it's extremely difficult to find out whether your information has been leaked. Data breaches are frequently in the news but cybercriminals are careful not to show their hand too quickly. Instead, they often make their ill-gotten information available for sale on the dark web, where it is usually exchanged for large amounts of money in the form of cryptocurrencies.
Features and benefits:
Each dark web monitoring tool is different but they often share several important features that enable them to search this mysterious corner of the internet. These include:
Threat intelligence: Data is key to combating cyberattacks and threat intelligence describes when this data is collected and analyzed to better understand an attacker's motives and actions. With dark web monitoring tools, illicit data that would otherwise be difficult to find can be scoured to mitigate and prevent attacks
Threat hunting: Even though the dark web is a relatively small part of the entire internet, finding the threats posed by hackers remains difficult. As such, many organizations employ threat hunting as part of their dark web monitoring solution. However, this is a skilled activity, and dark web threat hunters must know what activity to look for and, potentially infiltrate hacker communities without being detected.
Faster incident response: One of the difficulties posed by cyberattacks is that organizations may not realize they have become a victim of one. By searching for sensitive data, dark web monitoring tools can inform companies much faster when they have been the victim of a data breach. This not only reduces the window of opportunity in which criminals have to act, but it also gives organizations a better idea of where vulnerabilities may lie within their systems.
Integration into security platforms: Dark web monitoring tools may come with a variety of different resolution features, but you can also integrate them with your existing security solutions. The cybersecurity market is broad-based and you may already have a well-developed suite of solutions, such as firewall software or a free antivirus tool. Well, there's no need to necessarily get rid of these solutions, as many dark web monitoring tools can be integrated within a larger security setup.
The best dark web monitoring tools available
As awareness of the threat posed by the dark web grows, more and more dark web monitoring tools are gaining appreciation. We've included some of the best currently on the market below:
Although Dashlane is better known as a password manager, it also comes with a dark web scanner. Although this is a feature that's only accessible to paid subscribers, it's still a handy addition. Given that Dashlane also comes with a VPN and customizable security settings, it has a lot of bases covered.

Another well-known security solution, Crowdstrike's Falcon Intelligence Recon+ tool provides real-time visibility into dark web threats. It's also cloud-based. There's nothing to install and there's a customizable dashboard so you can quickly identify where breaches may hae occurred and how you can mitigate them.

Alert Logic is a great tool for scanning the dark web, proactively monitoring that particular corner of the internet for your sensitive data. Users are notified immediately when data is identified so they can take immediate action. Plus, Alert Logic's dark web scanning is part of the company's wider security suite, including its Vulnerability Assessments, Threat Detection and Response, and Web Application Security, so it works well as part of a more comprehensive security offering.

Aura takes dark web monitoring very seriously and even offers users $1 million identity theft insurance. It will also inform you if it finds another entity in possession of your social security number or other sensitive information online. Other forms of identity theft are also countered, with Aura monitoring any attempt to verify your identity across the entire online environment - not just the dark web.

One of the earliest and best-known solutions informing individuals if they've been compromised by a data breach, Have I Been Pwned? is a free, online tool. Users simply have to enter the credentials that they feel may have fallen into the wrong hands and the tool scours the web to see if the data is publicly available online. Although Have I Been Pwned doesn't specifically scan the dark web, it will tell you if you've been the victim of a breach, and if you have - then there's a good chance someone is trying to monetize your information on the dark web.
Dark web monitoring: Why it's important
The threat landscape is changing all the time. Cyberattackers are becoming more advanced and better adept at covering their tracks. As such, businesses can't afford to limit their scanning for compromised credentials to the surface internet. The dark web is well-known as a hotbed of criminal activity and it's important that organizations are scouring this part of the internet for their information. With the right tools, you can carry out surveillance at all times, find threats in real time, and plug security gaps before a data breach turns into something worse.
Are you a pro? Subscribe to our newsletter
Sign up to the TechRadar Pro newsletter to get all the top news, opinion, features and guidance your business needs to succeed!
Barclay has been writing about technology for a decade, starting out as a freelancer with ITProPortal covering everything from London's start-up scene to comparisons of the best cloud storage services. After that, he spent some time as the managing editor of an online outlet focusing on cloud computing, furthering his interest in virtualization, Big Data, and the Internet of Things.