GoogieHost is a reliable hosting solution catering to both budget-conscious and feature-seeking users. Its free hosting plan offers notable features, while the paid option extends enhanced resources and performance. However, the presence of ads in the platform might impact the user experience. Overall, a good choice for accessible hosting solutions.
Pros
+

Free hosting

+

Easy to use

+

User friendly cPanel

+

Responsive customer care

+

Offers free website builder
Cons
-

Intrusive ads

-

Not suitable to host big websites

-

Subpar when compared to rivals
Why you can trust TechRadar We spend hours testing every product or service we review, so you can be sure you're buying the best. Find out more about how we test.
Finding a reliable and efficient web hosting service is often a big challenge. Amongst the many web hosting providers out there, GoogieHost has steadily gained recognition as a reliable provider when comparing the best free web hosting service providers on the market.
This review will discuss the performance, ease of use and pricing of Googiehost and to help you decide if it is the right web hosting provider for you.
What is Googiehost?
GoogieHost is a web hosting platform that provides individuals, businesses, and organizations with the means to establish a digital presence by offering them the necessary resources and infrastructure to host their websites on the internet.
Acting as a virtual landlord for websites, GoogieHost allocates space on its servers, enabling you to store your website files, databases, and other content securely.
By offering this hosting service, GoogieHost allows you to make your websites accessible to online visitors, ensuring that your content, whether it be personal blogs, ecommerce stores, informational websites, or any other type of online resource, can be easily accessed and viewed by people worldwide.
Through its hosting capabilities, GoogieHost facilitates the connectivity and accessibility of websites.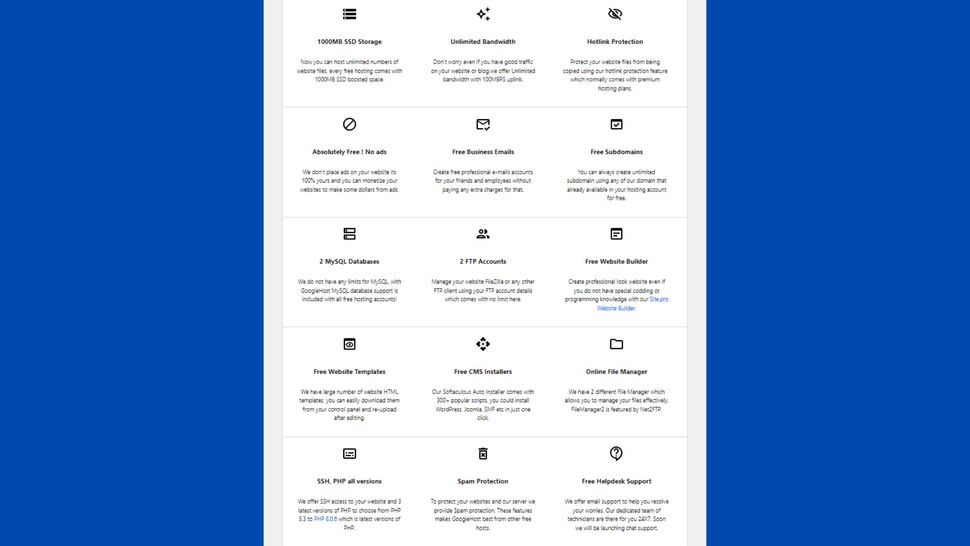 GoogieHost features
GoogieHost offers features designed to empower individuals, businesses, and organizations in establishing and maintaining their online presence effortlessly. With its user-friendly interface, the platform offers a seamless user experience through its 1-Click Auto Installer, allowing you to easily install a variety of web applications without the stress.
GoogieHost also provides the free sub domain names, enabling you to kickstart your online journey without the need for immediate domain purchases. GoogieHost's free website builder feature equips you with intuitive tools to craft visually captivating and professional websites, eliminating the need for coding skills.
One of its stand out features is the free web hosting services, which allows you to launch your first online presence without breaking the bank. Acknowledging the importance of data security, the platform implements automated constant backups, assuring you that your website's files and data remain safeguarded against unforeseen circumstances.
Committed to ensuring a seamless user experience and assistance, GoogieHost's 24x7 customer support stands ready to address queries and concerns, providing expert guidance whenever needed. With dedication to reliability, GoogieHost offers a 99% Uptime Guarantee, reaffirming its commitment to maintaining uninterrupted website performance.
GoogieHost's inclusion of a powerful cPanel feature allows you to easily manage your website. This comprehensive control panel empowers you with various tools to easily manage your website's content, databases, email accounts, and other essential functionalities.
Performance
In our thorough testing of GoogieHost's performance, we used the GTmetrix.com tool to examine how well it works. The results gave us a clear picture of what the platform can do. The performance score was good, at 98%. This number tells us how efficient and well-optimized GoogieHost is.
We also tested the speed of our website while hosted on GoogieHost. The speed index, which measures how quickly a website loads, is 1.0 seconds. This shows us that GoogieHost is dedicated to making sure that websites load quickly. This is important because no one likes waiting for a website to load. The time it takes for the website to respond to your actions is 1.7 seconds. This means that when you click on something or interact with the website, it responds almost immediately.
Another important thing we looked at is how reliable GoogieHost is. We found that GoogieHost has a really high uptime rate of 99.9%. This means that websites hosted on GoogieHost are almost always online and available. This is a sign that GoogieHost has a strong and dependable system in place to make sure that websites stay up and running.
It's clear that GoogieHost takes reliability seriously and wants to make sure that websites are always accessible to visitors. Our tests show that GoogieHost is a dependable platform for hosting websites, as far as free web hosting goes. It's efficient, and reliable, making it a good choice for anyone who wants their website to work well and be available to visitors all the time.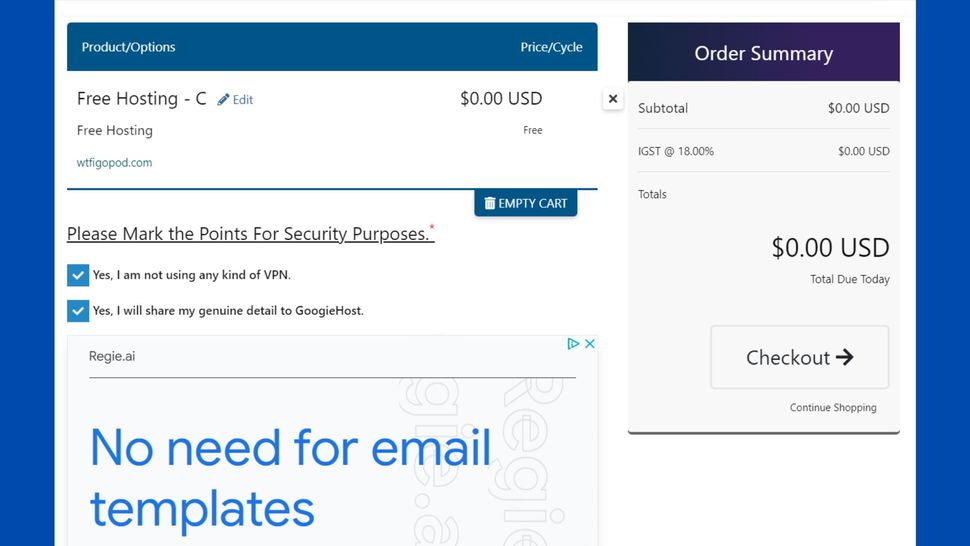 How easy is GoogieHost to use?
When it comes to ease of use, GoogieHost has taken steps to simplify the process of website management, catering to both beginners and those with technical expertise. The inclusion of cPanel, a widely recognized and user-friendly control panel, offers a streamlined interface through which you can easily navigate and manage various aspects of your websites. This intuitive tool enables you to handle tasks such as content management, domain management, email configurations, and more, all without requiring extensive technical knowledge.
Also, GoogieHost enhances user convenience by incorporating an auto-installer feature, which significantly reduces the complexities associated with setting up web applications and software. In a few clicks, you can install popular platforms like WordPress, Joomla, and others, eliminating the need for manual installation and configuration.
While GoogieHost's efforts in simplifying the hosting experience are commendable, it's worth noting that the platform does include ads, which can at times contribute to a slightly cluttered and less streamlined user interface. These ads, though intended to support the provision of free hosting services. However, it's important to consider the difference between the convenience of free hosting and the presence of ads, especially if you prioritize accessibility over a completely ad-free experience.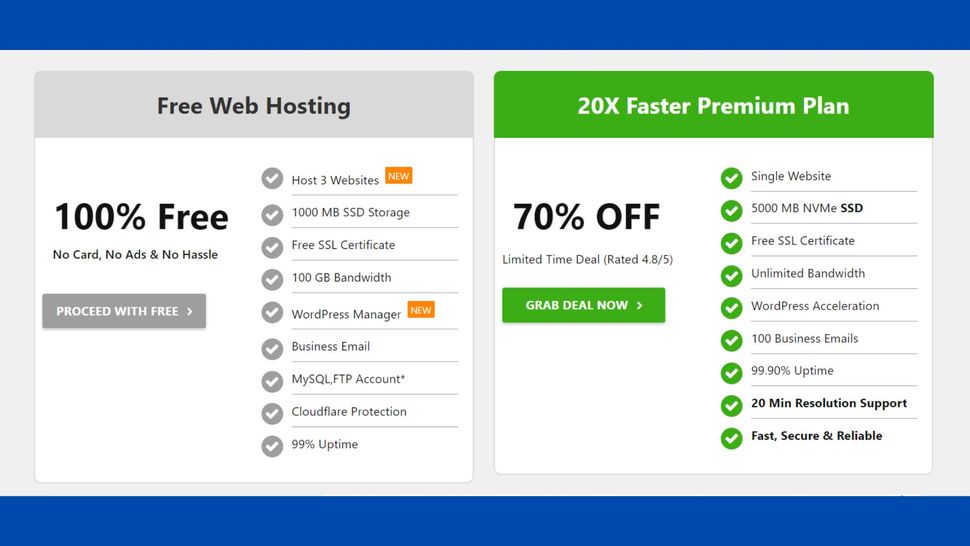 Plans and pricing
When considering the plans and pricing offered by GoogieHost, you are presented with a range of options tailored to accommodate your various needs and budgets. The free hosting plan is the first offer allowing you the opportunity to establish your online presence without incurring any payment or commitment.
Under this free plan, you can host up to three websites, each benefiting from 1000 MB of SSD storage; a good step towards ensuring easy and smooth data storage and retrieval. The inclusion of a free SSL certificate ensures website security, instilling confidence among visitors who seek a protected browsing experience.
With 100 GB of bandwidth, the free plan also ensures smooth data transfer for seamless interactions between users and your website. The free plan also includes WordPress manager, business email services, MySQL and FTP account accessibility, as well as Cloudflare Protection.
If you want more enhanced features and capabilities, GoogieHost extends a paid hosting option, starting at a reasonable $1.79 per month. This plan includes 5000 MB of NVMe SSD storage, promising even faster data retrieval and website responsiveness, free SSL certificate, and unlimited bandwidth to accommodate websites with potentially higher traffic volumes.
It also comes with the integration of wordPress acceleration that is designed to further increase website performance, ensuring smooth loading times and a seamless user experience. Also included in the paid plan is the allocation of 100 business emails allowing you to cater to professional communication needs.
The competition
Bluehost, renowned for its user-friendly interface and versatile hosting options, is just one of GoogieHost's competitors. Bluehost offers shared hosting, virtual private servers (VPS), and dedicated hosting, catering to a wide range of user needs. With a reputation for reliable customer support and an array of features, Bluehost presents a robust alternative.
Another key competitor is HostGator, recognized for its budget-friendly plans and extensive range of hosting services. HostGator provides shared, VPS, and dedicated hosting, appealing to individuals and businesses alike. Their user-friendly control panel and unmetered bandwidth on certain plans set them apart as a viable option.
DreamHost, too, emerges as a noteworthy rival, renowned for its commitment to privacy and offering a range of hosting types, including shared and managed WordPress hosting. Its emphasis on open-source technologies and strong customer support can make it an attractive choice.
SiteGround, with its solid reputation for performance and security, stands as a fierce rival. Offering managed WordPress hosting, cloud hosting, and dedicated servers, SiteGround's focus on speed and technical excellence positions it as a contender for users seeking top-tier performance.
GoDaddy, a well-known player in the industry, provides a comprehensive suite of hosting services, domain registration, and website building tools. Their array of features and broad marketing reach make them a formidable competitor.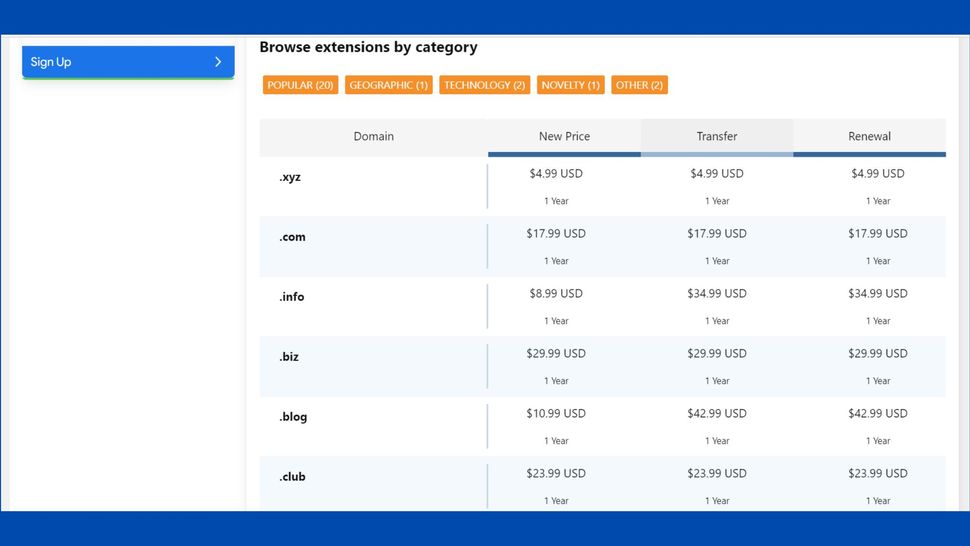 Final verdict
GoogieHost presents a wide range of hosting options, catering to both cost-conscious users and those seeking enhanced capabilities. The platform's free hosting plan offers an entry point for establishing a digital presence, complete with features such as free SSL certificates and the convenience of a WordPress Manager.
For those looking to invest in more robust hosting, the paid plan delivers improved storage, unlimited bandwidth, and noteworthy uptime guarantees. As users navigate their hosting choices, GoogieHost's focus on speed, security, and reliability positions it as a good contender in the competitive web hosting industry.
Ruby has been a freelance technology writer for over four years and has a passion for information technology and the Internet in its entirety. She has a wide range of specialities including web hosting, streaming (Firestick, Kodi, and APKs), VPN, information technology, and affiliate marketing. Ruby is a graduate of Bachelor of Science in Commerce from the University of the Philippines, and regularly codes in her free time.