The Blackview Active 8 Pro is a good example of how spending a little more can be worth the investment. There are cheaper rugged Android tablets, but they don't offer the same battery life or camera sensors as this one. A great piece of equipment.
Pros
+

Still inexpensive

+

IP68 Waterproof, IP69K

+

Global design, Dual SIM

+

22000 mAh battery
Cons
-

Camera app could be better

-

Only Widevine L3 encryption
Why you can trust TechRadar We spend hours testing every product or service we review, so you can be sure you're buying the best. Find out more about how we test.
30-second review
The Blackview Active 8 Pro is another Android tablet that leverages phone technology to use an existing SoC platform but is married to a bigger screen.
MediaTek makes the Helio G99 SoC, and it's the platform of choice in the Blackview Active 8 Pro, as it was with the Doogee R10 and AGM Pad P1.
And, like those machines, this one combines a 10.36-inch IPS LCD touch panel and encases the phone components in a dust and waterproof shell.
The highlights of the Blackview Active 8 Pro are that it has a large, 22000 mAh battery providing a long running time between recharges, a strap to make it easier to hold, and it accepts dual mobile Nano SIMs that work on a wide range of 2G, 3G and 4G channels, even in the USA. What it doesn't offer is any 5G connectivity.
Compared with some of the competitor designs, this has better camera sensors, and it can produce some good quality images and videos using them.
At a baseline cost of just $289.99, this model is slightly more expensive than some of the other options, but the 256GB of storage and battery capacity are probably worth the additional outlay to anyone intent on using this tablet on a regular basis.
For an additional $49.99, Blackview makes a universal wireless keyboard that will work with this design and other tablets in this range.
Overall, the Active 8 Pro is markedly tougher and more suited to outdoor use than most cheap Android tablets, and the extra battery capacity makes it well suited to extended time away from civilisation.
It shows that increasing the budget for a tablet by a relatively small amount can return a substantially more useful product with more potential uses.
Blackview Active 8 Pro: price and availability
Blackview sells this tablet directly from its Hong Kong store and ships it all over the world.
Available in orange and black, the tablet is available only as a global model that should work in most regions.
It can also be bought from Amazon, but the price there is much less competitive. These sources seem to be passing import duty and local taxes onto the customer, along with a significant markup for speedier delivery.
Compared to recent 10-inch tablet designs, the Active 8 Pro is at the more expensive end of the spectrum, but only $10 more than the Doogee R10, and you get plenty for that extra money.
There are cheaper options, like the AGM Pad P1, but those have a much smaller battery and inferior camera sensors.
Specs
Swipe to scroll horizontally
| | |
| --- | --- |
| CPU: | MediaTek Helio G99 / Octa Core / 2.0-2.2 GHz / 6nm / 4G |
| GPU: | ARM Mali-G57 MC2 |
| RAM: | 8GB LPDDR4X |
| Storage: | 256GB UFS 2.2 |
| Screen: | 10.36-inch IPS LCD |
| Resolution: | 1200 x 2000 |
| SIM: | Dual Nano SIM + MicroSD option |
| Weight: | 976g |
| Dimensions: | 256.3*165.8*16.8mm |
| Rugged Spec: | IP68, IP69K and MIL-STD-810H |
| Rear cameras: | 48MP Samsung ISOCELL GM2 |
| Front camera: | 16MP SK Hynix HI-1634Q |
| Networking: | WiFi 6, Bluetooth 5.0 |
| OS: | DokeOS_P 3.0 Based on Android 13 |
| Battery: | 22000mAh (Max charge 33W - 11V 3A) |
Blackview Active 8 Pro: design
Feels tough
Extra weight
Rubber plugs
Box contents
Of the rugged tablets we've seen recently, this one has a more rugged appearance than the majority. The rear panel of the tablet is sculpted to create fewer square edges, and the dense rubber coating feels like it would take plenty of abuse before yielding.
A nice touch is that included in the box is a leather (or leather-like) strap that screws into the back to make holding the tablet less tiring and less likely to be dropped.
The only caveat to the strap is that it precludes wireless charging, which isn't a feature Blackview included in this design.
In addition to having that rugged construction, this is also markedly heavier than most tablets at 976g, making it 150g more than the Doogee R10 and 506g more than the AGM Pad P1.
This extra mass is undoubtedly down to the much larger battery in the Active 8 Pro, though it is something to consider if you intend to hike any distance with this device.
The port and button layout isn't remarkable, with the choice made to place the power button and volume rocker on the left side and all the ports on the right. There are no ports, Pogo Pins or any other interfaces on the top, bottom or rear of this tablet.
Each side has speaker vents, and the sound that comes out of these is enhanced by Harman AudioEFX, according to Blackview.
Each of the ports on the right side has a rubber plug that needs to be pulled for access and then replaced to maintain this design's dust and water resistance. These include a USB-C port for charging, a SIM tray and a 3.5 mm audio jack.
As is typical with Chinese-made rugged phones, the SIM tray can take two Nano SIMs or one and a MicroSD card.
The problem with rubber-plugged ports of this type is that over time the plug wears, making it seal less effectively, and people get bored with pushing them back in or even intentionally breaking them off. While this is unlikely to be an issue with the SIM tray, the USB-C port will need to be accessed every time the tablet is charged.
This issue can be avoided with wireless charging, but probably due to the battery size, that wasn't something Blackview considered.
The Active 8 Pro is a slightly confusing name since it seems to imply that this is an 8-inch tablet, whereas it is a larger 10-inch. But that point aside, Blackview has done a sterling job on the exterior of this machine, avoiding most of the classic pitfalls mostly by keeping things simple.
In the box along with the tablet is a small wall charger (Euro pin-out) that was rated up to 33W (11V 3.0A), a USB-C cable, an adapter for USB-C to USB-A, a SIM ejector pin, a basic pen stylus, the support strap and a screwdriver for attaching it.
When you add the small multi-language user guide, this is easily the most accessories we've seen with a tablet in recent times.
Design score: 4/5
Blackview Active 8 Pro: hardware
Powerful platform
DokeOS_P 3.0
Effective sensors
For those wishing to read more about the MediaTek Helio G99 SoC that this tablet uses, it is covered in previous reviews, including this one for the Doogee R10.
While this silicon is very capable, it isn't as impressive as the Qualcomm Snapdragon 7 or 8+, and you won't see a tablet using those chips at this price point.
That's not to say that the G99 is sluggish, and for most users, the user experience with this SoC is responsive, and it provides more than enough power for the typical workload of an Android tablet.
We say "Android", but technically, the DokeOS_P 3.0 operating system is a forked version of Android 13. The difference between this and a vanilla version of Android
13 is small, but it allows Blackview to either embrace what changes Google makes to its OS or decline them as required. Users won't notice a big difference, and critically it still uses all the standard Google services, such as the Google app store.
By default, the tablet comes with 8GB of RAM, but the promotional material talks about an expansion upgrade to 16 GB. As there aren't any user-approved means to get inside this device, this didn't seem plausible from the outset.
It transpired that, like many MediaTek-powered phones and tablets, the Active 8 Pro allows for storage space to be mapped as RAM, expanding memory from 8GB to a maximum of 16GB merely by moving a slide control in the system settings.
That's not the same as having 16GB of actual RAM, but it might make operation smoother for those users who like to load their devices with many applications.
Blackview usually provides a decent sensor selection on its rugged phones, and the Active 8 Pro isn't an exception. It has a good suite of accelerometer, light sensor, proximity, magnetometer and gyroscope. It doesn't have a barometric sensor, but as it is waterproof and might therefore go underwater, that omission is understandable.
Having seen some odd results from other hardware, we ran the compass application on this tablet to see if the gyroscope and GPS combination was anything you might trust for navigating. Initially, the compass gave a heading that was exactly at 90 degrees to magnetic north. But a couple of minutes later, after it self-calibrated we presume, it aligned correctly.
Since then, it has seemed reliable, but I'd want to check that the sun was rising in what the tablet determined to be east and setting in the west before using it to trek any distance.
Blackview Active 8 Pro: cameras
48MP sensor on the rear
16MP on the front
Two cameras in total
The Blackview Active 8 Pro has two cameras:
Rear camera: 48MP Samsung ISOCELL GM2
Front camera: 16MP SK Hynix HI-1634Q
The extra cost of this tablet over similar designs has been invested in two specific places: the battery and the camera sensors.
The primary camera sensor is a 48MP Samsung ISOCELL GM2 that offers an aperture of f1.79±5%, and this is easily one of the best sensors we've seen on a tablet.
It uses pixel-binning technology to enhance its capture of low light conditions, resulting in crisp 12MP images that are noise-free and dynamically ranged.
However, if you have sufficient light, it can take 48MP images for exceptional detail.
Having a good quality sensor is one thing, but putting effort into its camera application to exploit these devices is often sadly lacking on many tablets and phones.
As a result, along with Pro mode, the camera can take beauty, panoramic, night and mono pictures, though these modes are only in 12MP. The 48MP mode is a straight-shooting option that disables HDR and aspect ratio controls.
Video capture is up to 2K resolution but lacks any frame-rate controls, regrettably. That's a disappointment, as the Samsung ISOCELL GM2 can capture 240fps at FHD resolution with the right software.
What it does enable is stabilisation in any resolution, and if you connect external storage to the tablet, it can redirect that capture in HEVC or H264 to that MicroSD card or external device.
What's missing here is any timelapse mode, motion sensing capture, or frame rate options.
Weirdly, Blackview talks about using the Active 8 Pro for underwater photography in its promotional materials, although it doesn't include any underwater photo or video mode to accommodate the special needs of that environment. As the table is only rated to a maximum depth of 1.5 meters for a total time not to exceed 30 minutes, assuming that all the rubber plugs are firmly engaged, this isn't something we'd be willing to gamble on.
Overall, the pictures the sensors can capture are of acceptable quality and better than most tablet cameras are capable. But Blackview needed to put more effort into the camera app to get the most out of the technology it put in this tablet.
Blackview Active 8 Pro Camera samples
Image 1 of 8
Blackview Active 8 Pro: performance
Common CPU and GPU combo
Expected results
Widevine L3 only
Benchmarks
This is how the Blackview Active 8 Pro performed in our suite of benchmark tests:
Geekbench: 550 (single-core); 1838 (multi-core); 1487(OpenCL)
PCMark (Work 3.0): 9358
PCMark Battery: 31h 29m
Passmark: 9154
Passmark CPU: 9708
3DMark Slingshot: 3538 (OGL)
3DMark Slingshot Extreme: 2569(OGL); 2458 (Vulkan)
3DMark Wild Life: 1172
Widevine Encryption: L3
The performance of the Active 8 Pro is within less than a percentage point of the AGM Pad P1, a tablet that utilises the same SoC, and another, the Doogee R10, isn't far behind.
The G99 is an effective processor, and the scores are decent unless you are expecting to game in a complex 3D environment or process captured terabytes of data locally.
For those tasks, a tablet that uses a Qualcomm Snapdragon SoC or one that is Intel-based might be preferable. But for everyday Android use, this is a reliable and responsive platform.
The shining light here is that large battery, and the amount of life it provides the Active 8 Pro with.
Where it is less compelling is in the domain of video encryption. A feature that is used by streaming services to make the pirating of its shows and movies intrinsically more difficult.
As part of this DRM (digital rights management) environment, many of the top streaming companies use Widevine as their encryption of choice, and depending on what version of Widevine a device supports dictates the best resolution that can be sent from the service.
The best rating is L1, and that allows at least HD (1080p) resolution or even higher if the service allows that to be sent to the device.
Unfortunately, Blackview didn't see this as a priority, and the Active 8 Pro only offers Widevine L3 encryption, resulting in many streaming services being restricted in resolution to 480p, irrespective of the screen resolution.
The lack of L1 encryption could be a deal-breaker for those who intend to consume plenty of streamed content on a tablet, though you can still get 1080p through services like YouTube.
Blackview Active 8 Pro: battery
Big battery
33W Fast charging
The scale of the battery in the Active 8 Pro is easily its best feature. With 22000 mAh on tap, it can go for days or use without needing a recharge, almost irrespective of how it is being used. With frugal use of that power, it could last for weeks.
According to Blackview, the capacity of this tablet is enough for 120 hours of mobile calls, 160 hours of music playback or 24 hours of video playback. It also has a standby time of 1440 hours or sixty days.
If that wasn't immensely useful enough, the USB-C port is OTG with reverse charging support, allowing it to charge other devices.
The only snag with having such a large battery is that it takes time to recharge once it is depleted, and Blackview did include a charger capable of 33W fast charging in the box.
The only issue we noticed with this and other USB-C fast chargers is that occasionally, for whatever reason, the tablet will charge at a much lower rate, and after a few hours, the battery has only increased by a few percentage points.
We never got to the bottom of why this might happen. But it is worth ensuring it is accepting the 33W mode before heading off to bed assuming it will be fully charged when you wake up.
The Blackview Active 8 Pro is one of the better rugged Android tablets we've seen recently, although it is also more expensive than some competitor options.
With some offering the same processor for around $200, it comes down to a decision about what better camera sensors and a massive battery are worth to you? If the answer is $90, then this is undeniably the better choice, even if that is almost 50% more than the cheapest options.
For the most part, we think this is worth the extra money since it makes the Active 8 Pro a more flexible choice, especially for those working outdoors away from mains power for any period.
We'd have liked to have seen a better camera app to exploit the primary sensor more effectively. Blackview needs to create some accessories, like a vehicle mount, but the hardware of this tablet is solid and could easily be enhanced to be exceptional.
Should I buy a Blackview Active 8 Pro?
Swipe to scroll horizontally
Blackview Active 8 Score Card

| Attributes | Notes | Rating |
| --- | --- | --- |
| Value | More than some rugged Android designs, but it is probably worth what Blackview is asking. | 4/5 |
| Design | Solid construction and logical layout make for an enjoyable experience. | 4/5 |
| Hardware | A reliable platform, 4G LTE dual SIM, bright screen and Android 13. Plenty to like here. | 4/5 |
| Camera | Excellent primary camera, only slightly let down by the camera app. Can produce good results even in low light. | 4/5 |
| Performance | In line with better Helio G99 powered devices, this tablet has enough power for most use cases. | 4/5 |
| Battery | Massive battery provides lots of flexibility when living off-grid | 4/5 |
| Overall | Tough and with a massive battery capacity and decent camera sensors, the Active 8 Pro is a great choice for those that need an outdoor tablet. | 4.5/5 |
Buy it if...
You need a tablet for outdoors
Most cheap Android tablets aren't water or dustproof, but the additional cost for that feature will be a worthy investment the first time it gets wet or dusty. The Active 8 Pro will survive bumps and splashes that might easily kill lesser devices.
Battery power is critical
This machine has double the capacity of the Doogee R10 and three times that of the AGM Pad P1. That allows it to operate longer away from charging, and it can share that power with other mobile devices.
Don't buy it if...
You're travelling light
At nearly a kilogram, the Active 8 Pro isn't a minor accessory to throw in a backpack when a lighter phone or tablet might do the same job adequately. This weight might not seem like much at the bottom of the mountain, but it will appear much more at the top.
You have special camera needs
The lack of special shooting modes like timelapse and slow motion video is disappointing, given the high-quality sensors this tablet has. Bought apps can add some of this functionality, but that's more outlay to consider.
Also consider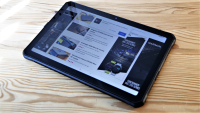 Doogee R10
Another tablet that uses the same G99 SoC as the Active 8 Pro, this one is a much cheaper option at close to $200 to buy.
There are two trade-offs here, the first being a significantly smaller battery, and the second being less capable camera sensors. It's also slightly lighter, but not so much that it would make a big difference to those carrying it.
A very affordable option for those less interested in photography and battery life.
Read our Doogee R10 rugged Android tablet review for more information.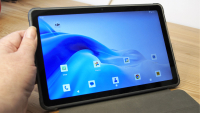 AGM PAD P1
An inexpensive, rugged tablet using the same ever-popular Helio G99 processor.
At around $200, this is cheap, although some of the components have been impacted by the cost-cutting to bring this design in under budget.
The biggest weaknesses of this design are that the battery isn't much bigger than a rugged phone battery, and in some cases, it is smaller. And, the camera sensors aren't as good as we might expect from a $200 phone.
The main camera can take reasonable pictures, but only in good lighting conditions, and those looking for a tablet with photo abilities should look elsewhere.
The real selling point is the price, but other tablets with better specs aren't much more.
Read our AGM PAD P1 review for more information.
We've rated the best rugged tablets.
Mark is an expert on 3D printers, drones and phones. He also covers storage, including SSDs, NAS drives and portable hard drives. He started writing in 1986 and has contributed to MicroMart, PC Format, 3D World, among others.