For the low price, the R10 is an excellent solution only let down by some cellular limitations for customers in the USA. For those in the rest of the world this is a great device that is robust enough to be used outside and light enough to carry.
Pros
+

Inexpensive

+

IP68 Waterproof, IP69K

+

Dual SIM

+

Android 13

+

Widevine L1

+

8GB+7GB RAM
Cons
-

Missing American mobile frequencies

-

Doesn't get the most from the CPU
Why you can trust TechRadar We spend hours testing every product or service we review, so you can be sure you're buying the best. Find out more about how we test.
30-second review
Specs
The Doogee R10 that was sent to us for review came with the following hardware:
CPU: MediaTek Helio G99 / Octa Core / 2.0-2.2 GHz / 6nm / 4G
GPU: ARM Mali-G57 MC2
RAM: 8GB LPDDR4X
Storage: 128GB UFS 2.2
Screen: 10.36-inch IPS LCD 340nits
Resolution: 1200 x 2000
SIM: Dual Nano SIM + MicroSD
Weight: 826g
Dimensions: 258*169*13.5mm
Rugged Spec: IP68, IP69K and MIL-STD-810H
Rear cameras: 20MP AF Sony Sensor
Front camera: 16MP Samsung Sensor
Networking: WiFi 6, Bluetooth 5.2
OS: Android 13
Battery: 10800mAh (18W Fast Charge)
Doogee makes a host of rugged smartphones that all use MediaTek SoCs, so that they would create a tablet built using the same parts isn't a massive surprise.
The R10 is a 10-4-inch Android 13 rugged tablet that uses the tried and trusted MediaTek Helio G99 silicon to deliver a rich user experience to a water and dust-proof machine.
Built to take hard knocks and the odd rain shower and able to operate as a phone with dual SIMs, the asking price of $285 seems remarkably reasonable considering the specification, as some phones built around the same chipset cost $400.
The camera sensors are also workable, with a 20MP Sony sensor on the rear and a 16MB Samsung on the front for facetiming.
It can also operate as a 4G LTE phone with dual NANO SIMs. But, as there is only one 'international' model of this tablet, it does not support calls in Brazil, America and other Latin American regions. Hopefully, Doogee will address this soon with a model specifically for the Americas.
The strengths of the R10 are a highly robust structure, powerful CPU and GPU combination, some useful cameras and plenty of battery capacity. The 10800mAh of battery capacity can be rapidly recharged using 18W fast charging, and it has an OTG reverse charge function that can distribute that power to other devices.
Its limitations are the mobile frequencies we previously discussed, it lacks wireless charging, and Doogee hasn't made a specific vehicle mount or other accessories.
Overall, the R10 represents excellent value for money, especially for those in Europe.
Sadly, until Doogee releases a US model, it is less useful for American customers.
Doogee R10: price and availability
How much does it cost? $285/£227/€ 264
When is it out? On pre-order in some regions
Where can you get it? Amazon sells it for $259.99 with a $30 coupon and 7% discount using the code NK6SM2YA
Available in silver and black schemes, the R10 can be ordered directly from Doogee or through an online reseller. At the time of writing, the USA, Mexico, Australia and Canada have stock to ship, but other countries must pre-order with up to a 12-day shipping delay.
We've seen many mobile product brands either matching the dollar and euro directly or making European prices up to 5% higher than those in the USA. But with the R10, the prices are closely matched wherever you purchase it.
For a modern Android 13 tablet with the features of the R10, the asking price is very reasonable, if not a bargain.
Doogee R10: design
Tough shell
Dual Nano SIM
Rubber plugs
Considering that this tablet arrived at the same time as the AGM PAD P1 and both use the same Helios G99 SoC, it is curious how much these machines differ.
However, the R10 is a completely different beast on the outside and appears much better suited to handle the odd drop or rough handling.
Rather than using an external bumper, Doogee integrated rubberised protection all around, and the rear skin of the machine feels metal to the touch.
Included in the box but undocumented are two angled metal brackets that screw into four mounting points on the back of the tablet and some straps that look like it was meant to hang over the headrest of a car seat. Some thought went into this feature for backseat viewers, yet none went into detailing these extras in the provided manual.
It also comes with a screen protector in place that doesn't interfere with the touch interface of the screen.
The screen on this tablet has the same 1200 x 2000 resolution as the AGM PAD P1 and is also uses IPS technology. The one here is capable of 340 nits, according to Doogee.
The colours on this panel aren't the most saturated, and the shiny surface of the Gorilla Glass 5 face isn't ideal for working outside due to reflection. The reflection issue might be addressable with a textured protector, should you need to work in the elements.
This level of construction and the size of the battery in this machine does come with a slight weight penalty of 826g, making the R10 almost twice the weight of the AGM P1.
However, for a tablet, this isn't heavy and, indeed, lighter than some rugged phones we've tested.
To achieve the level of dust and water protection needed for IP68 and IP69K ratings, the three external ports (SIM slot, USB-C and 3.5mm audio jack) all have rubber plugs that need to be pulled to one side in use.
The inherent problem with these plugs is that they wear over time and don't provide the same protection as when new. We only wish the USB port was inherently water-resistant to avoid the repeated unplugging of this receptacle.
Doogee is very confident about the waterproofing of this tablet, but we'd only assume this with all the rubber plugs fully seated.
Camera placement on tablets is generally to the top right (when looking from the rear), and that's where the single rear sensor and its associated flash are on the R10. A recess stops the glass cover of the sensor at the highest point on the back, allowing the tablet to be placed on a flat surface without fear of damaging it.
What's missing here from Doogee is hard accessories, specifically a dedicated vehicle mount or a cover with a Bluetooth keyboard integrated. There also isn't any HDMI out, but it would be easy enough to carry a Chromecast and use casting to send music and video to a TV if required.
Design score: 4/5
Doogee R10:hardware
Decent platform
12GB RAM
Modest GPU
The MediaTek Helio G99 is a stalwart of rugged phone designs, and it also appears in tablets like the AGM PAD P1 and Blackview Active 8 Pro.
This 6nm chip offers eight ARM cores consisting of two Cortex-A76 @2.2GHz and six Cortex-A55 running at 2.0GHz but is slightly undermined by the less sparky Mali-G57 MC2 GPU. Some phone makers are now choosing the more powerful Dimensity 900, mostly because of the Mali-G68 MP4 GPU it sports.
The G99 is suitable for video playback and interactive games, but it isn't ideal for 3D applications, especially detailed 3D games.
One slight demark against the R10 is that Doogee only gave it 128GB of storage, whereas typically, this SoC comes with 256GB. That's only likely to impact those that load silly amounts of apps or record long videos, although you can use a MicroSD card to expand storage up to 2TB, should you need more.
Maybe to balance the storage reduction, Doogee did implement the memory expansion technology that the G99 supports, enabling some of the storage space to be mapped as RAM, expanding memory from 8GB to 15GB.
That's useful if you want to hold plenty of apps in memory simultaneously, though the majority of owners probably won't need this facility.
What this device is also blessed with is a good selection of internal sensors, although it doesn't have a barometer or NFC.
Overall, with the exception of the 128GB of storage, the hardware in the R10 is built for the task and better than anticipated at this price point.
The standard 8GB of RAM is augmented by memory expansion technology that allows a further 7GB of storage to be mapped as memory.
Doogee R10: cameras
20MP sensor on the rear
16MP on the front
Two cameras in total
The Doogee R10 has two cameras:
Rear camera: 20 MP Sony
Front camera: 16MP Samsung
This tablet trumps the competing AGM Pad P1 with better camera sensors, both rear and front. And these can take better pictures generally and significantly superior results in lower light conditions.
The main sensor is a 20MP Sony IMX with a maximum still image resolution of 5152 x 3864 (4:3) and video of 2560 x 1440.
The face-time camera is a Samsung 16MP sensor that can capture images at a maximum of 4632 x 3480 and video at 1080p.
Compared with the 108MP sensors we've seen on many Doogee phones, the sensors on this tablet aren't that impressive, but they're not useless either.
However, the camera app is almost entirely void of special shooting modes other than those for capturing documents and portraits. Where is panorama or long exposure?
Oddly, video capture has scene modes we'd have expected for still image use, but it has no control over frame rate or slow motion at lower resolutions.
This feature denial is typical of Doogee, as we've seen even better sensors in some of its rugged phones where the best features available in the sensors are mostly ignored.
These sensors can probably do 4K video and slow motion, but the cookie-cutter photo application doesn't enable these options.
Our overview of the pictures that the R10 can take is that they're decent, but we'd avoid HDR. It tends to posterise things in a less-than-helpful way that you might not appreciate until later.
The cameras on the R10 are better than those on the AGM PAD P1, but that's not the recommendation it might at first seem.
Doogee R10 Camera samples
Image 1 of 10
Doogee R10: performance
Popular CPU and GPU combo
Slightly tuned down SoC
Widevine L1 included
Benchmarks
This is how the Doogee R10 performed in our suite of benchmark tests:
Geekbench: 530 (single-core); 1513 (multi-core); 1492 (OpenCL)
PCMark (Work 3.0): 8736
Passmark: 9154
Passmark CPU: 4429
3DMark Slingshot: 3292 (OGL)
3DMark Slingshot Extreme: 2531(OGL); 2385 (Vulkan)
3DMark Wild Life: 1173
We've seen the G99 SoC on so many phones and tablets that how it performs is second nature. However, on the R10, engineers at Doogee did something in their implementation that tweaked the Helio G99 to be slightly slower by around 5%.
We trawled through the results in detail, but nothing stood out as being responsible for this adjustment in performance. Whatever the reason, across the board, these are some of the slowest G99 benchmark results we've seen.
That said, the R10 still works well enough that most users wouldn't notice the difference even if they owned a G99-powered phone that doesn't have this idiosyncrasy.
The weakness of this design when compared to devices that use the Dimensity series SoCs from MediaTek is the GPU. While it has sufficient power for light gaming and simple applications, it isn't ideal for complex 3D scene rendering.
There is one shining light in the R10 from a performance perspective, and that is that on this device, Doogee at last implemented Widevine L1 encryption. The implication of this is that on devices without Widevine L1 many streaming services are restricted in resolution to 480p, whereas via this tablet, you should be able to experience at least 1080p on Netflix or Disney$.
Given how few Chinese-made phones or tablets implement this, it could be a deal-maker for those who intend to consume plenty of streamed content through a tablet.
Doogee R10: battery
Good battery size
18W Fast charging
18 hours and 47 minutes of constant use
It's interesting that the battery size on the R10 is the very same 10800 mAh capacity that the Doogee V30T and V30 got, hinting that maybe it is the very same battery.
That's another 54% extra battery capacity than the AGM PAD P1 and more than twice what you might get in a typical $200 phone.
This difference doesn't translate into 54% more running time, but the PCMark battery test managed a respectable 18 hours and 47 minutes of running time.
Based on information on the Doogee website, this tablet has 18W fast charging and is supplied with a charger capable of providing that level of power.
The 18W charge mode translates to recovering 14% of the total capacity from almost fully discharged in only 30 minutes, hinting that a total restoration should take around 7 hours.
Having a larger battery size is a mild disadvantage in that it increases the weight of the R10 to 826g, almost double that of the AGM PAD P1.
But that isn't an excessive weight for a tablet as much of that extra is contributed by the most robust construction of R10 as much as the battery.
While it's far from perfect, the R10 is a great low-cost tablet for taking on any trip that involves being outside or hiking. The build quality is high, and the tablet looks able to handle some abuse without waving a white flag.
The G99 SoC is more than powerful enough for most tasks. Its sensors enable the R10 to capture good images even if special modes are lacking on these cameras.
Having only 128GB of storage is mildly disappointing given the bargain price of NAND modules these days, but if the cost-saving means that the main camera sensor is 20MP, then that's a good trade we'd make. Storage can be expanded using MicroSD, for those prepared to give up a NAND SIM slot.
Its only true weakness is that it is only a global design, meaning it doesn't support all the 4G LTE bands that dedicated American phone models offer. Meaning that it doesn't support all the bands that some US-only carriers use. For global users, this shouldn't be an issue.
For those who want a go-anywhere tablet that doesn't cost a fortune, the R10 is an obvious choice.
Doogee R10: score card
Swipe to scroll horizontally
| Attributes | Notes | Rating |
| --- | --- | --- |
| Value | A great price for this specification | 5/5 |
| Design | Well-made tablet with good protection from the elements. | 4/5 |
| Hardware | A powerful platform, 4G LTE dual SIM, bright screen and Android 13. Plenty to like here. | 4/5 |
| Camera | 20MP rear and 16MP front, both can take good pictures and sharp video. But lacks special shooting modes for still images. | 3.5/5 |
| Performance | Same performance as other phones using this SoC | 3.5/5 |
| Battery | The 10800mAh battery does make the R10 a bit heavier, but the extra power it stores could be vital on a long trip. | 4/5 |
| Overall | A design that combines many of the best rugged phone features with a big screen that's perfect for streaming shows. | 4/5 |
Should I buy a Doogee R10?
Buy it if...
You need a tablet for outdoors
Most cheap Android tablets aren't water or dustproof, but the additional cost for that feature will be a worthy investment the first time it gets wet or dusty. The R10 will survive bumps and splashes that might easily kill lesser devices.
Buying to watch video on long trips
Video playback on this device with its 10.34-inch screen works well for streaming, and the inclusion of Widevine L1 encryption means that you could be watching shows in 1080p, should the service and the mobile service support it.
Don't buy it if...
Your US carrier doesn't support global bands
The way that the mobile carriers in America have been allowed to ringfence some bands makes these companies very profitable but does little for mobile phone and tablet makers trying to sell equipment into this market.
Anyone considering buying the R10 or phones made for a global audience must check that their carrier supports the 4G LTE frequencies it can use.
You need fast recharging
With a battery of this capacity, 33w charging isn't especially fast, and missing from this design is wireless charging, unfortunately.
You have special camera needs
The lack of special shooting modes like panorama and slow motion video is disappointing given the reasonably good sensors this tablet is endowed with. Those wanting to do timelapse or other tricks should look elsewhere.
Also consider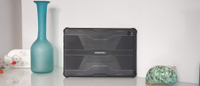 Oukitel RT1 rugged Android tablet
Another phone company diverging into tablets is Oukitel, with the RT1. At around $200, this tablet has a massive battery, and it offers 16MP cameras front and back. However, the processor is a much lower specification MediaTek Helio P22, only has 4GB of RAM and 64GB of storage. But it has dual Nano SIMs and 4G connectivity.
Read our Oukitel RT1 rugged Android tablet review for more information.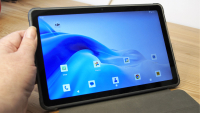 AGM PAD P1
An inexpensive, rugged tablet using the ever-popular Helio G99 processor.
At around $200, this is cheap, although some of the components have been impacted by the cost-cutting to bring this design in under budget.
The biggest weaknesses of this design are that the battery isn't much bigger than a rugged phone battery, and in some cases, it is smaller. And, the camera sensors aren't as good as we might expect from a $200 phone.
The main camera can take reasonable pictures, but only in good lighting conditions, and those looking for a tablet with photo abilities should look elsewhere.
The real selling point is the price, but other tablets with better specs aren't much more.
Read our AGM PAD P1 review for more information.
We've rated the best rugged tablets.
Mark is an expert on 3D printers, drones and phones. He also covers storage, including SSDs, NAS drives and portable hard drives. He started writing in 1986 and has contributed to MicroMart, PC Format, 3D World, among others.